Friday, November 17, 2023
By: Erin Looney (from Design-Build Institute of America)
Each year, teams from universities and colleges around the country vie for design-build bragging rights in DBIA's National Design-Build Student Competition. This year, those bragging rights go to the University of Florida's (UF) Team Cypress Construction.
Team Architecture State from Alfred State College, a first-time competitor, placed second, and Team Cardinal Design-Build, representing returning champion University of Arizona, came in third. Alfred State's JoAnna Musacchio took home the Best Individual Presentation Award, a relatively new award introduced last year.
Led by team captain and DBIA Student Competition veteran Christopher Fettes, the Gators team impressed the judges with their proposal for a student recreation and activity center on the campus of the University of Northern Colorado (UNC) in Greeley, CO. Fettes, Tristan Henderson, Ava Standridge, Nassay Jimenez and Maria Cocco presented their project proposal before a panel of industry experts at the Design-Build Conference & Expo in the final stage of a multi-part competition that begins in the summer. UF's team was advised by Dr. Russell C. Walters, William G. and Aneice R. Lassiter Instructional Assistant Professor at UF M.E. Rinker, Sr. School of Construction Management.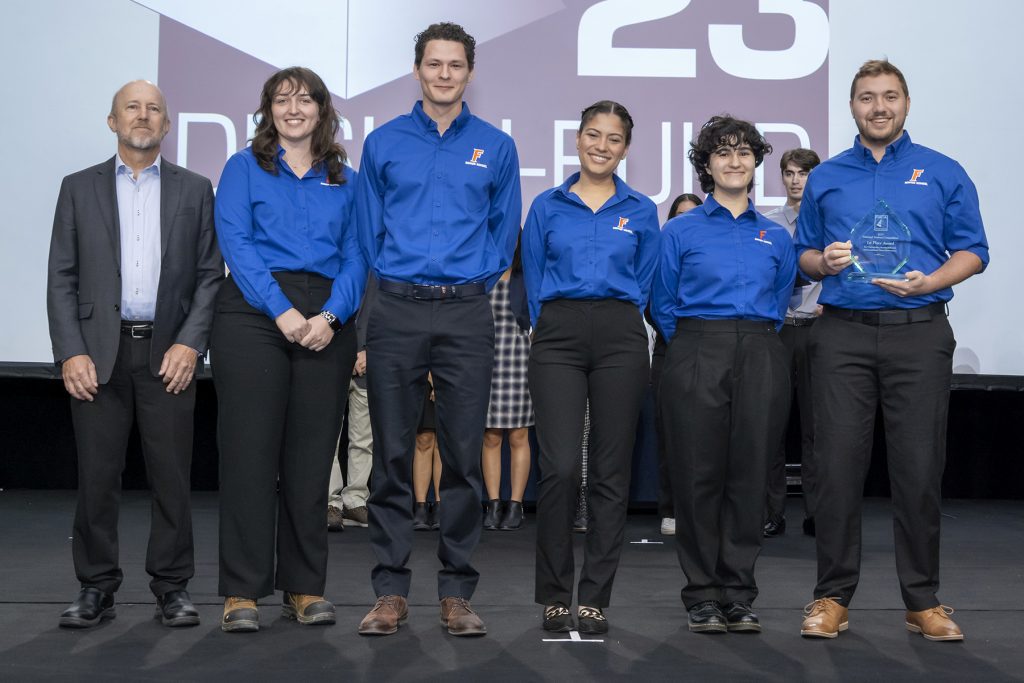 This year's competition began in May with 25 teams from 22 schools, representing 11 DBIA regions. Student teams competed in the first phase this summer, in which they responded to a Request for Qualifications (RFQ) to deliver an activity and recreation center on the campus of UNC. RFQs are evaluated at the region level, and the shortlisted teams go on to prepare and submit a Request for Proposals (RFP). The RFPs are judged to determine the three finalists, who present their project designs at the Design-Build Conference & Expo before a national jury of prominent industry professionals from different segments of a design-build team.
Students adopt roles on the team that correspond with industry roles on real-life projects, adding another level of realism to the hypothetical project. Fettes, a graduate student at UF and third-time competitor, acted as Cypress Construction's Design-Build Manager; fellow competition veteran Henderson worked as the team's Estimator. Rounding out the team were Standridge as Senior Superintendent, Jimenez as Construction Manager and Cocco as Design Manager. Taking on industry roles to complete proposals is a good way for students to explore what post-graduation might look like.
"You get the opportunity to be in the field without being in the field," Fettes reflected on the impact of working on a hypothetical project in the relative safety of a student competition. "This gives you the opportunity to fail in a safe environment without the stakes of an actual project in the field. It gives you this marketability to say, 'Hey, I've produced a tangible set of deliverables.' We've worked as a team, and we understand what it takes to be a part of going after these projects."
Moreover, students experience teamwork, collaboration and flexibility, hallmarks of design-build, and they are able to leverage that when they look for their industry jobs. Henderson, a senior, is hitting the job market now and said, "The biggest value I take away as I begin my career is true teamwork and learning how to work as a cohesive unit. For the most part, university projects are group projects, but the [DBIA National Design-Build Student Competition] helped us really learn what a team is. I'll take that forward with me for sure."