By: Kyle Niblett
University of Florida College of Design, Construction and Planning graduate Emily O'Mahoney (BLAE '80) was elected 2021-22 president-elect of the American Society of Landscape Architects, the organization announced this past month. In addition, ASLA announced DCP alumni David Barth (BLAE '78, Ph.D. '15) and Christina Hite (MLARC '12) have been elevated to the Council of Fellows for their exceptional contributions to the landscape architecture profession and society at large.
"I am excited to have been elected to serve, especially in these times of great change," O'Mahoney told the ASLA website. "During the next few years, I look forward to seeing ASLA move from the cusp of excellence to excellence and beyond."
O'Mahoney will be sworn in this November at the annual ASLA Conference in Nashville, Tenn., before serving as the president in Seattle for the 2022 gathering.
As part of the upcoming ASLA Florida Conference, all UF Landscape Architecture graduates are invited to attend the 2021 UFLA Alumni Happy Hour event this Thursday, July 15, from 7:30-9:30 p.m. at Splitsville in Tampa, Fla.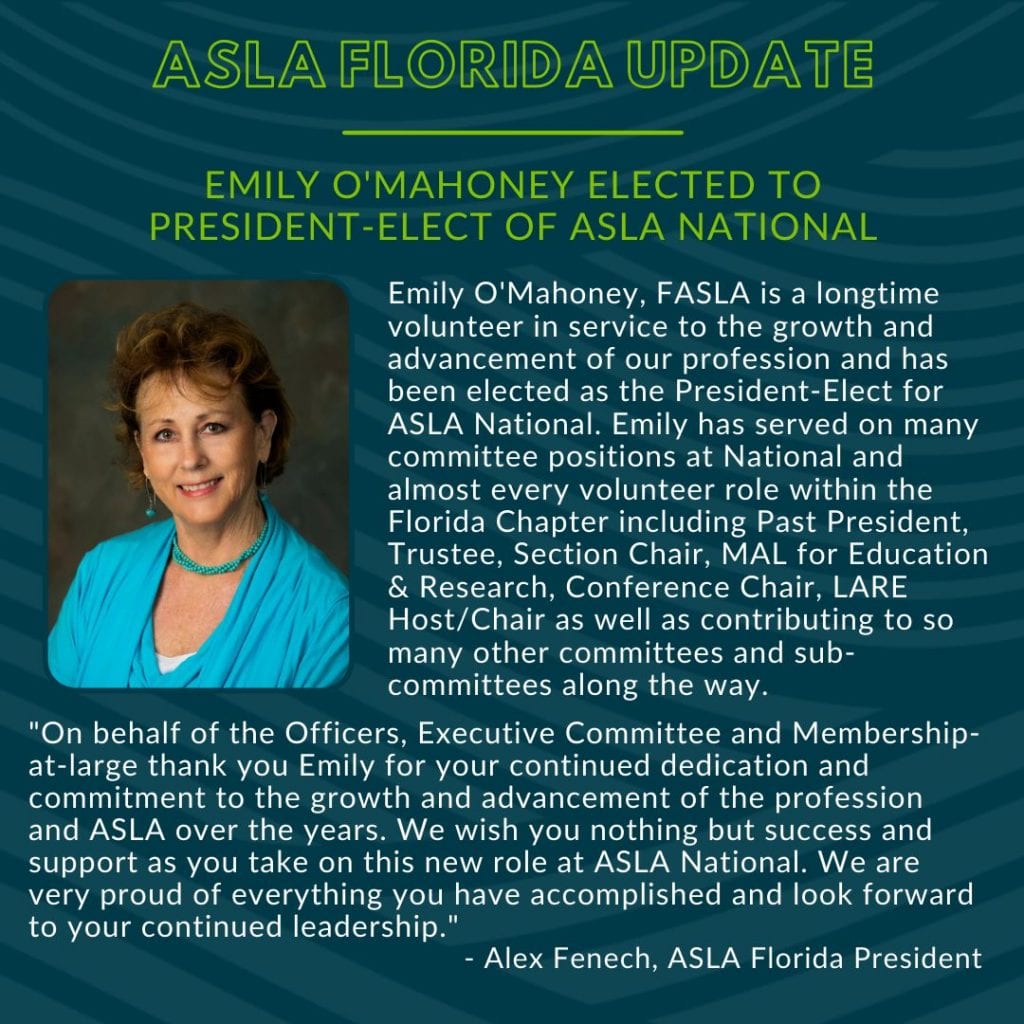 About Emily O'Mahoney
For the last 20 years, Ms. O'Mahoney has been a partner at 2GHO in Jupiter, Fla., planning and designing award winning and sustainable spaces, places and communities. Emily's work on the local level is notable. As an activist, advocate, and passionate landscape architect, she has used her leadership positions to develop quality continuing education programs, remove barriers to practice, mentor students and provide encouragement and support to emerging professionals with the LARE Review Course. She is also actively involved in ACE Mentorship, ACE Legacy and Future Landscape Architects of America (FLAA) to support career discovery. The growth of the profession fuels her commitment to serve aspiring landscape architects and emerging professionals. With all her work, Emily has been engaged in activities that give value to membership.
About David Barth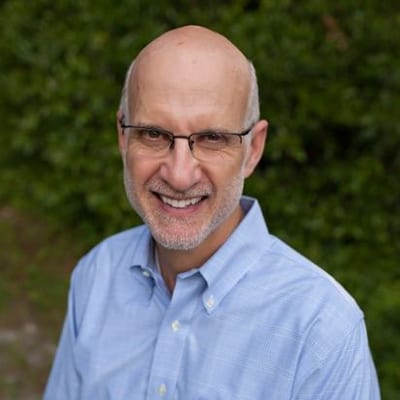 For more than four decades, David Barth's career in landscape architecture has blended extensive practice experience, scholarly research, and lectures and publications to earn him a place as a nationally recognized expert in parks and recreation system planning. His planning methodology for parks and recreation systems emphasizes a broader public realm-based approach to communitywide sustainability and resiliency, and he has led or collaborated on nearly 100 parks and recreation system master plans. David originated the concept of "High-Performance Public Space (HPPS)"—any publicly accessible space that generates economic, environmental, and social sustainability benefits for the local community. HPPS is breaking down boundaries between the disciplines and helping identify factors that lead to innovative planning and design of public spaces. David continually shares his new knowledge generated from both practice and research through publications, lectures, and teaching, perhaps best exemplified in his recent book Parks and Recreation System Planning: A New Approach for Creating Sustainable, Resilient Communities, recognized by ASLA as one of the Best Books of 2020. In 2015, after more than 35 years in practice, he earned his Ph.D. in design, construction and planning to further integrate his research-based knowledge into his practice and the profession.
About Christina Hite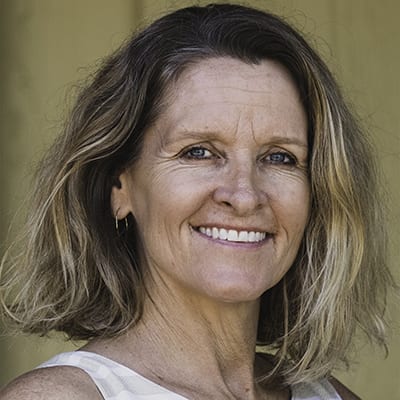 A practicing landscape architect with more than 30 years of experience in site planning and landscape architecture, Christina Hite has always been a champion of inclusion and diversity. Her highly effective leadership has advanced the impact of landscape architecture in a unique way. After the terrorist attack on Pulse Nightclub in Central Florida, Hite developed a vision and design for a memorial and museum on the site of the attack. Her firm, Dix.Hite, donated all professional services to the Interim Memorial (nearly 1,000 hours). Hite then stepped up to be Co-Chair of the Design and Construction Committee for the onePULSE Foundation, before recently joining the OUTSIDE sustainable landscape collaborative with a goal to shift the state's landscape paradigm toward a future that incorporates research, policy, culture and industry to position landscapes as a vital solution to the health and viability of Florida's natural resources. Hite and her firm were introducing native palettes and plants and championing low-impact development strategies long before it was commonplace. Her thought leadership has propelled the development of a thriving women-led firm and clients of global significance, and she has used her platform to inspire the next generation of landscape architects and engage the highest levels of the profession and academia.