By: Mia Alfonsi
Wei Zhai and his team received a $10,000 year-long Microsoft AI for Earth grant, offering him access to imperative computational resources such as Azure Machine Learning, Virtual Machine and App Service and Storage. Zhai, his adviser Dr. Zhong-Ren Peng, professor and director of the International Center for Adaptation Planning and Design (iAdapt), and Ph.D. students Hongming Li and Mengdi Zhu from UF's Department of Electrical and Computer Engineering, plan to create real-time models of human mobility in extreme weather events (EWEs) across America's large cities.
AI for Earth grants provide access to Microsoft resources to support projects that change the way people and organizations monitor, model and manage Earth's natural systems, according to Microsoft. Because the proposed project is data intensive and time-sensitive, it involves complex algorithms and demanding computation. Microsoft's resources will provide a much more efficient computing environment, Peng said.
The team's research goal is to create a model that predicts human behavior and mobility during EWEs in real time. By studying historical data, the team can configure how, when and where people travel during these events, while deciphering how meteorological factors like temperature, wind speed, precipitation and warning alerts affect human mobility. Zhai and his teammates can then use this knowledge to create a model that will help predict human mobility for future events. This knowledge will then help planners and emergency respondents anticipate and respond to human movement in EWEs such as hurricanes or tornadoes, which is an important feat to take on considering how climate change is exacerbating extreme weather incidents.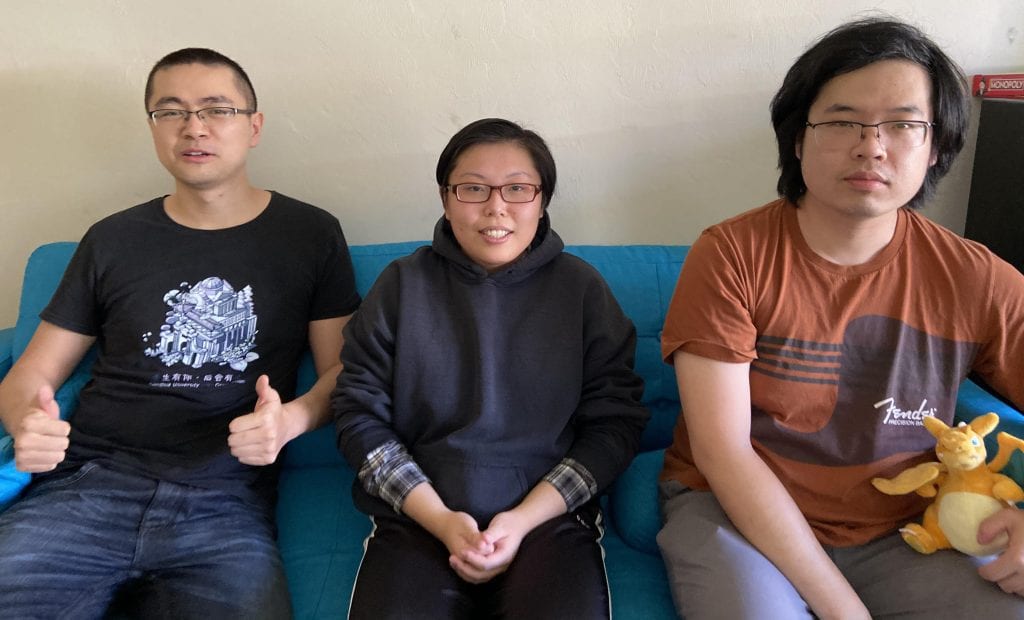 "We are confident that we can propose adaptation strategies and emergency responses for practitioners to use to intervene on these kinds of issues in the near future," Zhai said.
Zhai and Peng had conducted previous analyses on how humans respond to extreme weather incidents in publications. This preliminary knowledge was partly what inspired Zhai to take on the project and apply for the grant.
Peng acknowledges his supporting role in the project and gives full credit to Zhai for proposing and implementing the initiative.
"This is Wei's initiative," Peng said. "He is a very good student, and I fully support his effort."
Microsoft's AI for Earth grants are competitive, and recipients become esteemed members of the AI for Earth grant community upon acceptance, according to Peng. So, Zhai's acceptance enhances DCP's visibility and inspires other Ph.D. students to take on AI-powered initiatives.
"Wei is the first one who has applied [for the Microsoft grant] and been successful," Peng said. "His project serves as an example to future Ph.D. students who are interested in AI-enabled design, construction and planning management and research."
Moreover, in working with Li and Zhu from UF's Department of Electrical and Computer Engineering, Zhai highlights the value in interdisciplinary collaboration — something that both Dean Chimay Anumba and President Fuchs emphasize in helping UF achieve greater heights.
Zhai's initiative also demonstrates the prestige of DCP's Ph.D. program, which recently obtained a STEM designation. DCP yearns to embrace AI-enabled learning and research within its Ph.D. program, and Zhai's work corroborates the value in investing in AI.
This grant aligns with UF's $70 million initiative to advance and implement AI across disciplines and prepare students for the tech-oriented workforce. Following the university's lead, DCP is also working to advance AI-enabled design, construction and planning research and curriculum to adapt to the evolving, data-driven profession.
With Microsoft's AI for Earth grant in their possession, Zhai and his team are on their way to unleash the power of AI in urban planning, particularly disaster planning and management.