By: Kyle Niblett
May 15, 2023
Whether it is studying, sleeping, or partying, jumping out of bed, and running to the balcony before the sun comes up is not a regular activity for college students.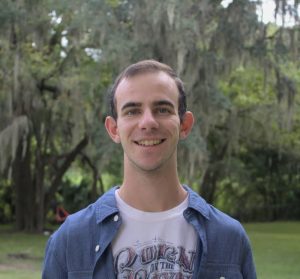 However, when University of Florida College of Design, Construction and Planning student Joseph Benjamin checked his email just before 7 a.m. earlier this spring, he had no choice but to sprint to the balcony and tell his parents the great news he just received.
The Sustainability and the Built Environment junior had just been notified that he had received an international award from DAAD, the world's largest funding organization for the international exchange of students and researchers. Equivalent to the U.S. Fulbright Student Award, Benjamin was honored with the DAAD Rise (Research Internship in Science and Engineering) Award, a proposal-based award that matches him with scientists in Germany who already work on projects that align with his proposal, skills, and interests.
Benjamin is now spending his summer working together daily with scientists at HafenCity Universität Hamburg (HCU). Specializing in Geodesign, the DCP Ambassadors member is having a blast taking his research to the next level.
"HCU does a lot of cutting-edge research in sustainable urban planning," Benjamin explained. "The university's programs all center around the built environment (architecture, architectural engineering, urban planning, GIS, etc…), so it is exciting to be around people that have the same interests as me."
One of those people is HCU Professor and Research Associate Mahmoud Moursy, who is working with Benjamin this summer on Water Sensitive Urban Design in arid and semi-arid areas. The two are collaborating, with Benjamin putting his writing and GIS analysis skills to use by using the methodology Moursey has developed. As the summer evolves, Benjamin expects to do a lot of research as it pertains to their case study in Alexandria, Egypt.
Using the impressively developed public transportation infrastructure to get around, Benjamin has already seen a plethora of sustainability principles in practice. With Hamburg having an amazing network of green spaces in several bands and rings around the city, he has noticed first-hand how much walkable access residents have. Whether its his immersion in German research as it relates to Egyptian geospatial information, or the availability of international data that vastly varies when compared to the wealth of information collected and processed already in the United States, Benjamin is taking on the challenge headfirst to the best of his ability.
With two years of learning German under his belt, combined with his experience so far at DCP, the UF Environmental Horticulture Club member feels prepared to take on the challenge of being in a foreign country alone.
"My courses at UF have challenged me the most, but I have come out of them with amazing skill development required for this summer," Benjamin said. "The case studies presented in the Site Analysis class that I took opened my mind to so many beautiful and intricately thought-out projects around the world. Working with Dr. Azza Kamal has confirmed that this is the kind of work I would like to do after graduating."
In addition to crediting Dr. Kamal as his biggest inspiration, motivator, and critic during his time in Gainesville, Benjamin is also quick to point out the curriculum in general as well as other faculty and staff.
"The flexibility of my major has let me tailor my academic experience to my interests, which I really appreciate from the program and our great advisors like Pat De Jong," Benjamin said. "Everyone at DCP has pushed me to create work that I am proud of and help me be a force for good."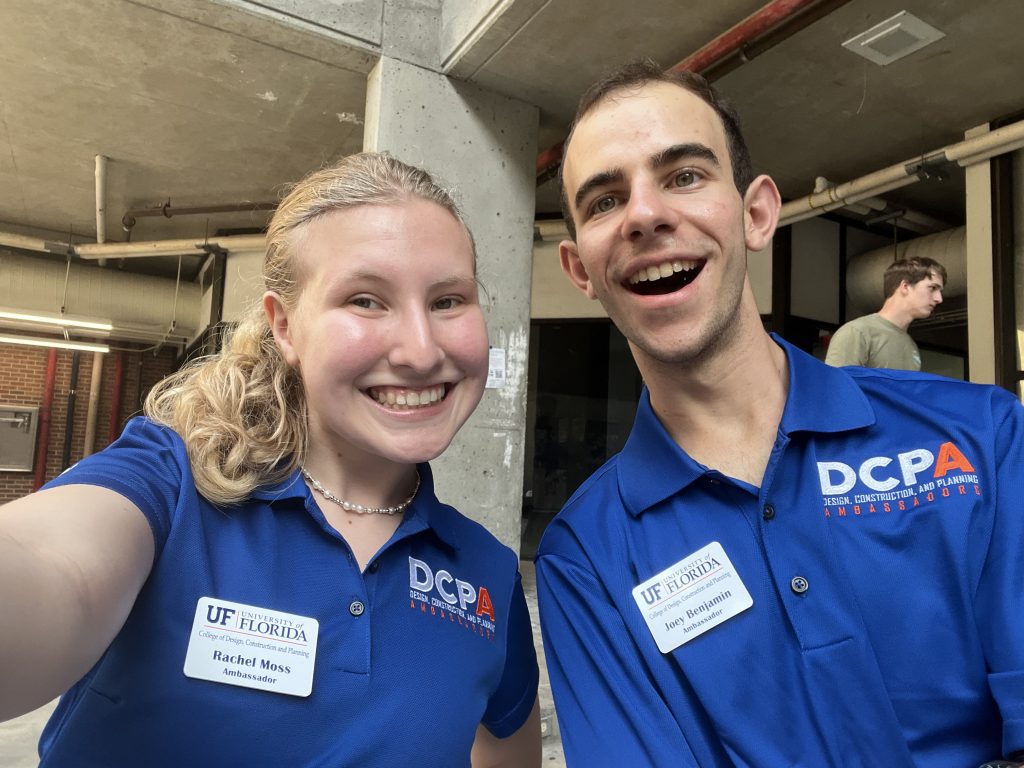 BONUS CONTENT – Q&A with Joseph Benjamin
What would you tell prospective students who are thinking about attending DCP?
Do it! Especially in the realms of sustainable building and construction, there seems to be a lot of growth in the industry as employers are beginning to become engaged in ESG and green technologies are invented. When choosing my major to go into college, I feel incredibly lucky that I chose SBE within DCP. The community aspect of the college is felt when I compare my experiences with my peers in other UF colleges. The constant attention that the faculty give us outside of class includes the amazing advisors, alumni connections, and great internship opportunities sent directly into my inbox from Bahar.
What is your favorite course/professor at DCP and why?
I've already mentioned how I loved my Geodesign courses with Dr. Kamal, but my Professional Writing in Sustainability course with Dr. Mickey Schafer was another great experience. A large part of the course was familiarizing ourselves with corporate sustainability reports, trade literature, and academic articles so that we could eventually create our own. I love to read and being told to basically explore what's out there was a ton of fun.
What has been your favorite memory at DCP and why?
On the first week of classes this semester, I walked in to my SBE courses to see a lot of familiar faces. The major is small but mighty, which comes with the benefit of getting to know my classmates well. Two of the close friends I've made in the program will be graduating in the next two semesters and I'll miss getting to see them consistently every week. Working on group projects with them has been a lot of fun. I'm excited to pass ideas back and forth in our group chat and a brainstorming session over Bolay makes the time fly by.
What is the one thing you know now that you wish you would have known about your first day at UF?
In high school, I would grasp at whatever opportunity came my way because the number of extracurriculars and clubs that fit my interests were relatively small. This is false coming to UF, where there is something new around every corner. In my first semester, I attended a ton of club meetings, signed up for a lot of volunteering, and took a large load of classes. It was incredibly fun to dive in headfirst but was overwhelming at times. I'm glad that I tried so much, but I wish I had the skills to take a step back and reflect to narrow down my involvement. Doing less, but well, is so much better than doing everything, but being tired all the time and enjoying nothing.
How important is the DCP network of graduates across the globe?
Recently at my current job as a student assistant with the GeoPlan Center, we had a recent graduate, Tyler Tornese, talk to us about his job and some of the planning projects he's worked on. I loved the opportunity to hear from him and ask some questions. DCP graduates are not only impressive in the network's size and breadth, but so many are excited to come back to the college and talk to current students. Events that I've volunteered for through DCPA, like the recent Women of Influence event, go on to prove this further. Professional development is incredibly important to exposing me to potential careers of mine, which DCP's graduates are great at giving insight on.