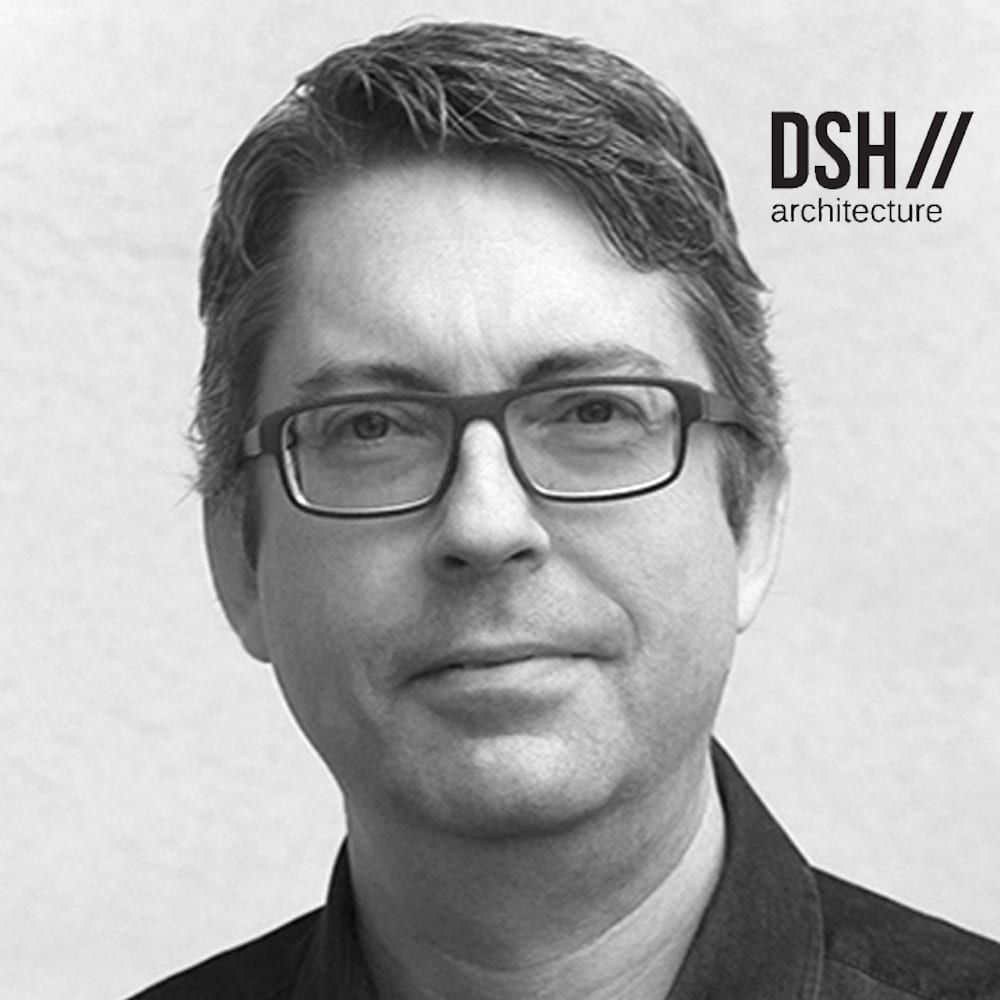 By: Kyle Niblett
Each month, DCP will highlight a graduate from the #OneDCP family. To be featured in this space, please email kniblett@dcp.ufl.edu.
Eric Haas, FAIA, is a University of Florida College of Design, Construction and Planning graduate who earned a Bachelor of Design in Architecture in 1990. Haas is currently the principal architect at DSH // architecture in Los Angeles. The Gator grad is also an adjunct professor at the University of Southern California.
Q & A WITH ERIC HAAS
Can you tell us about your career journey?
After graduating from UF in 1990, I attended Harvard Graduate School of Design (GSD), earning an M.Arch degree in 1993. I moved to Los Angeles that year, finding work at a fortunately busy firm despite the serious economic recession at the time. After gaining experience on several engaging projects, I began freelancing and in 1997 founded the firm DSH with my partner (and future wife) Chava Danielson. I've been a principal of that firm since. We have a broad range of project types in the office, with specialties in a form of adaptive reuse we call progressive conservation, design-intensive residential and working with non-profit clients.
Can you tell us about your day-to-day responsibilities at your current job?
I am principal of my firm and generally focus on project conceptualization, design and detailing. We keep a small practice, so that also means pitching in to do really everything that needs to be done.
How did DCP prepare you for your career?
Looking back, I had an extremely thorough education that laid the groundwork for a synthetic understanding of architecture in all its manifestations – design, material, structure, performance, practice. The generalist ability learned in Gainesville is still enormously helpful, perhaps ever more valuable in a world of increasing specialization and atomization. The central role played by the studio as a laboratory for experimentation stayed with me, and is how we run our firm.
What was the most challenging part of your time as a student at DCP?
Probably the long hours, revising and revisiting my work, while always testing new options to tease out superior designs. Humidity was also a challenge – in the days of hand drawing, it is why I drew everything with ink on dimensionally stable mylar.
What would you tell prospective students who are thinking about attending DCP?
Architecture at the University of Florida has maintained its reputation as a crucible for advanced design inquiry – it is a place of freedom to investigate, the cornerstone of excellence in design. The skills and more importantly attitude one learns at UF will set the wheels in motion for a rewarding career.
What was your favorite class you took at DCP and why?
I would have to say design studio, and particularly the first day of the first semester – I had little idea what to expect as a new college student. We started first thing in the morning, were sent to the store for supplies and returned to start working immediately. Being thrown in the water and taught how to start swimming on day one was intimidating, exhilarating and memorable.
What was your favorite memory at DCP and why?
No specific time, but generally late night in the studio with fellow students – the strangeness of working when no one else was yielded both incisive reflection and profound camaraderie.
What is the one thing you know now that you wish you would have known your first day at UF?
Just how important it is to share the potential of our work with others – we architects can sometimes not fully communicate just how transformative and novel the ideas we have are, because we are so used to the ways in which we see the world.
How important is the DCP network of graduates across the globe?
Though I am currently far from Gainesville, some of my closest colleagues are Gators. A real bond exists, and not only on football gamedays.
What does it mean to be elevated to Fellow of the AIA?
It is a great honor to be recognized for the contributions I have made and the positive repercussions my work has had. Being elevated is a forward-looking honor, however – sort of like achieving a base camp while mountaineering: it gives you a platform – and a responsibility – to continue to do meaningful, transformational work that will produce change for the better.
FUN FACT: Haas was in a band called "The Law" during his time in Gainesville. Here he is pictured with the band (top left).