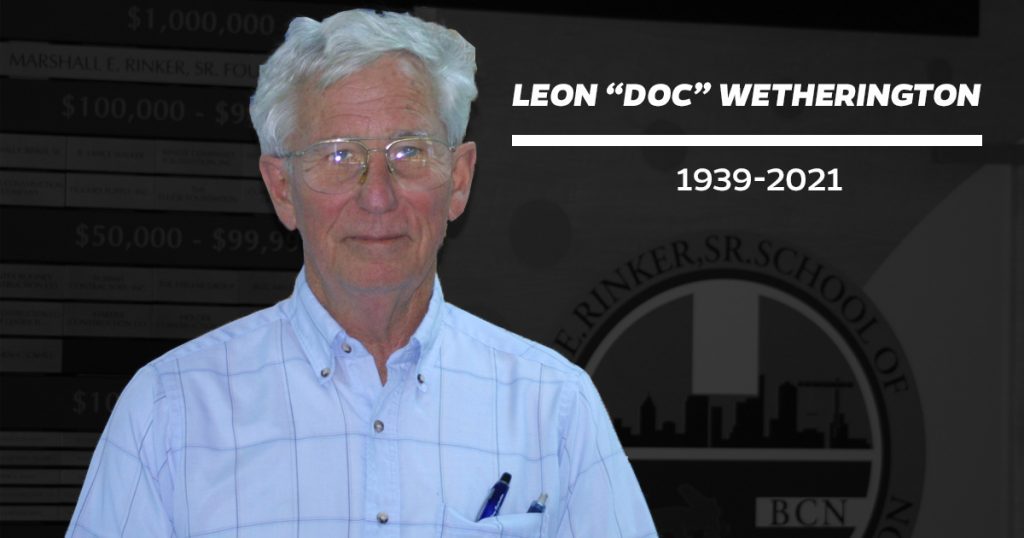 By: Kyle Niblett
The University of Florida College of Design, Construction and Planning mourns the loss of one of its former faculty members: Dr. Leon "Doc" Wetherington, Lecturer Emeritus in the M.E. Rinker, Sr. School of Construction Management. Wetherington passed away on Wednesday, Sept. 29. He was 81.
"'Doc' was a legendary faculty member known for his pipe and humorous sayings," Rinker School Director Dr. Robert Cox said. "I know that everyone who attended the Hall of Fame Ceremony on Sept. 18th remembers how special it was to have Leon there. His Rinker legacy will never be forgotten."
After graduating from Plant City High School, the lifelong Gator graduated with honors with his bachelor's degree in building construction in 1969, before earning his master's in building construction in 1987. In 1992, Wetherington earned his Ph.D. from DCP in architecture.
For the next 15 years, Dr. Wetherington faithfully served the Rinker School by teaching courses such as: construction drawing, construction mechanics, construction techniques, methods lab and estimating. After retiring at the end of the Spring 2007 semester, the Rinker legend stayed in Gainesville to help the school run the newly opened Perry Construction Yard. In all, "Doc" was part of the Rinker family for 57 years.
"'Doc' was a perfect role model to show Rinker students that commitment to social responsibility is a large part of the University's history and tradition," said Dr. Adbol Chini, former Rinker School Director and current DCP Associate Dean for Undergraduate Education and Facilities. "His goal was always to encourage Rinker students to accept the challenge to experience some kind of outreach work during their time here at DCP."
A private service for Dr. Wetherington was held earlier this month.