By: Mia Alfonsi
Students from the University of Florida College of Design, Construction and Planning and the Herbert Wertheim College of Engineering teamed up to participate in the annual Witters Competition, which kicked off Jan. 22 and commenced Feb. 2.
Team 12, composed of six DCP students and one engineering student, clinched the $3,500 grand prize by winning the Witters Competition. Though this year's competition was held virtually, it still proved successful and impactful for both DCP students and the Gainesville community.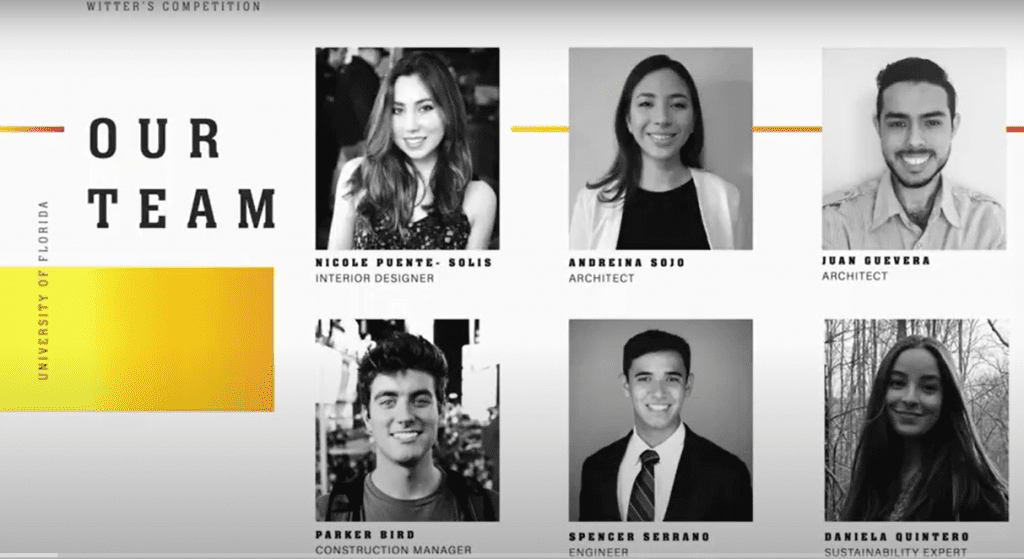 This year, 12 teams were challenged to think about "innovative, sustainable and community-centric solutions" for the site redevelopment of the decommissioned Fire Station #1 located in downtown Gainesville. UF submitted its own proposal to the City of Gainesville in April 2020 to activate the site as a community empowerment hub, but the competition was not coordinated based on this initial proposal; rather, the focus of the Witters Competition and the proposal submitted by UF were the result of a fortunate coincidence rather than a coordinated effort, says UF Director of Collaborative Initiatives Andrew Telles.
WITTERS JURORS
Instead of selling the old fire station, the City Commission decided to retain ownership of the building and the City thereafter issued an invitation to negotiate, soliciting ideas for an adaptive use of the space with the primary parameters being that the proposed use should serve as a space to activate the community through an innovative use that reflects something other than an office or business operating within the traditional 9-to-5 hours of operation.
Team 12, led by Nicole Puente-Solis, second-year graduate student on the interior design track, took to the drawing board, pulling inspiration from fire as a paradox; on one hand, fire acts as a destructive force, but on the other, it is necessary for purification and regrowth. The team proposed "FireScape," named from the landscape technique firescaping, which reduces the potential for wildfires and allows for a fruitful ecosystem.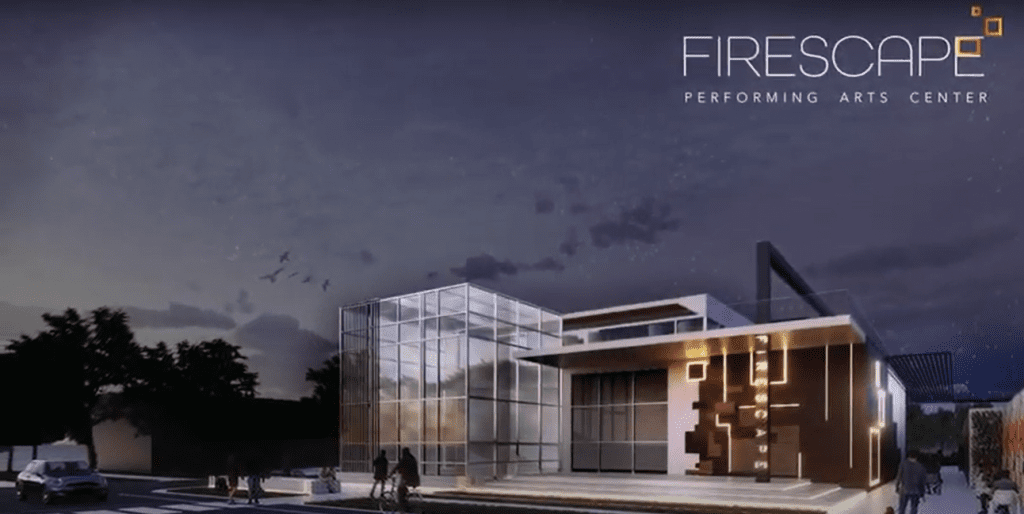 FireScape serves as a community resource where people can engage with one another and form dynamic relationships through the lens of performing arts. Complete with a vendor space, storage/art display walk, black box room, an open-air theater and more, Firescape is a safe and inviting environment for Gainesville residents to connect and grow together.
"We played off the idea that a place that was once full of firefighters is now a space that's almost an escape from the destructive fires of the world," Puente-Solis said.
What set Team 12 apart was how closely their design mimicked their purpose and motivation for the structure and embraced the old fire station's facade and imagery. Although the team's proposal anticipated tearing down and rebuilding the original structure, what they created paid homage to the station and opened up an important conversation for consideration — whether they should spend money getting the decommissioned station up to code (which, based on a study commissioned by the City indicates that such a cost could be as much as $2 million or more) or invest in a new, more stable and sustainable structure adapted for the specific use of functioning as a community resource, Telles mentioned.
Although Team 12's idea will likely not be implemented exactly as presented, there were many elements that could be value-adding to UF's original proposal.
"It was one of the ones where I wanted to immediately show the design to the rest of the team that I have been working with because I thought it was really a compelling articulation of what has been envisioned for the site," Telles said.
The Witters Competition highlights the value in linking together UF's vast, but often uncoordinated, knowledge, expertise and resources to directly support and develop what the community identifies as beneficial or needed, Telles said.
Moreover, DCP's annual competition serves as an example for future institution-community collaborations that can leave an enduring impact on Gainesville, especially if these initiatives embrace a student perspective.
"[Witters] shows the value that students can contribute if they are just given the opportunity and the platform to work in that way," Telles said. "The fire station is just one example. I have probably a half a dozen other areas where a competition or an effort like this would be extremely beneficial because a lot of times, there's talk around potential opportunities and potential collaborations, but I think it's really hard for some of these stakeholders to envision what that might look like in practice."
Team 12's thoughtful design was completed over six days through Zoom sessions and a seamless meshing of different disciplines, according to Puente-Solis. The team was made spontaneously from "hijacking" different Zoom calls at the beginning of the competition and proved successful in averting any especially grueling or stressful moments throughout the competition.
"We all went into it not necessarily to win, but for the experience," Puente-Solis said. "All of us love producing our best work regardless if it's just for us or for a grade. I never had an experience where we were like, 'Oh no, what are we going to do?'"
Shocked, but excited about winning the competition, Puente-Solis recognized how she and her teammates blended their individual experience to create value and support for one another. This interdisciplinary approach is one she and her team believe DCP should promote more often within the college.
"You realize how much you really need every single person on the team," Puente-Solis said. "Everyone has a vital role, no matter how big or small. If we could work with each discipline for one studio project each semester, it would definitely make us more well-rounded students coming out of UF."
Witters also opened up Nicole's mind to what she could accomplish in such a short period of time as she and her team had to follow their gut instincts while working against a tight deadline. Winning the competition was a testament of the team's perseverance and collaborative strengths, but the true win was in enjoying the process.
"Someone was judging us, and yes, there was a cash prize, but an applause is an applause," Puente-Solis said. "You really have to be doing things for yourself and what you want to bring to the world, not for the applause or approval of others."
The outcome of this year's Witters Competition was the same, if not better, due partly to three distinct changes: its virtual format, length and jurors, according to M.E. Rinker, Sr. School of Construction Management Professor Robert Ries.
"I've been pushing to lengthen the competition duration because in a lot of cases, disciplines support other disciplines and a more comprehensive solution results from the students having more time to engage with each other," Ries said. "The inter-disciplinary quality of the projects they developed were much better than what they had done in the past because they had the additional time."
In addition to Team 12 winning cash, seven other teams took home $600 each based on their discipline-specific strengths:
Besides elongating the competition, DCP prepared materials for the teams beforehand and invited non-DCP faculty and professionals to act as jurors. Not only did this element bring more objectivity to judging, but it also exposed students to the community and vice-versa.
"We had such positive feedback from the jury on the quality of the students, and they were amazed at how much they were able to accomplish," Ries said. "The benefit for the college is that now these professionals in the community will talk to their peers and speak highly of the quality of the students in the university."
Reflecting on his eight-year participation with Witters and in creating multidisciplinary teaching initiatives, Ries says what he loves most about the competition is the impact that it has on students.
"It opens up their thinking and gives them a taste of what a professional career is like," Ries said. "I really love that they're wholeheartedly embracing the idea of the competition. I think the Witters would be thrilled to see how this competition has developed and the outcomes it has."
WITTERS COMPETITION ORGANIZATION TEAM