By: Kyle Niblett
Cutting-edge research is at the forefront of the University of Florida College of Design, Construction and Planning, which is why on November 9-10, the 12th Annual DCP Research Symposium will highlight student research at its finest, share exciting studies from its newest faculty and offer a can't-miss keynote address on car-optional communities.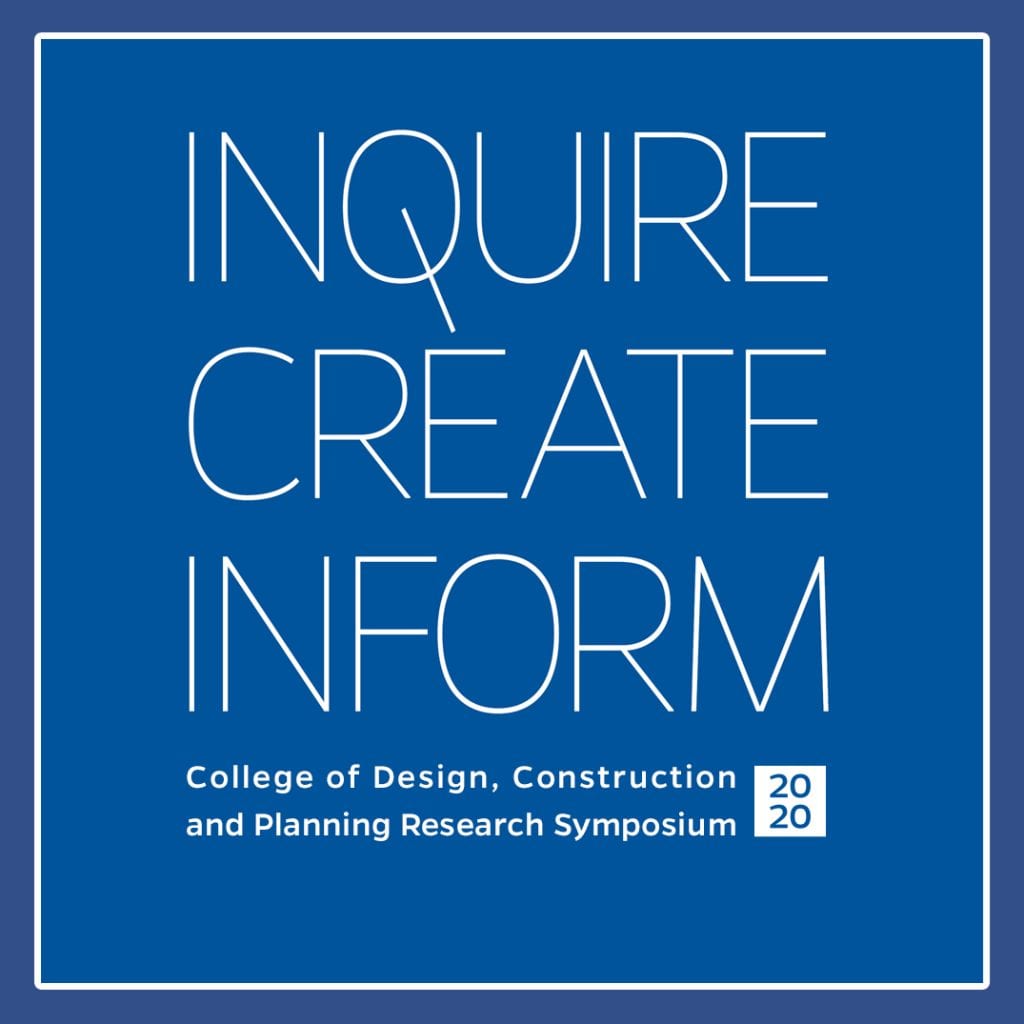 "In this year's virtual modality, we are eager to share the scholarship by our faculty and students: It is forward-facing and relevant for the challenging times in which we live," DCP Associate Dean of Research + Strategic Initiatives Dr. Margaret Portillo said. "The scholarship presented over the course of the symposium is impressive: Some employs artificial intelligence and a range of mixed methods. Other work focuses on topics including people-and-place-based resiliency, enhanced building performance, sustainable futures, historic preservation, and social justice, culture and equity in local and global contexts."
The two-day special event begins at 2 p.m. Nov. 9 with the student poster session and continues with the hour-long presentation on the next generation of car-optional neighborhoods by nationally recognized planner Victor Dover, FAICP, CNU Fellow, LEEDAP
The following morning features the research of 10 of our newest faculty, presentations, panels, and innovation spotlights of faculty research and creative scholarship, wrapping by 1 p.m.
Other highlights include DCP faculty addressing social justice and placemaking, AI and emerging technologies and related high-impact work in faculty panel presentations. Video shorts demystifying the research process and spotlighting human impact in inspiring faculty-led creative scholarship will also be shown.
Similarly, original student scholarship will be celebrated in the always-popular poster session. This virtual event will feature graduate and undergraduate students who are ready to present their scholarship, in various stages of completion, to the DCP community and all those attending the symposium.
"Be sure to interact with our students. Experience the range of research conducted by doctoral students, master students, and undergraduates at the virtual poster session: These students welcome your reactions to their work," Dr. Portillo added.
All interested individuals and the general public are encouraged to register for this invigorating meeting of the minds by registering for the event here. The deadline to register is Sunday, Nov. 8, at 5 p.m.