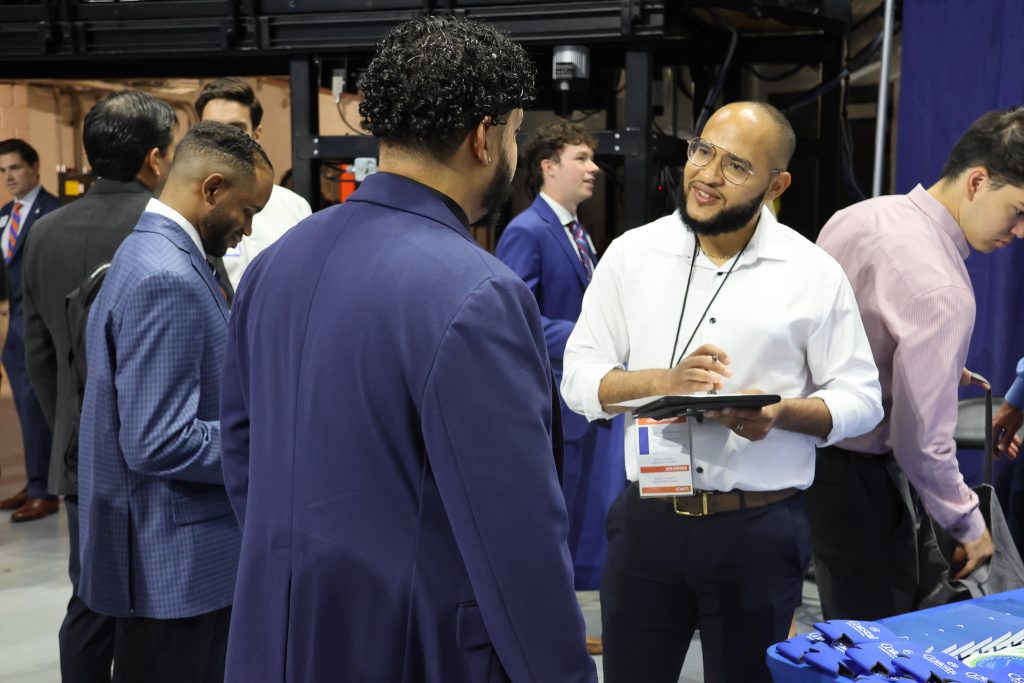 By: Tatiana Rodriguez
Monday, September 18, 2023
The University of Florida M. E. Rinker, Sr. School of Construction Management hosted its 25th annual Fall Career Fair on Thursday, September 14 in Exactech Arena at the Stephen C. O'Connell Center. Rinker School students had the opportunity to speak with and get recruited by 109 construction companies. With the fair's 100 percent job placement, it's clear that UF students are in demand.
"This is like my family reunion every semester," Rinker School Director Robert F. Cox said. "I get to introduce the current students to my former students and alumni and it's special. It really reinforces the unique nature of Rinker."
The fair had construction companies with several different specializations that can appeal to the students' different interests and areas they want to focus in. Some companies that were part of the event include CORE, Wal-Mark Contracting Group, Universal Creative, Kiewit, Stellar and Charles Perry Partners, Inc. (CPPI).
There were over 320 recruiters, some of whom graduated from the Rinker School themselves.
Ted Cava is a Rinker alumnus who now works as the vice president of the South Florida CORE office. He came to the career fair as an undergraduate student and received 14 job offers, and said it absolutely helped him get to where he is now.
"Whenever you have a UF student, you know they're very well-educated in construction arts and sciences, and it's spectacular knowing that the university produces a very consistent work product. UF does an amazing job training and developing young talent for the industry."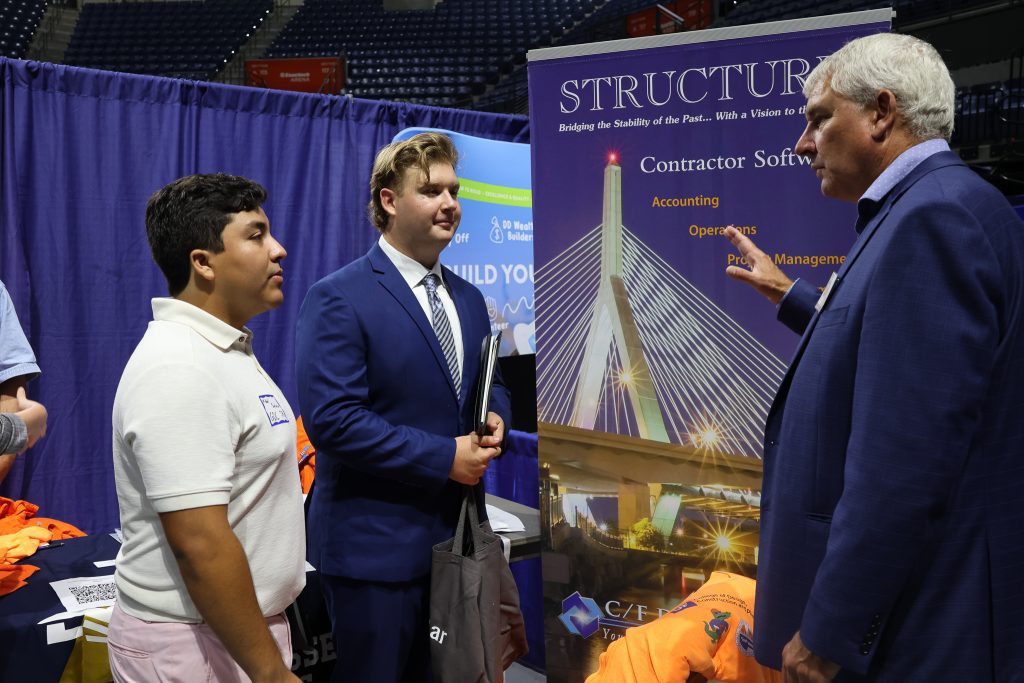 Adam Peggs, another UF alumnus, currently serves as the vice president of operations in the Sarasota office of Wal-Mark Contracting Group. This is the eighth time that he has joined his company at the career fair.
"This school compared to other schools has a different standard, which is why we focus on UF when we are recruiting students. Rinker just prepares them phenomenally."
Over 250 students came to the career fair eager to learn more about the companies and seek an internship or job opportunity.
Tessa Johnson is a junior at Rinker and has had two internships already through this career fair, the most recent being with Universal Creative. She's now looking for a company to have her third internship with.
Johnson said that Rinker helped her feel prepared for the career fair by conducting mock interviews and resume workshops in her classes.
Marley Restrepo, a senior at Rinker, has been to six career fairs and has explored different specializations in construction management. She said that after graduation, she's interested in taking a nontraditional route and working on the business and strategy side of construction.
Restrepo said that she loves Rinker and is there "for more hours in a day than the average Rinker student." She said that Rinker has done a lot for her by helping her network and gain a lot of relationships.
"Rinker has done an excellent job with the career fairs," Restrepo said. "I feel like we are in such an awesome place that allows us to almost be choosey in a way because there are so many awesome companies here and they're fighting over us and we get to pick where we best fit."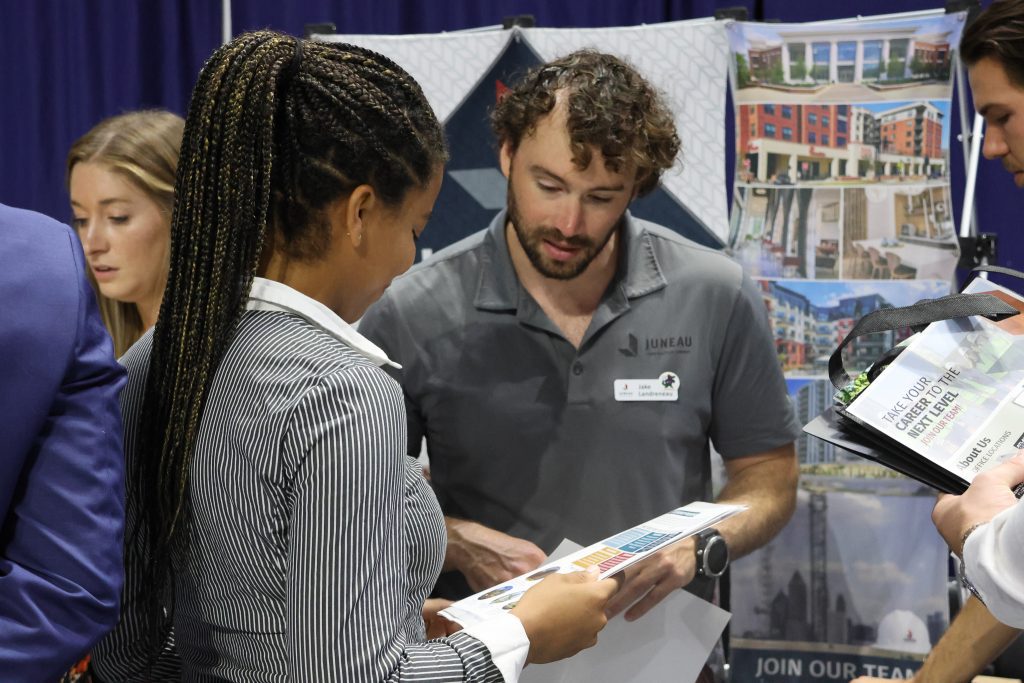 In fact, Rinker senior Hudson Welch said there are about 30 companies on the waitlist to get into the career fair just because they know how valuable Rinker and DCP students are.
Welch interned with CPPI this past summer and is continuing to work in the company's Gainesville office as an intern. He got this opportunity from a previous career fair.
"Putting me in front of this many people is first and foremost the biggest thing that Rinker does for you. The professors at Rinker take time to go over your resume with you, go over your sales pitch and allow you to get prepared to talk to these companies and be professional."
Grayson Johnston also has a lot of gratitude for the time that his professors put into ensuring that he's prepared for not only the career fair, but the real world. He said that since they all have previous site experience, they can tell you what you're going to see out on a construction site and sort of explain how to deal with it.
Johnston is a junior who recently interned with Sauer Construction and focused on construction on military bases. Now, he's at the career fair to learn about other sectors.
"I feel like when I graduate from Rinker, with both the experience that I've gotten over the summers through internships and the experience in class… I feel like I'll be ready to leave and join the industry."