By Rosa Medina
Lisa Platt is an assistant professor in the Department of Interior Design and a member of the Florida Institute of Built Environment Resilience (FIBER) faculty. She is the representative of interior design in FIBER and also the FIBER researcher focusing on healthcare. Her current research deals with infection prevention through resilience design.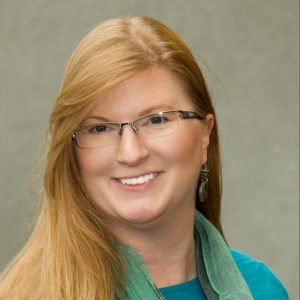 Platt has a Bachelor of Arts in interior design from the Savannah College of Art and Design. To further her education, she pursued a master's degree in psychology with an industrial and organizational focus and completed her Ph.D. in systems science with a focus on health systems engineering from the State University of New York at Binghamton.
In her early 20s, Platt got involved in healthcare design, and as she worked throughout her career, she started to notice you can design the perfect hospital trying to create a human-centered environment. After completing her master's, she focused a lot on human factors and safety performance in healthcare, specifically with hospitalists. Platt did a lot of consulting all over the world and has done work in Asia, Africa, North America, South America, Australia and Europe. Being able to understand how we measure the effect of risk and how we are able to evaluate the potential for resilience outcomes, specifically the safety of engineering systems and the resilience of the human activity systems, is what got Platt interested in system sciences and systems engineering.
After completing her bachelor's degree, she started working in an architecture firm. "It was a very pivotal moment for me wanting to stay in healthcare," she said. "I was working in Memphis, Tennessee, and I was working on a program for St. Jude's Hospital, and it made me realize how the built environment can really impact both patients and their families in meaningful ways."
She did national and international work in healthcare design for 20 years. After completing her master's degree in psychology, Platt became a consultant, which allowed her to do more consulting on environmental safety, operational safety, and performance improvement in health care environments. Once she finished her Ph.D., she immediately started her research job at FIBER in August 2019.
Since 2015, Platt has been researching infection control. "We have a perfect storm in healthcare right now," she said. "We have the rise of antimicrobial resistance, which basically means bacteria is becoming resistant to both antibiotics and antimicrobial treatments. Right now, there is going to be an increased amount of death related to infections." This is one of the reasons Platt is studying and focusing her attention on this research. The other reason she is researching infection control is because she would like to help the most vulnerable population, including the elderly and homeless, who are the largest population affected by infections.
Through her research, Platt developed a regional model that helps look at risk factors and also resilience intervention factors to be able to forecast potential performance safety outcomes. Platt hopes this model, along with her research will hopefully allow people to understand how we design more resilient healthcare delivery spaces, so they are not just resistant to pathogen transfer, but also adaptive to a microbial burden.
Platt hopes the future of this research will be in designing and developing smarter spaces that are adaptive to a whole host of problems. "The other part of the future is looking for opportunities to cross-pollinate efforts that relate to resilience research so you can be accomplishing a cadre of different goals with a single research effort," she said.