By Kyle Niblett
Sweat drips profusely off the forehead. Steam rises from the Florida concrete courtesy of an unforgiving sun. Construction workers scatter from one task to the next in what can only be described as a synergetic dance filled with organized chaos. And in the middle of it all, hiding behind a flowery neck gaiter, protective eye goggles and a dirt-laden hard hat, is a future potential Miss America.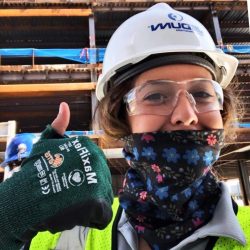 Of the 56,000-plus students who attend the University of Florida, only one of them balances the grueling requirements of being Miss Gainesville 2020 and a student at a Top-10 public university. Julianna Chappell is a reigning pageant queen and is also a junior at the M.E. Rinker, Sr. School of Construction Management.
Chappell spent the summer in Tampa, Fla., working extensively on the SkyCenter One project as an intern for JE Dunn Construction. The nine-story office building and precast parking garage on the campus of the Tampa International Airport will eventually house the Hillsborough County Airport Authority, along with other tenants. The building will receive a LEED Platinum certification, which is the highest ranking awarded by the U.S. Green Building Council. As overwhelming as a project like this might be for an intern, Chappell was up for the task.
"The most challenging part of my job was adapting to a fast-pace environment like SkyCenter One," the Chi Omega Sorority member said. "Once I became acclimated to the sheer amount of activity continuously happening on site, I enjoyed being part of the problem-solving process each day."
Chappell gained the trust of her supervisors early on, eventually earning the role of COVID Coordinator for her project team. In this role, she hosted City of Tampa COVID inspectors, walked them through the SkyCenter One site and ensured JE Dunn complied with COVID safety measures as required by the city.
"Julianna was able to immediately jump in and be a contributing member to the team," JE Dunn Project Superintendent Chris Bell said. "She took on new tasks every day without complaint and did so with a smile on her face."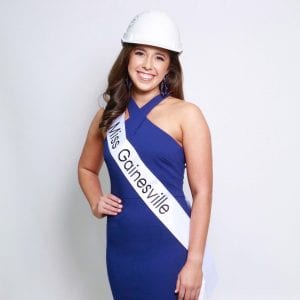 The work ethic and positive attitude Chappell possesses can be attributed to being Miss Gainesville 2020, where her responsibilities include local appearances at community events, interacting with city officials and volunteer work at local elementary schools. The balancing act between being a legitimate pageant queen and a Rinker student has prepared her for the rigor of working in construction.
"Being personable, passionate, and well-spoken are qualities that you need to be successful in both pageants and the construction industry," Chappell said.
Pageants have benefited Chappell tremendously when it comes to transitioning into construction. From time-management skills to engaging with strangers, qualities developed as Miss Gainesville have directly correlated to successful relationships with trade partners and co-workers. Those experiences, along with her time at UF and JE Dunn, has prepared her for a prosperous future .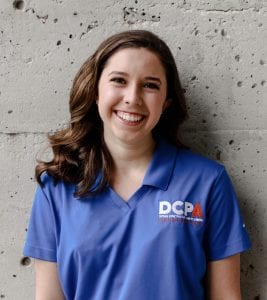 "The UF College of Design, Construction and Planning has undoubtedly equipped me with relevant knowledge of the construction industry, building methods and management practices," said Chappell, who has helped pay for her UF education by winning thousands of dollars of scholarships through the Miss America Organization. "While my internship experience with JE Dunn furthered my problem-solving abilities, reinforced the importance of quality control on site, introduced me to technologies that enhance job-wide logistics and gave me applicable strategies to help increase trade partner productivity."
Scheduled to graduate in the spring of 2022, Chappell has dreams of a successful career in the commercial construction industry. Whether it is interacting with trade partners, tackling challenges out in the field, or coming home each day with the satisfaction of seeing a building move closer towards completion, the DCP Ambassador aims to enrich lives through inspired people and places.
However, it might be awhile before anyone is handed a business card with "Superintendent Chappell" on it. After all, representing the state of Florida at the Miss American Competition, and then winning it, requires a year of service, filled with advocacy and extensive travel equivalent to a full-time job.