By: Kyle Niblett
Kenady Beil wakes up at 4 a.m. and designs her day much like she does her buildings: meticulously. It is a requirement for someone who stars in the butterfly event for the University of Florida swim team while also majoring in architecture inside the UF College of Design, Construction and Planning.
"The hardest part of balancing the student-athlete life is making sure you have time to take care of yourself," Beil said. "Everyone is different in what they need to thrive mentally and physically. Personally, the hardest part to balance is making time to sleep or letting my body and brain rest."
Letting the body and brain rest is naturally a hard thing to do for the Villa Hills, Ky., native. After being dropped off at swim lessons at the age of three, Beil has been swimming for 16 years. Before even arriving in Gainesville, she had already qualified for the 2020 Olympic Trials and competed in the United States Swimming National Championships. Yet, despite her athletic accomplishments, belonging to the National Honor Society and being a U.S. Presidential Scholar nominee, many schools tried to dissuade her from pursuing her chosen career path.
"As I was being recruited, many of the swim coaches around the country advised against going into architecture due to how demanding it would be," Beil said.
One school that did not try to push Beil away from architecture was UF, a Top-10 public university that has produced more than 200 All-American swimmers and captured two NCAA championships. With the top programs in the country pleading with her to swim for them, one of the deciding factors was a tour of the architecture building and a meeting between Beil, her parents and DCP Academic Advisor Pat DeJong.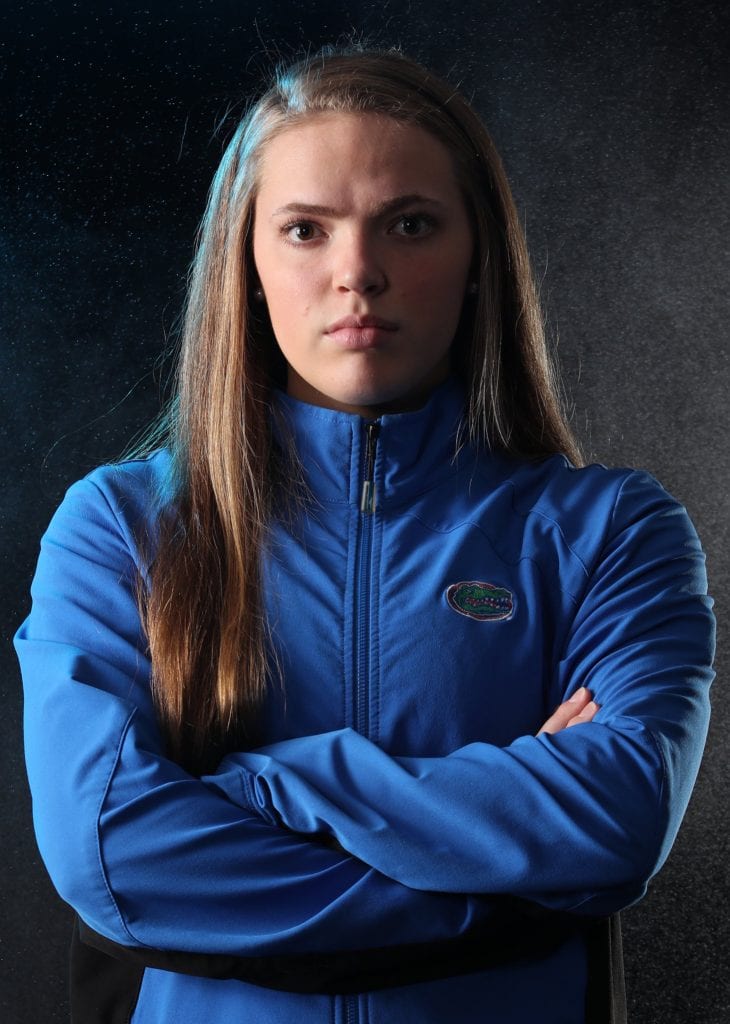 "After going through a few details, my advisor was asking me some tough questions regarding my choice to pursue a degree in architecture," Beil explained. "Once he realized how passionate I was about my choice, he simply stated, 'If you are still interested in doing this after so many told you not to, I believe you can do it, and I am ready to be the one that is there to help you.' From this moment on, I knew that I would have a team behind me that fully supported me as a student-athlete."
The transition to college still was not easy. Admitting to having a wake-up call in terms of academics, Beil quickly realized she needed to change her study habits to get all her work done. Between waking up before dawn, balancing all her classes and being a student-athlete, she is constantly reminding herself not to nap during the day so she can sleep longer at night.
"I would tell prospective students of DCP that they need to make sure they really want to do it," Beil said. "It is very costly, time consuming and energy absorbing to pursue a degree in this area of study."
After winning her first collegiate event by four seconds Nov. 5 in the 200 butterfly, and swimming in the same event March 20 at the NCAA Championships, Beil's pending stardom could possibly create the perception that student-athletes are only focused on the "athlete" part of being a student-athlete. The reality is academics comes first.
"On our team, we talk about how the word student in 'student-athlete' is first for a reason," said Beil, whose favorite classes so far have revolved around design and the built environment. "We do a great job of keeping each other accountable for our schoolwork and expect nothing but our best efforts in everything we do – in the pool or in the classroom. We work for everything that we earn and do not take the opportunities we are given for granted."
Not only does Beil feel family vibes from her teammates in the pool, but from the OneDCP family as well. In the classroom, she is given the opportunity to explore her creativity while teaching her mind how to properly analyze, draw, build and even write things that are architecturally related. The classes are small and have led to stronger connections with her fellow students and professors. A prime example of this would be that after notifying her professor that she would have to miss class because of a swim meet, she showed up the next day and was handed a good luck card – signed by her professor and everyone in the class.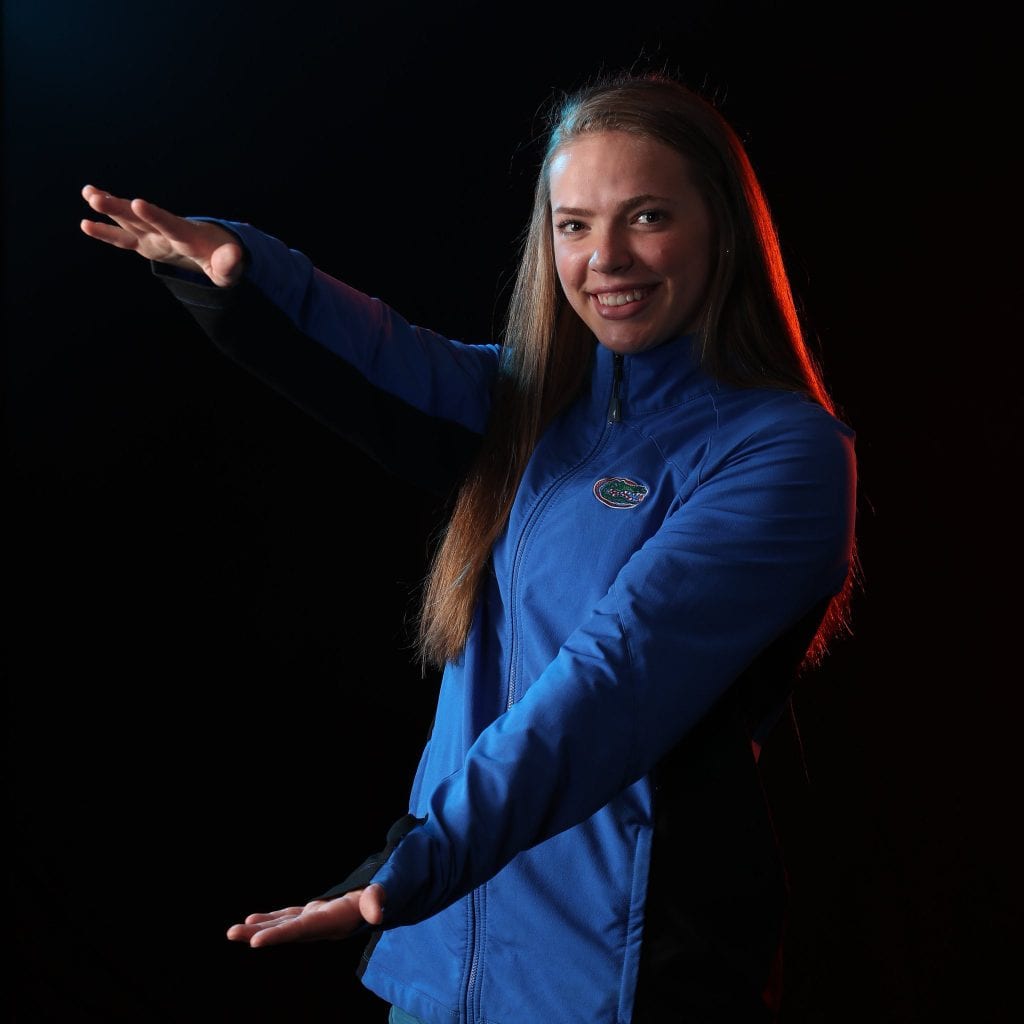 "These studio classes have given me the chance to connect with people outside of my sport, which has been extremely difficult during the pandemic," Beil said. "Knowing that these people will be with me for the next four-plus years is comforting and encouraging, since they are highly intelligent and hard working in all that they do."
Due to the family environment the UF academic and athletic brand provides, Beil has decided to use the platform her notoriety has given her. Instead of looking up to fast female swimmers, she wants to be someone girls look up to for reasons beyond what they do in their sport.
"One example of such is Victoria Garrick, a former University of Southern California volleyball player who advocates for mental health and body image in all sports," Beil said. "She does an incredible job promoting healthy and happy bodies versus photoshopped or posed images that lead other young women to focus on their insecurities. She has made me understand that my body has gotten me through my hardest days, and for that, I should love it and not pick it apart."
Beil wants young girls to never give up on something if they fail at it first, or if other people are telling them that they will not be able to do it. Unlike those college coaches trying to pry her away from architecture, Beil believed in herself more than anyone else, and as a result has watched her confidence blossom despite those telling her to quit.
"If I had quit then, I would not be doing this interview this right now," Beil said. "I would not be striving for a degree in such a demanding major at a Top-10 university. I would not be who I am."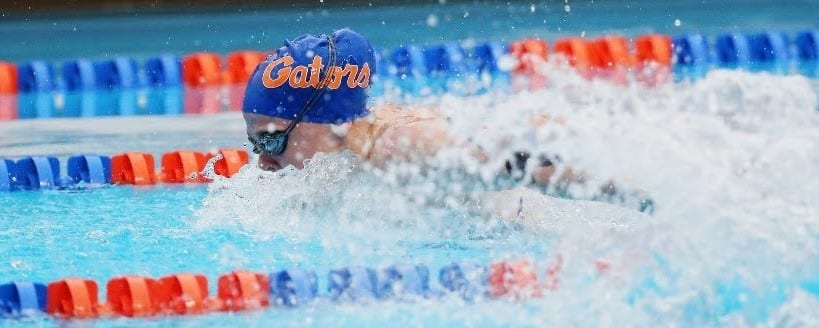 Q&A with Kenady Beil
Do you consider yourself a role model for young girls?
I do consider myself a role model for young girls. I would like to think that what I have done in and out of my sport has inspired those who meet me. I try my hardest to find the best version of myself mentally so that I can spread that positive energy and maybe help someone around me that is having a hard time finding that within themselves.
What is the one thing you know now that you wish you would have known your first day at UF?
One thing I wish I had known my first day at UF is that it is okay to not know what you are doing. You are not the only person that is confused or lost. It is okay to struggle and ask for help. You do not need to know everything right away and you will not know everything right away. Just trust the process and follow your gut.
How important is the DCP network of graduates across the globe?
The DCP network of graduates is very important across the globe. In my first year inside the DCP family, I can already tell that the relationships and learning environment created here at UF is unlike any other and will offer all of us students the best opportunities to enhance their skillset.