By: Kyle Niblett
University of Florida College of Design, Construction and Planning alumni Tim Hoeft (BDES '04, MARCH '06) and Paul Jones (BSBC '05) were two of a select group of Gator graduates named to this year's prestigious "40 Gators Under 40."
Presented by the UF Alumni Association, the annual awards program was established in 2006 to recognize alumni under the age of 40 whose achievements positively reflect The Gator Nation. Criteria for the competitive award include making a significant impact on the candidate's industry and having civic or professional accomplishments at the state, national or international level.
"These two remarkable young Gators have already made a significant impact in the architecture and construction industries respectively," Dean Chimay Anumba said. "They are a tremendous reflection of the OneDCP family and excellent examples of our mission to shape the world we live in."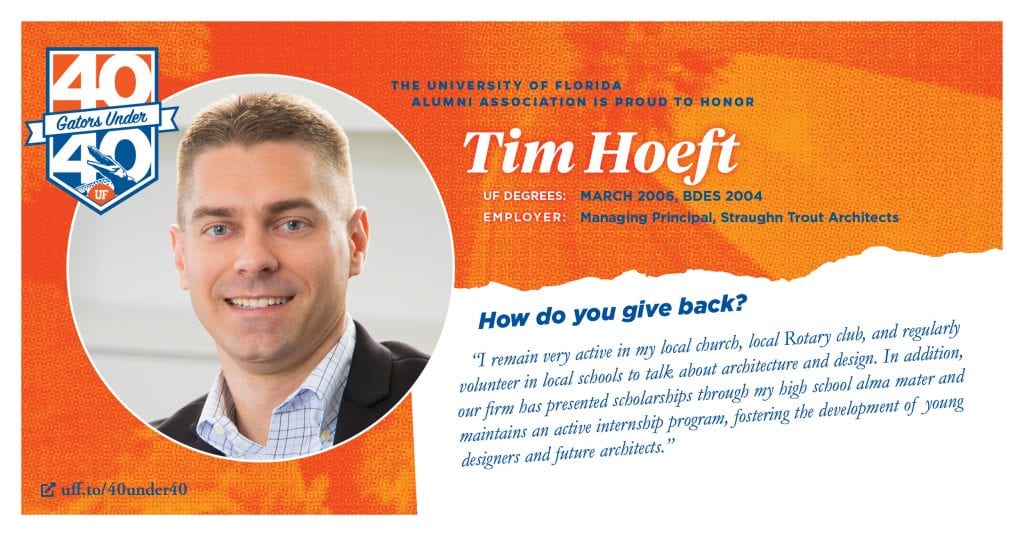 Tim Hoeft (BDES '04, MARCH '06)
Tim Hoeft leads Straughn Trout Architects with a global design perspective having studied architecture and the built environment internationally. His academic and professional experience includes architectural analysis and design applications diversified in location, climate, scale and program. This comprehensive proficiency guides the philosophy and vision of the firm and its work.

As STA's Managing Principal, Tim enjoys the ability to be participate in all areas of the practice. He is often heavily involved in the early conceptual design stages of projects and remains connected with each project team through completion of construction and interior finishes & furnishings. As LEED AP BD+C, Tim oversees the firm's sustainability efforts in all projects. Aside from the executive leadership responsibilities of his position, Tim prioritizes "hands on" time within each project via direct interactions with clients, stakeholders, and Design Team members – ensuring successful project outcomes.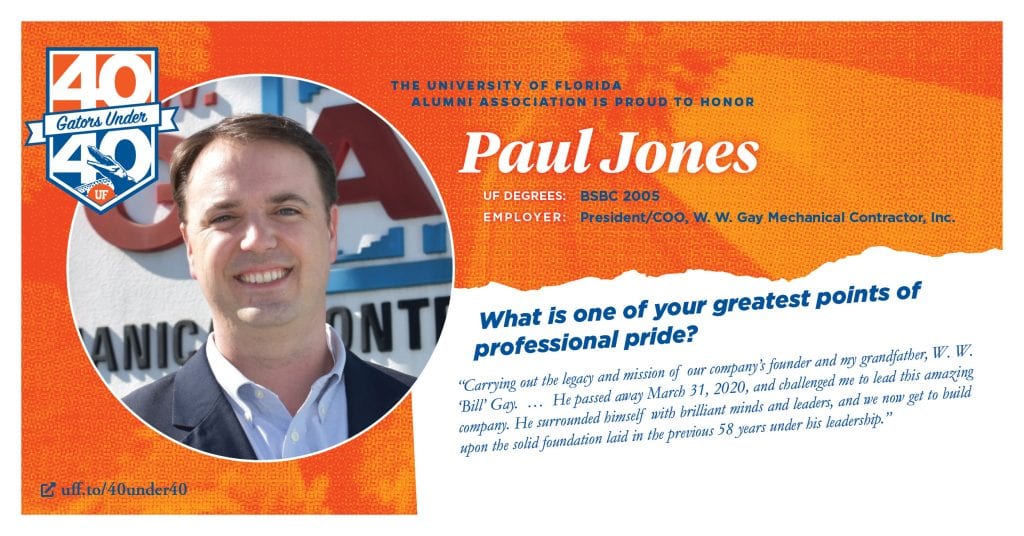 Paul Jones (BSBC '05)
Paul Jones is President and Chief Executive Officer of W.W. Gay Mechanical Contractor, a full service commercial, industrial and engineering contractor in the Southeast United States. His industry roots were established when he joined the company for his summer job in 1999, working on service trucks with longtime journeymen and mentors where he gained invaluable experience. Because W. W. Gay Mechanical offers a vast portfolio of services across many markets, Paul has design, build and leadership experience in a variety of project types including healthcare, higher education, office buildings, retrofits, government, military, industrial plants, power plants, data centers, parking garages, theme parks and clean room environments.
Paul joined the Orlando office in 2005 and quickly became a valued member of the operations team. He was promoted in 2013 to oversee the operations, management, and development of the Central Florida market. As a result of his leadership and his team's commitment to excellence, revenues more than doubled from 2014 to 2015 and that office has continued to grow each year since. He was then promoted to President and Chief Operating Officer in 2018 and re-located to the Jacksonville corporate office. In January 2021, Paul was appointed as Chief Executive Officer and brings a clear and bright vision for the organization.
Paul is a 2020 recipient of the Jacksonville Business Journal's esteemed 40 Under 40 Award. He serves as Chairman for the Local 803 Plumbers and Pipefitters Health and Welfare and Pension Fund and now a Trustee for Local 234 Health, Welfare, and Pension Funds. He serves on the Board of Directors for the Jacksonville Chamber of Commerce, Guardian Ambassador, and Junior Achievement of North Florida. He was appointed to the Florida Building Commission by Governor Ron DeSantis and serves as Chairman of the Plumbing Technical Advisory Committee and is a member of the Mechanical Advisory Committee.
Previously, he served a seven-year term on the Board of Directors for the Central and Northern Florida Chapter of Make-A-Wish Foundation; while serving, he held several chair positions.
He graduated from the University of Florida where he earned his Bachelor of Science in Building Construction and was a proud member of Sigma Lambda Chi International Construction Honor Society. He is a Certified Mechanical Contractor, Certified Plumbing Contractor and Certified General Contractor in Florida.
Paul is grateful for the opportunity to lead such a strong organization and build upon the solid foundation and legacy of W. W. Gay.