By Kyle Niblett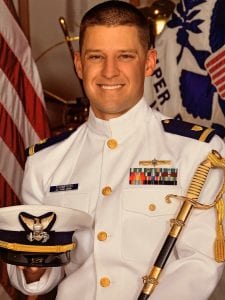 Each month, DCP will highlight a graduate from the #OneDCP family. To be featured in this space, please email kniblett@dcp.ufl.edu.
Marcus "Jason" Thompson is a 2018 University of Florida College of Design, Construction and Planning graduate who earned a degree in fire and emergency services with a specialization in emergency management. Currently, Thompson is a Senior Investigating Officer in the United States Coast Guard.
Thompson enlisted in the Coast Guard in 2010 and spent three years at sea on the Cutter VIGILANT doing drug and migrant interdiction in the Caribbean. In 2013, he graduated "A-School" and became a Marine Science Technician, where he worked in pollution response, facility/container (hazmat) and vessel inspections in both Jacksonville, Fla., and Charleston, S.C.
It was in 2015 when Thompson enrolled at UF. Four years later immediately after graduating from DCP, he was accepted into Officer Candidate School (OCS), where he received his commission. It was with his well-earned UF degree and his commission that he was promoted to his current position.
LEARN MORE OCT. 15: Fire & Emergency Services Virtual Information Session
In his current role, he is responsible for the performance of the MSU Lake Charles Investigations Division, which conducts marine casualty and personnel investigations in the nation's 11th-busiest port. His office identifies casualty factors and develops recommendations to prevent the recurrence of accidents, while also pursuing enforcement actions against mariners for violations of law or regulation, misconduct and negligence.
Q & A WITH JASON THOMPSON
How did DCP prepare you for your career?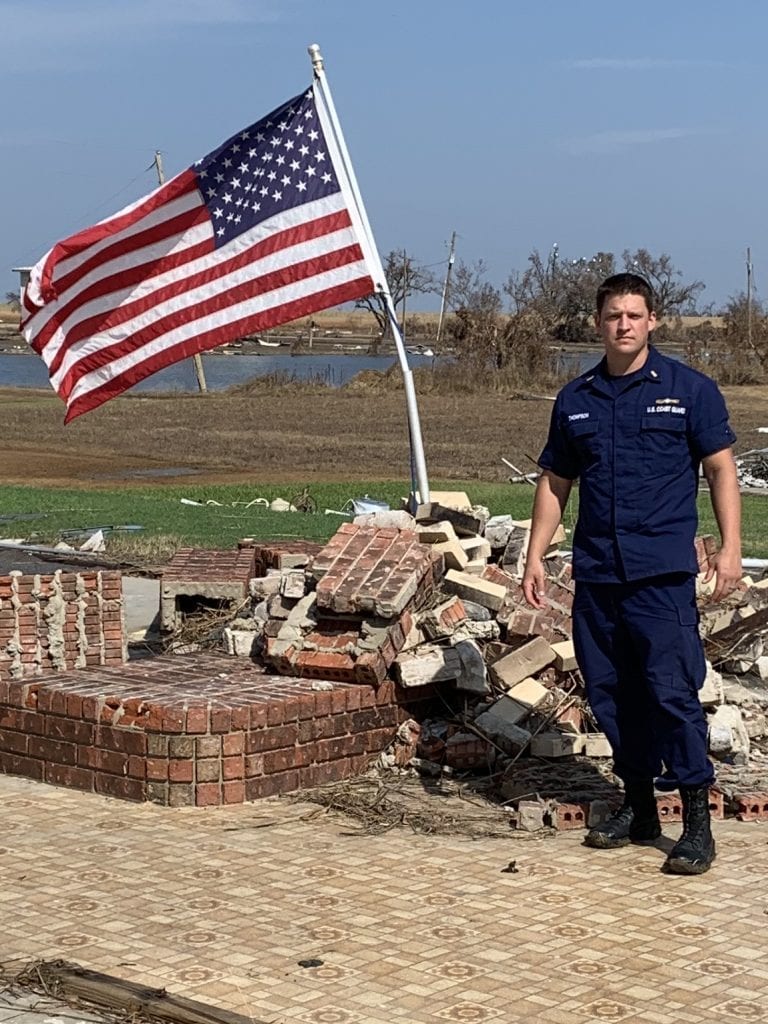 The DCP's FES program was made up of a diverse group of students who had anywhere from zero to 15-plus years of experience in the emergency services field. Many were working in very different jobs. Having the opportunity to interact and learn from other students as they shared their experiences was invaluable to me and has since allowed me to leverage new partnerships. For example, our office recently conducted a joint investigation with the local fire department after an explosion occurred on board a vessel. Similarly, during the aftermath of Category 4 Hurricane Laura, I worked in the Emergency Operations Center where I interacted with local, state and federal stakeholders. The DCP FES program prepared me for these roles, as I had a greater understanding of the needs, capabilities and missions of other emergency service agencies. This allowed me to "speak the language," ultimately promoting unity of effort.
What was your favorite class at DCP and why?
Fire Prevention Organization and Management. Many of the issues that local departments face when it comes to prevention programs parallel those that the Coast Guard's Prevention Program encounters. I was able to take what I learned and immediately apply it to improve Coast Guard services.
What was your DCP memory?
To see my little brother graduate from DCP's M.E. Rinker, Sr. School of Construction Management a year before me.
How important is the DCP network of graduates across the globe?
At a time when I see many of my co-workers and peers electing to pursue degrees through generic online programs that offer fast-tracked courses, I can't help but think they are making a mistake. The Gator Nation is nationally recognized and respected. The coursework and staff challenge students, which leads to learning and growth. I chose it for those reasons and I firmly believe that is one of the reasons I had an opportunity to earn my commission in the US Coast Guard.