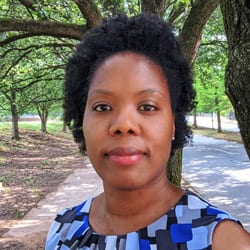 By: Megan Horan
This past semester, the University of Florida College of Design, Construction & Planning welcomed a new face to the School of Architecture: Vernelle A. A. Noel, Ph.D.
Noel, having earned her Ph.D in Architecture with a focus in Design Computing and having taught courses in Design Computation at multiple universities around the world, is an Assistant Professor of Architecture + Computational Design at UF and the founding Director of Situated Computation + Design Lab.
"Everything we do is computation," Noel said. "Computation is about rules, algorithms – this might include computers or not – to design, to analyze design and to make.
"It's designing step by step. A recipe is computational. The only thing that makes something computational is the ability to describe it in steps."
To anyone who has laid eyes on Noel's resume, her experience does not fail to impress. Having taught at Pennsylvania State University, the Singapore University of Technology & Design, and MIT and having practiced as an architect in Washington, D.C., India, Trinidad and Tobago, Noel brings her interest in the intersection of computational design and culture wherever she goes.
Furthermore, Noel was the first – and still is – the only Black woman to earn a Ph.D. in Architecture from the Pennsylvania State University. She is the creator of "Architecture Caribbean," an online showcase of design by Caribbean nationals, and "The Interesting," a podcast about, as the title suggests, interesting people and their experiences. Because her field is notably lacking in voices from women of color, and particularly black people and black women, it is important to Noel that her work is accessible to others.
Some of Noel's most notable recent achievements include being elected to the Board of Directors of the Association for Computer Aided Design in Architecture (ACADIA), and giving a TEDx Talk titled "The Power of Making: Craft, Computation, and Carnival" at TEDxPortofSpain, the latter of which she admitted was nerve wracking but still considers to be one of the highlights of her career.
What brought her to UF was what she described to be an opportunity to bring computational ways of thinking, research, and design to the university. She also felt that these lenses to design are extremely important as we move forward and use technology in the field.
Noel said. "It's important that students know how these tools impact their lives."
What many of her students may not know, however, is that their new professor is also a black belt in Taekwondo.
Having loved martial arts her whole life, Noel said that everywhere she travels, she engages in a new form of the sport. She earned her black belt in taekwondo during her undergrad studies at Howard University, but also trained in kali and aikido while living in Singapore. In Georgia, she trained in jujitsu. While she can't train currently due to COVID-19, she looks forward to continuing to engage with her interests in Gainesville.
"I like to play, I like physical activity, the feeling of comradery in team sports, the strategies, techniques, and the thinking behind it," Noel said.
And in getting to know the UF community, Noel is excited to utilize the intersection of her interests and her work to forge new ways of thinking about and teaching computation to communities that may not have had access before.
"My interests, who I am, happens in my work," Noel said. "I like to play. So, my work is a serious approach to play. I like to engage with others in work that is very collaborative. I like to think through my body. I include all of that in my work."