July 6, 2023
By: Kyle Niblett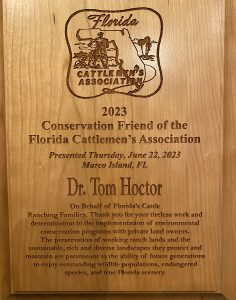 As a result of his tireless work and determination in the implementation of environmental conservation programs with private landowners, University of Florida Center for Landscape Conservation Planning Director Dr. Tom Hoctor was honored with the Conservation Friend Award by the Florida Cattlemen's Association (FCA) this past month at a ceremony in Marco Island, Florida.
"Often times to ensure that future generations will be able to carry on the level of stewardship this land deserves, some outside help is needed," FCA representative Clint Raulerson said at the banquet. "Dr. Hoctor has worked for decades on ranchland protection, and as a result, vast areas of Florida are now conserved forever. His work helps provide ranchers with options to keep our working lands intact, which is critical for ranching and all Floridians."
Hoctor, who also serves as a research associate professor in the UF Department of Landscape Architecture, is considered a worldwide expert when it comes to identifying conservation priorities and conservation strategies for protecting natural lands and wildlife. For the last 25-plus years, he has focused on the Florida Wildlife Corridor, using his science to implement design conservation strategies in the region. His commitment of ensuring conservation in a world with continuing conflicts due to land use change and habitat loss has been applauded throughout the globe, leading to him being the lead on countless conservation planning projects in Florida and the United States. State and federal agencies rely on Hoctor's work to determine what lands to protect.
For more information on his work, click here.