By: Kyle Niblett
Fifty miles separates the University of Florida campus from the Ocklawaha River, considered one of the most endangered rivers in America. For 50 years, UF faculty and students have been helping to free it by applying science and design with advocates for the river.
Currently leading the charge for UF is Landscape Architecture Research Associate Professor Tom Hoctor, who this past fall took the "Free the Ocklawaha" project to new heights by assigning his students nine conceptual projects and asking them to reimagine what restoration and recreation opportunities were possible with a restored river. He worked with Margaret Spontak, chairperson of the Free the Ocklawaha River campaign, along with adjunct faculty Dr. David Barth and Dr. Dan Farrah in leading senior year Landscape Architecture students to learn about the ecology and history of the river, its major conservation issues including unique springs, manatees, and rare fish, and how a restored river could significantly enhance nature-based recreation and the conservation values of the region.
Named the Rodman Dam originally when it was built in 1968 by the U.S. Army Corps of Engineers, the original goal was to connect the Atlantic Ocean to the Gulf of Mexico. By the time then-President Richard Nixon cut off federal funding in 1971, the newly-named Kirkpatrick Dam had flooded 7,500-plus acres of forested wetlands, 20 springs, and 16 miles of the Ocklawaha River.
"The State of Florida needs to make a choice," said Hoctor, the director of UF's Center for Landscape Conservation Planning. "Dams usually serve a purpose such as drinking water, flood control or hydro-electric power, but the Kirkpatrick Dam has not served an important function in half a century. The millions of dollars being used annually to maintain the dam could be redirected at the same site for better usage."
The only benefit to come out of the Kirkpatrick Dam was the creation of a popular bass fishing location. However, the use of reservoir sites has been on a downward trend since 2010, declining by an average of 3,627 visitor parties per year. Hoctor understands it is more than just fishing, however.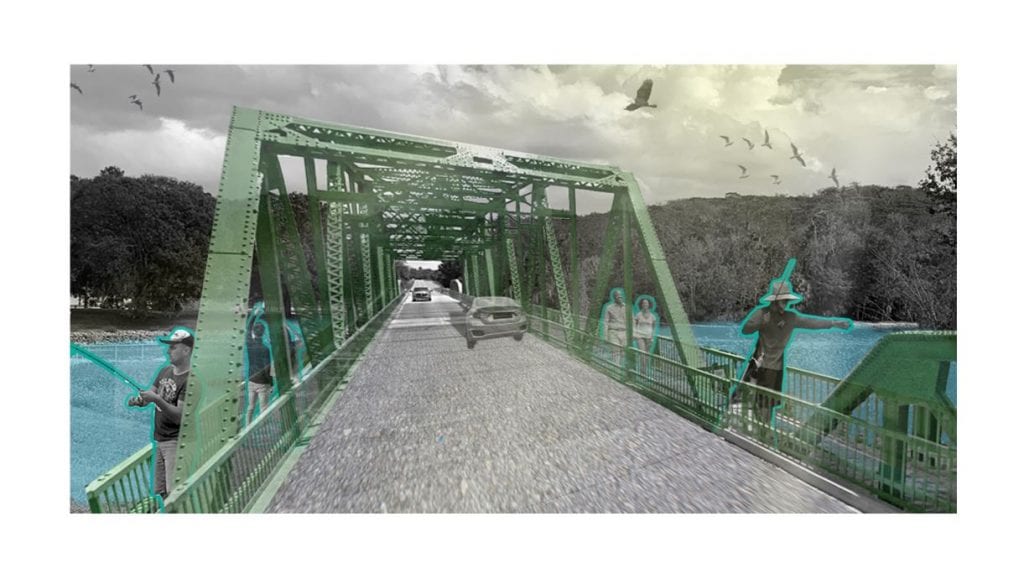 "The river is huge to the community of Putnam County," Hoctor explained. "There is an emotional connection there where generations of families grew up fishing together on the lake. Because of this, lots of residents are resistant to change."
However, the UF professor and his students have shown residents what they could gain financially and recreationally if the dam were partially restored and breached.
"Economic research clearly suggests any loss in fishing revenue would be more than made up for by nature-based recreational revenue," Hoctor said. "Communities around the river would see their economic return on investment skyrocket with never-before-seen recreational spaces."
Alan Hodges, a former UF professor and current a member of the Free the Ocklawaha River Coalition, agrees.
"Our public surveys, analysis of visitor data and economic research indicates that if the Ocklawaha River were restored to a natural free-flowing condition, it would generate a 30 percent increase in overall recreational user visitation to the region for canoeing, kayaking, wildlife viewing, springs use and river-based fishing," Hodges said. "This would result in $8.6 million in increased business revenues and create more than 100 new jobs. The net loss of lake or reservoir-based boating and fishing would likely be relatively minor (around six percent), because most anglers reported that there are alternative sites in the area for this activity."
Landscape architecture students spent their semester proving this by working side-by-side with subject matter experts, local anglers, paddlers and community leaders. Thanks to vivid maps, graphics and renderings, UF senior Zachary Mills and his classmates were able to educate citizens and politicians on a plethora of potential uses for the river.
"Last semester, I had the privilege of working in a 15-person studio on the Ocklawaha River project," Mills said. "As a student, this was very challenging because the virtual environment added a whole level of complexity to it. It taught us a lot about persevering through difficult times and tasks."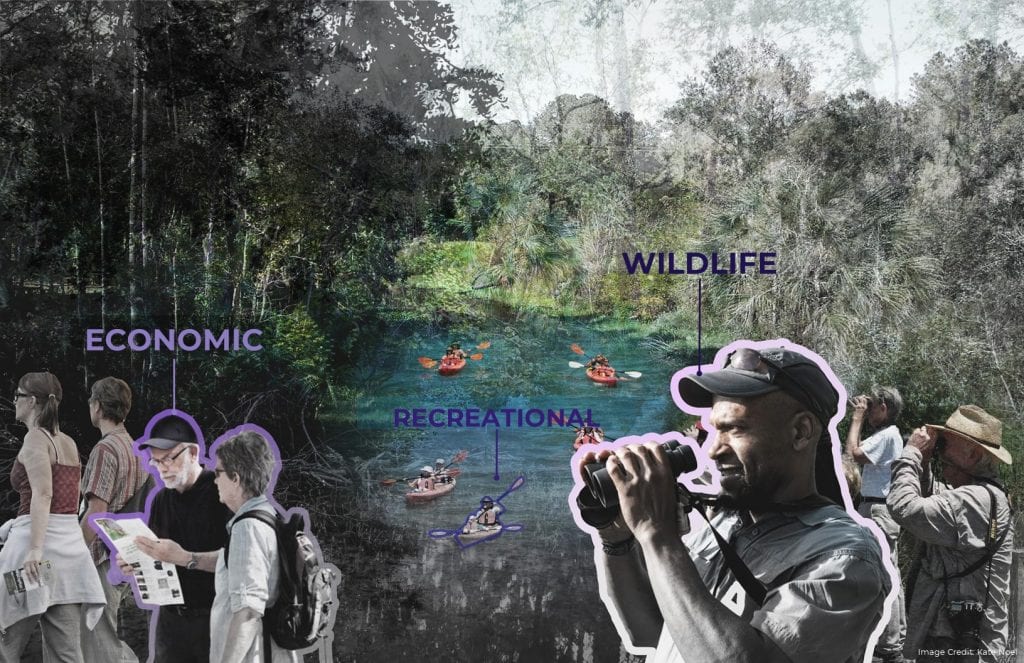 Mills and his peers were challenged to factor in the intersection of wildlife, ecosystem services, and economics for their projects. The largest and most promising of the recreation projects involved an angler and hunter center at the Buckman Locks, which proposed a recreation center, cabins, restaurant, boat ramp and fishing pier.
"One of the things we learned through this studio is that there are a good number of Americans that are interested in environmental ecology and conservation," Hoctor stated. "One of the draws of a restored river is those people who have never been to the Ocklawaha River would flock to it as first-time guests."
The more the students highlighted the Great Florida Riverway with their visions of paddling trails, hiking trail connections, driving tours, manatee refuges, historic fish migration paths and wildlife, the more Hoctor's class became a game changer in energizing Putnam County residents.
"The way I describe it is, 'Big picture, big moves,'" Mills said. "Being able to see everything at once showed all of the river constituents how one little thing can positively affect so many lives, both on land and in the water."
In addition to the recreational usage, Hoctor's research indicated striped bass, American shad and even manatees would most likely migrate back to the river if the dam was breached. In addition, the reservoir sits right in the middle of the most important wildlife corridor in Florida, running from the Ocala National Forest to the Osceola National Forest.
"If the dam was breached and the river was returned, it would be much better as a wildlife and economic corridor," Hoctor said. "The large river forest around the Ocklawaha River was destroyed, which is unfortunate because it was relatively rare in Florida. We know ecologically it would take time, but if the river were restored, the forest would come back and the animals would return. It would also open up more areas for hiking, camping and wildlife viewing."
At the end of the semester, students presented their findings to an audience of nearly three dozen representatives from the St. Johns River Water Management District, the FDEP Office of Greenways and Trails, Putnam County Waterways and Trails Committee, leading conservation organizations and UF faculty. To this day, Hoctor could not be prouder of them.
"There is always a slight bit of hesitation when using projects for studio that are legitimate hot-button political issues, but this small risk was worth it," Hoctor said. "In studio classes like those in Landscape Architecture, we prefer to use real-world problems. Most of our students are interested in some aspects of sustainable design and resiliency, or regional environmental planning and design. This past fall was a great opportunity to get students directly involved with contributing to a real-world issue while also providing a vision for the future."
UF Dept. of Landscape Architecture student projects are featured on pages 34-37 on the following viewbook. To see each individual student project presentations, go to https://greatfloridariverway.com/student-showcase/