With isolation rooms quickly filling up at Tampa General Hospital due to the COVID-19 pandemic, two-time University of Florida College of Design, Construction and Planning graduate Dustin Pasteur knew his team had to act fast. Just like anything else in 2020, the TGH Director of Design and Construction adapted on the fly, working with his team to double the number of isolation rooms at the facility from 83 to 188 by the end of the summer.
"As more science became available over the months through the summer, we were able to adapt our practices to become more flexible and quicker to deploy solutions, which allowed the hospital to quickly adjust to the changing needs of the incoming COVID surge," Pasteur said.
Due to his quick thinking, not only was his team recognized as a national leader in COVID-19 construction innovation, but he was recently named to the Tampa Business Journal 40 Under 40 list.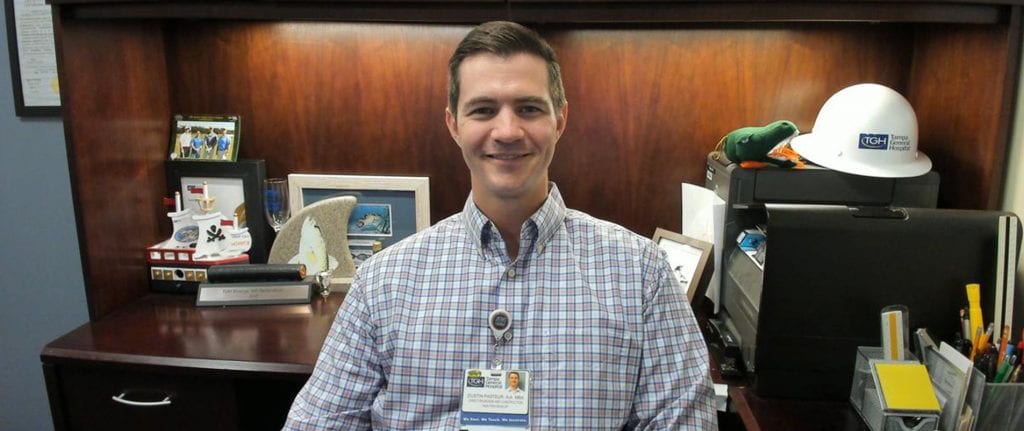 This was not always the plan for 2020. The year was supposed to be filled with renovations, expansions, market growth initiatives and some new buildings at the hospital. Like everyone else's plans, those too came to a screeching halt in March 2020, rapidly pivoting to a focus on COVID-related accommodations for both patients and team members. Pasteur worked with his team as well as the clinical staff to determine the safest ways to modify his buildings to ensure lives were saved.
"While our top goal is always to provide the safest environments for our patients and team members, 2020 just put that same goal under a completely different lens," Pasteur explained. "Last year was a year of adaptability for us and continues to be so as we ride out the remainder of this storm."
Eventually, Pasteur added an additional 59 rooms in October and another 34 by the close of 2020. Considered essential in serving the community, these extra isolation rooms were pivotal in the hospital safely continuing its operations during a global pandemic. On top of those incredible achievements, Pasteur convinced officials to obtain filtered air units in the isolation rooms for only a few hundred dollars per room and one hour of installation time.
"Experienced healthcare architects and engineers are in short supply and highly prized," Pasteur said. "In addition to that, we have to find people that share the values of this organization. The easiest way to manage the responsibility of this reality over the span of a large academic medical health system is to find the best team available and empower them to do what they do best."
His "team" was never supposed to exist. In fact, Pasteur was originally hired as a temporary employee for a month to reorganize an old drawing room. After realizing what the Gator graduate brought to the hospital, the position of "project architect" was created for him. Soon after, he was promoted to manager of design, where he began building an in-house design team.
"One of the most difficult tasks in my time at Tampa General Hospital has been finding and recruiting the most skilled healthcare design professionals to join our internal design team," Pasteur said. "As a result of all the effort building the group, it has been most rewarding to see the things my unit can accomplish."
Following the green light from executive leadership to assemble the team, Pasteur saved the hospital $600,000 the first year, $850,000 the second and more than $1 million annually by year three. Thanks to his vision and work ethic, he was again promoted, this time to his current position.
When asked about the most difficult part of leading his current project related to the pandemic, Pasteur explained that healthcare is the most complex specialty in architecture, because it requires the understanding of several different codes and guidelines from governing bodies that often conflict. He continued saying that there are more separate systems employed in a hospital than virtually any other type of building, and all of those systems must be designed for continuous operation and the tightest tolerances in regard to the protection of life.
"We are embarking on a $550 million master plan, the majority of which will be designed in-house over the next few years," Pasteur finished with. "Seeing the individual growth of each team member, but even more so the team growth together, makes me proud because it is providing the hospital system a sustainable presence of design professionals who are here to continuously improve and protect our facilities for our patients and team. The long-term impact of this team is immeasurable, and I am thankful we were able to grow it here."