By Kyle Niblett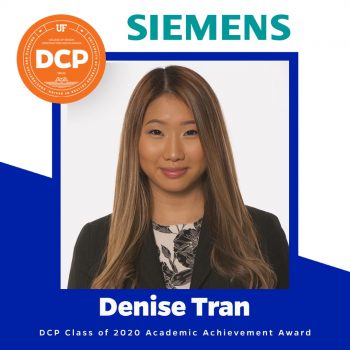 The lightbulb went off in Denise Tran's brain in 2019 when a guest speaker named Steve Moore spoke to her class at the University of Florida College of Design, Construction and Planning – "I should intern with Siemens in Jacksonville."
After graduating this past summer with a bachelor's degree in sustainability and the built environment, Tran took her interest in energy production, smart building technology and redevelopment and joined the global company's office for a summer internship in the Bold New City of the South.
One of four UF students interning at Siemens this summer, the DCP Class of 2020 Academic Achievement Award recipient worked 40 hours per week on site in the sales department despite the challenges related to COVID-19. The current UF master's student (sustainable design) credits her undergrad experience at DCP with helping her succeed at the internship.
"I was able to translate what I learned, especially in LEED Lab, to the projects that I worked on during my internship," Tran said. "I helped manage the LEED Certification for the UF Lacrosse Stadium as an undergrad, and that experience, which was integrated into my education at UF, helped me on similar projects at Siemens."
In sticking with the sports theme, Tran was entrusted with the responsibility of collecting air quality data at TIAA Bank Field in Jacksonville, home to the Jacksonville Jaguars of the National Football League. Due to the global pandemic, she had to make sure there was proper ventilation to reduce the spread since respiratory droplets linger in the air with little to no circulation.
"Denise did a great job helping us with the Jacksonville Jaguars' stadium," Siemens Jacksonville Branch Manager Josh Hudanish said. "She was willing to step out of her comfort level and learn new tools and skills that she did not have prior to working with us."
When she was not making visits to TIAA Bank Field or even to Georgia for sales meetings, Tran worked on energy data analysis, jumped on conference calls with other executives in the company and worked with customers on establishing satisfaction data.
"Denise was a cheerful, determined intern," Siemens Jacksonville Sales Manager Jim Bradshaw said. "She was quick with ideas and readily shared them with our team. She handled all of our projects with professionalism and efficiency."
Working at Siemens gave Tran a clearer idea of what to be looking for when observing buildings, while also learning industry trends in designing better buildings. On top of her internship, she simultaneously worked on her senior capstone project about energy efficiency and smart cities. Through the massive balancing act, Tran says the OneDCP spirit from her mentors and her program shined bright.
"I want to thank Professor Hal Knowles for piquing my interest in technological solutions for sustainability, as well as LEED Fellow Bahar Armaghani for equipping me with the knowledge to create better buildings," Tran said. "The Sustainability and the Built Environment Program has provided me with opportunities I never thought were possible – research, conferences, my internship experience and field trips to fascinating places."