October 18, 2023
By: Joey Mazzaferro
The first thing most people think about robots and Artificial Intelligence (AI) is the technology will replace the need for humans in the workforce. However, that is not the case in Dr. Aladdin Alwisy's Smart Industrialized Design and Construction (IDC) Lab.
Alwisy, an assistant professor in the M.E. Rinker, Sr. School of Construction Management, aims to have his patented robotic technology work as a supplement to humans, not replace them. "We don't want this fleet of robots that comes and takes over human jobs," Alwisy said. "We want to find balance between robots and the job and make sure we improve productivity without losing human jobs."
Alwisy's strategy is the opposite of the automotive industry. Instead of mass production with each robot having a specialized task, he focuses on his robots being multifunctional since the construction industry necessitates being flexible and agile. This strategy also comes with the bonus of being more cost-effective than the traditional assembly line.
"Instead of spending millions of dollars on a long production line to produce a wall panel or series of wall panels, the system that we have can do the exact same thing for less than half a million dollars," Alwisy said. "Based on our preliminary estimates, the return on investment can be as early as three to six months."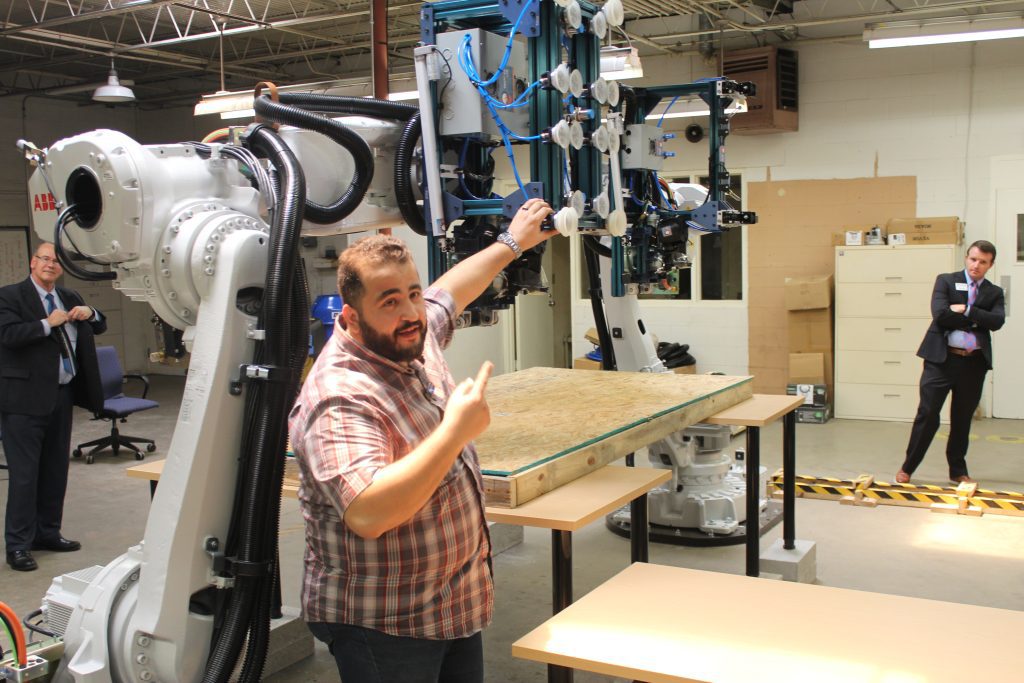 Alwisy's robotic system is not only multifunctional and cost-effective, but it will also work with humans to make their job easier and safer. "All we're trying to do is reduce the dangerous tasks and make the work more efficient," Alwisy stated. "We have no intention of replacing human workers."
In the lab, Alwisy teaches the current generation of workers and will be teaching the future generation as well. In addition, there is an opportunity for past Rinker students and other construction industry workers to learn about robotics as well.
"With the research on robotics, we're trying to link the past to the future," Alwisy said. "Someone doesn't need to know how to program everything, or understand all the mechanics of it, for the robot to work. A framer who knows how to frame a wall, with a little bit of training, can do that."
"If someone wants to come earn their master's or Ph.D., they can definitely work with us," Alwisy added. "We can build on the experience they already have in the field and see what their shortcomings are. With very little training, we can help them build on this experience and develop a line of research that fits their needs."
In two years, those past, present, and future students will get to participate in this research while in the brand-new confines of the Bruno E. and Maritza F. Ramos Collaboratory, a 50,000-square foot addition to the college's facilities. The current Smart IDC Lab location is off campus at the Coastal Engineering Lab, making it much more difficult for students to access.
"Coming here, sometimes it's a little bit difficult, especially if they have classes," Alwisy shared. "Working on campus makes life so much easier. Instead of moving their car and maybe not finding parking when they get back to campus, they can literally walk five minutes to the research lab and conduct the experiment."
In addition to making the lab more accessible, Alwisy says it can accelerate the research since it will eliminate the time and resources it takes to get students off campus and to the current location.
Alwisy is counting down the days until the Smart IDC Lab relocates on campus. Not only does it mean more space for the robotic arms, it also provides an opportunity to not be isolated from his research peers in the college.
"Working in the new collaboratory allows us to support not only the robotics station, but also different research facilities as we work together in order to think about new research areas," Alwisy stated. "The metal shop, woodshop, digital fabrication lab and the robotics are all going to be part of this new stream of research that we're hoping will further our own research."