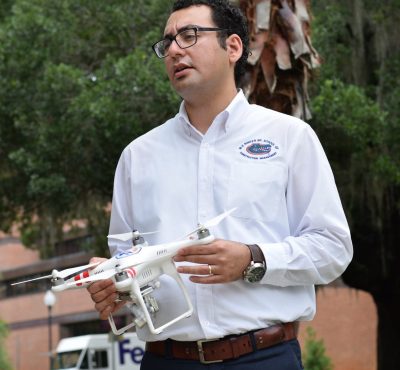 What if instead of humankind fearing robots taking over, we work together for a better future?
This is what Dr. Masoud Gheisari, an assistant professor at the University of Florida's M.E. Rinker, Sr. School of Construction Management, thought when the National Science Foundation awarded him and his collaborators a $750,000 grant as part of their National Robotics Initiative 2.0: Ubiquitous Collaborative Robots (NRI-2.0). This initiative supports fundamental research that will accelerate the development and use of collaborative robots (co-robots).
Gheisari will be working alongside fellow Rinker School Assistant Professor Dr. Idris Jeelani, as well as Dr. Boyi Hu from the UF Department of Industrial and Systems Engineering. As part of a worker safety and co-drone course module, this project will also provide the opportunity for collaborative project-based learning between students from the Rinker School, part of the College of Design, Construction and Planning, and the Herbert Wertheim College of Engineering.
"It is soon expected to have drone-dominant construction jobsites where a swarm of co-drones with different responsibilities (e.g., builder-drones, delivery-drones, safety-drones, inspector-drones) will work collaboratively with human workers to perform various construction-related tasks." Gheisari said. "The integration of such flying robots in the construction jobsites raises novel occupational safety and health issues which, might make the construction industry more dangerous than before."
This project will produce fundamental knowledge about natural human behavior in a working environment with drones and further the knowledge of human-drone interaction. Moreover, the findings will aid in creating comprehensive regulations for drone use in construction and lead to specific designs of drones for construction-specific needs.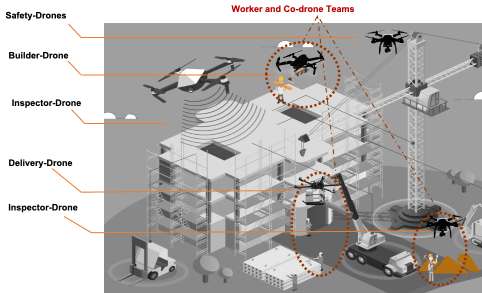 Since construction is still a worker-driven industry, drones will eventually work symbiotically with the human workers. As the trends indicate, there is a paradigm shift underway where the role of drones is changing from passive observers to active agents that interact with the human workers. Fully autonomous drones will coordinate their behaviors with human team members. Not only will drones be used as mere tools, but rather will engage in a two-way collaboration with workers to become quasi team members in a worker and co-drone team. Co-drones will assist human workers in a wide range of construction tasks, including material handling for roofers, helping iron workers on elevated heights and aiding crane operators by safely monitoring their blind spots.
"Our project will expand and extend our knowledge of the safety challenges of collaborative drones at the human-robot frontier, using construction domain as one of the most dangerous industries that is experiencing a tremendous increase in the deployment of drones," Gheisari elaborated.
"This work will advance our knowledge of human and co-drone team interactions by revealing different means through which aerial devices will affect workers' safety. This will be tested through a specific focus on fatal and non-fatal physical risks, the additional costs and the psychological impacts," Gheisari said.