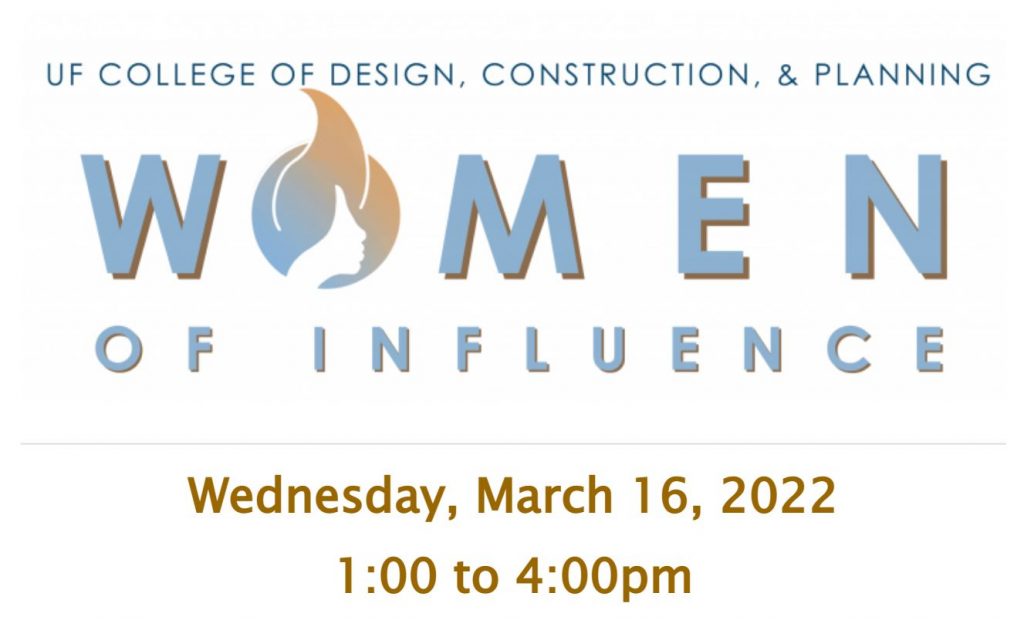 Join us in welcoming this year's Women of Influence. This virtual event provides an opportunity for DCP students to interact with alumni and friends of the college who are leaders and entrepreneurs in architecture, construction management, interior design, landscape architecture, planning and sustainability.
SCHEDULE OF EVENTS
1:00-1:15 p.m. Welcome
1:15-2:10 p.m. Industry Professionals Self Introductions
2:10-2:15 p.m. Break
2:15-2:30 p.m. Breakout Discussion #1
2:30-2:45 p.m. Breakout Discussion #2
2:45-3:00 p.m. Breakout Discussion #3
3:00-3:15 p.m. Breakout Discussion #4
3:15-4:00 p.m. Breakout Session Takeaways & Advice to students (Panelists)
FEATURED PANELISTS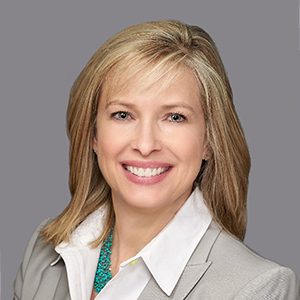 Stacey Barton
Vice President, The Haskell Company
BSBC '91
Stacey leads the Federal Division and is responsible for profit and loss, operations, development of opportunities, engineering partnerships, and project execution. She oversees all ongoing projects, forecasts revenue, and develops the business plan. Prior to her current position, Stacey held several key positions at Haskell, such as assistant project manager, project manager, director of Construction, vice president of Construction, vice president of Operations, and chief of staff to the COO. She has worked in multiple delivery groups and markets executing a broad spectrum of project types, including federal, schools, hospitals, commercial office buildings, water/wastewater facilities, student housing, ports & harbors, and food & beverage facilities (EPC).
Stacey is a University of Florida graduate with a Bachelor of Science degree in Building Construction. Stacey is active in civic and professional organizations, including the Executive Advisory Board for the University of Florida's Construction Management school, University of Florida's Women's Forum, board member of First Coast Chapter Associated Builders and Contractors, Children's International Summer Village, and holds a Florida General Contractors License.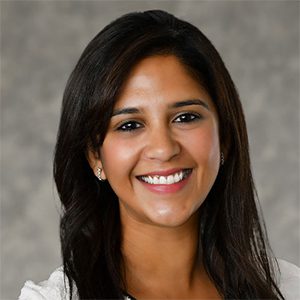 Ekta Desai, AIA
Partner, SchenkelShultz Architecture
BDES '08
Ekta is a UF DCP alumni who graduated from the University of Florida with a Bachelor's degree in Design in 2008. She received her Master's degree in Architecture from Washington University in St. Louis with the AIA Henry Adams Gold Medal in 2010.
She first joined SchenkelShultz in the summer of 2006 as an architectural intern and while still an undergraduate student at UF. After graduation, she sowed and cultivated her creative roots for eight years while working for international design firms in New York City and Mexico City. She rejoined the firm in 2018. As Partner and Design Lead, she is responsible for leading SchenkelShultz design process and product to enrich our portfolio. The promotion is part of the firm's effort to build and grow their legacy markets, clients and locations, with a renewed focus on design excellence and to unite our close-knit team of creatives who can influence our community in meaningful, conscious and sustainable ways.
Ekta brings 15 years of local, national, and international experience. She has always enjoyed working closely with her colleagues, learning from others, and developing her ability to empower and enhance experiences through design. Desai believes that by drawing from personal and unique perspectives, architects can create physical and emotionally connected spaces.
In an increasingly interconnected world, SchenkelShultz Architecture leverages the diverse ideas of the team to offer clients local insights and broad perspectives to create customized design solutions that are focused. The vision of the firm is to "inspire our community though impactful design" where we, as designers of all kinds, offer smart solutions that are reflective of our clients' goals as well as their individual stories. She also has the distinct honor of receiving the Design Excellence Award from the Public Design Commission of NYC for her work on the Taxi and Limousine Commission of NYC and has served as an Academic Juror at Parsons School of Design in NYC.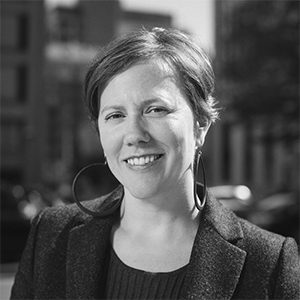 Amy Donohue, AIA, NOMA, LFA
Principal, Bora Architecture & Interiors
BDES '94
A Principal with Bora Architecture & Interiors, Amy Donohue has over twenty-five years of experience designing spaces for education, performance and collaborative work. Her recently completed projects include the Global Innovation Exchange at the University of Washington, the Shanahan Center for Teaching and Learning at Harvey Mudd College, the Learning Innovation Center at Oregon State University and the 21st Century Learning Center at Texas A&M University. Amy is currently leading the effort for a new Opportunity Center for Portland Community College as well as the permanent home for De La Salle North Catholic High School. Working in the performing arts, she has completed an extensive renovation of Bass Hall at the University of Texas, Austin, as well as the School of Music & Dance at the University of Oregon and the Center for Performing Arts at Earlham College. In addition to her work in education, she has designed numerous workspaces for design and technology clients such as Nike, Google and Microsoft.
Amy holds a Bachelor of Design in Architecture from the University of Florida ('94) and a Master of Architecture degree from Princeton University (*01). She has served as an assistant design instructor at Princeton University and adjunct professor for architectural design at the University of Oregon (2001-2007). From 2003 to 2010, she was actively involved with the Board of Trustees for the Oregon College of Art & Craft, serving as Chair of the Board in 2009. Amy currently serves as Vice Chair of the Board of Directors for Literary Arts, a literary non-profit in Portland, and is a Board member for the political advocacy group, Family Forward. For the last three years, she has been part of the Advisory Council for the University of Florida School of Architecture.
Trained in Design Justice and Critical Race Theory, Amy has been instrumental in the creation of Bora's equity framework and action plan toward ending systemic racism. She is currently leading the firm's effort to co-develop workforce housing for young Black professionals in the AEC industry, seeking to grow the pipeline of diversity in the profession.
Amy is a frequent speaker at national events, including the Society of College and University Planning, Next Generation Learning Conference, the Oregon Higher Education Sustainability Conference and the Living Futures Conference. She has lectured at Harvey Mudd College, the University of Portland, the University of Oregon and Oregon State University. Amy has served on AIA Awards Juries for San Francisco, New Orleans, Tucson, Gulf States, Albuquerque, Kentucky, Colorado and Western Massachusetts.
Amy and her husband, architect Paul McKean, live in Portland with their two young daughters. In her free time, Amy enjoys reading, gardening and exercising with friends.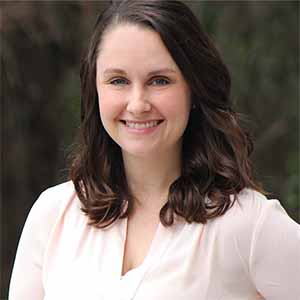 Laurie Hall, PLA, ASLA
Director of Landscape Architecture, CHW Professional Consultants
BLAE '09
Laurie F. Hall, PLA, ASLA is a University of Florida College of Design, Construction, and Planning graduate with over 15 years of experience working throughout the Southeastern U.S. As the Director of Landscape Architecture for CHW Professional Consultants, Laurie leads a multi-disciplinary design team on a variety of campus master planning, multi-family, institutional, and community placemaking projects.
Throughout her career, Laurie has maintained a high level of professional and community engagement including continued involvement with the University of Florida College of Design, Construction, and Planning and the American Society of Landscape Architects (ASLA), where she has served on multiple local, state, and national boards. Laurie is currently the President Elect of the ASLA Florida Chapter and sits on the leadership team for the national Women in Landscape Architecture professional practice network.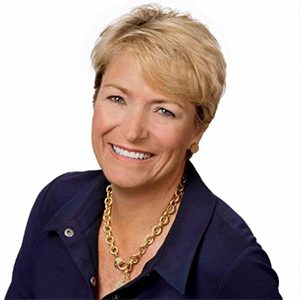 Nancy Juneau
CEO, Juneau Construction Company

Nancy, along with her husband Les, founded Juneau Construction Company in 1997. Since opening its doors 24 years ago, Juneau has become the top woman-owned general contractor in the Southeast, and the 2nd largest woman-owned firm, of any type, in Georgia. Juneau is also ranked among the 2020 Top General Contractors in Georgia and South Florida by the Atlanta Business Chronicle and South Florida Business Journal.
Juneau has grown to almost $300 million in annual revenues and over 175 employees with offices in Atlanta, Miami and Tampa. Juneau performs as Construction Managers, Design-Builders and General Contractors on public and private projects across the Southeast. Core markets include Commercial Office, Higher Education, Hospitality, Mixed-Use, Multi-Family, Senior Living, and Student Housing.
Passionate about giving back to the community, Nancy serves on numerous organizations and boards. Nancy is serving a four-year term as a University of Georgia Foundation, Board of Trustee, giving back to her Alma Mater. She is also a member of the Board of Councilors for The Carter Center, an organization focused on "Waging Peace. Fighting Disease. Building Hope" founded by President Jimmy Carter. In 2018, Nancy was named one of Atlanta's Most Admired CEO's by the Atlanta Business Chronicle and was recognized by March of Dimes with a Women of Distinction Award for her extensive contributions to the local community.
Juneau is the past Chairman of the Board of Associated Builders and Contractors of Georgia and she also serves on the Georgia Independent College Association Board and Executive Committee. Nancy recently joined the UF Rinker School of Construction Management's Industry Advisory Board. Additionally, Nancy enjoys speaking on panels, at conferences and to local businesses including events for the UF College of Design, Construction and Planning, Clemson Construction Industry Symposium, UGA Terry Business School, NAWIC and ENR's Groundbreaking Women in Construction Conference. Nancy also enjoys mentoring women in a variety of industries to help them grow both personally and professionally.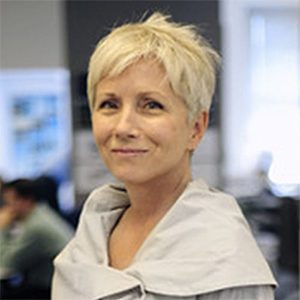 Cat Lindsay
Owner & Principal, Lindsay Newman Architecture and Design
BDES '86
Cat is the owner of LINDSAY NEWMAN where she leads the design of corporate, residential, hospitality, media and cultural projects. The LINDSAY NEWMAN design effort and focus is always forward thinking and problem solving. They design originative solutions to serve the purpose, the client and provide quality of materials and experience.

Notable completed projects include the Liberty National Golf Clubhouse, Guest House, Ninth Hole Snack Shop Building and Teaching Performance Center. They recently completed the design for eighty luxury residential units and a marina with restaurants and waterfront amenities for the unbuilt portions of the site.
Cat led the interior design and construction for WARNERMEDIA (HBO, CNN, TURNER and WARNER BROTHERS) relocation to Hudson Yards. Responsibilities included overseeing the research, design, implementation and construction of 1,400,000 square feet of innovative, high performance workplace, extensive amenities, studios and three on site theaters. Maintaining opportunities for individuality, working through the project by consensus and completing the project on time and on budget were some of the challenges and opportunities.
Cat was a Design Director at Gensler and an Associate at SOM before creating LINDSAY NEWMAN.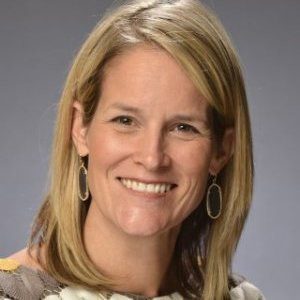 Beth Lowry
President, Holder Construction Company
BSBC '95
Beth Lowry is the President of Holder Construction Company. Beth started her career with Holder in 1994 as an intern and joined Holder full-time in 1995 upon graduating from the University of Florida with a Bachelor of Science in Building Construction. Holder Construction is a $5billion construction services firm based in Atlanta, Georgia since 1960. Beth is the first female in Holder's history to serve as President.
In her current role, Beth provides executive leadership over Holder's business functions that support Holder's construction operations. Beth also provides vision and strategy for Holder's corporate responsibility, community engagement, and philanthropy. Beth has served on Holder's senior leadership team since 2006.
Beth is active in the Atlanta community serving on several current and past non-for-profit boards. She's a United Way of Greater Atlanta Ivan Allen Circle member and active member of the Tocqueville Society. She is a current Trustee on Kennesaw State University's Foundation Board and the current board chair for the KSU Construction Industry Advisory board. She has also served on the advisory boards for Southface Energy Institute, Posse Foundation, Girls Inc of Greater Atlanta, the Community Foundation's Grants to Green and the Southeast Energy Efficiency Alliance board.
Beth has two children Sam 16 and Lilly 14 who attend Holy Innocents Episcopal School. Beth grew up on Cape Cod, Massachusetts and has called Atlanta home for the last 26 years.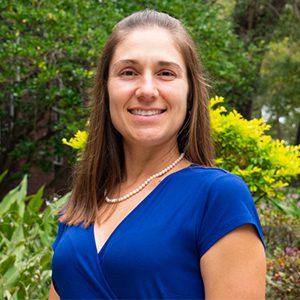 Amy Pastor, PE, CxA, LEED AP
Vice President of Sustainability, EXP

Amy is EXP's Vice President of Sustainability. She is a licensed mechanical engineer, a certified commissioning authority and a LEED Accredited Professional. Amy's focus on sustainability and resiliency is driven by her passion to make a better built environment today and for future generations. She works directly with clients to help projects achieve their green building certification goals and targets for reducing the consumption of limited natural resources. Amy is also responsible for EXP's Corporate Sustainability Initiatives, authoring EXP's first Environmental, Social and Governance report in 2022. Amy is an active members of the U.S. Green Building Council at the National and Local levels. Amy has experience on over 200 LEED Certified projects, including Platinum projects in Florida.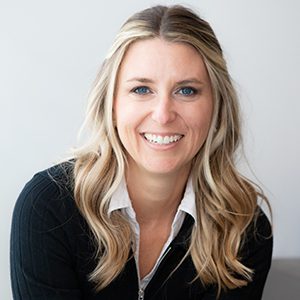 Nicole Plunkett, ASLA, PLA, AICP
Partner, Cotleur and Hearing
BLAE '10
Nicole Plunkett is a licensed landscape architect, AICP certified land planner, and partner who leads high-level development projects throughout Palm Beach County. She is a graduate of the Jupiter Environmental Research & Field Studies Academy (JERFSA) at Jupiter High School and obtained a Bachelor of Landscape Architecture with a minor in environmental studies from the University of Florida in 2010 (Go Gators!) Nicole is the founder of Future Landscape Architects of America (FLAA), a non-profit that educates K-12 students about landscape architecture. Her work with FLAA also led her to win a $25,000 Fellowship for Innovation + Leadership award from the Landscape Architecture Foundation (LAF) in 2018. Nicole continues to support the Gator Nation and serves on the UF Department of Landscape Architecture Advisory Council.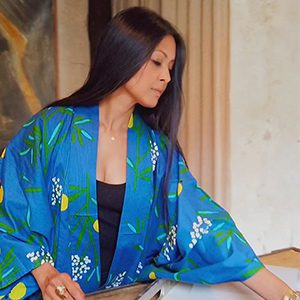 Smita Sahoo
Founder, Owner and Creative Director, āśaya I DESIGN
MID '06
A uniquely creative voice in the design profession, informed by a diverse background in architecture, interior design and environmental psychology, Smita thrives on designing spaces that strengthen our emotional connections to the places we live, work, and interact. Smita's design methodology starts with a compelling design concept, a story narration for the users and their goals in mind. Smita's signature creations present a considerate blending of design innovations of the west, with her eastern inheritance of a rich culture and its timeless elements: bold and rich colors, flavors, textures, fine fabrics, sculptures and fashion.

After over 18 years of extensive work experience with clients ranging from King Abdullah of Saudi Arabia to a Local Chicago cafe owner, Smita decided to launch her own practice – āśaya I DESIGN in 2020. The word āśaya in Sanskrit means "the cradle of feelings and thoughts". This philosophy resonates with the way the āśaya I DESIGN team aspires to approach our valued clients, team members, vendors, design, and other business decisions.

āśaya I DESIGN's aspirations are threefold to create mindful design and redefine luxury design; to be a leader in ethical sourcing and
environmental impact; and to empower communities, especially vulnerable groups, through the business of design. Smita trained as a classical Indian dancer and a painter while growing up in Mumbai, India. In her spare time, Smita loves cooking, experimenting with different cuisines and hosting friends. She enjoys traveling around the world and immersing herself in different cultures, mindsets, and lifestyles. Practicing yoga and mindfulness is an essential part of her life.