By: Kyle Niblett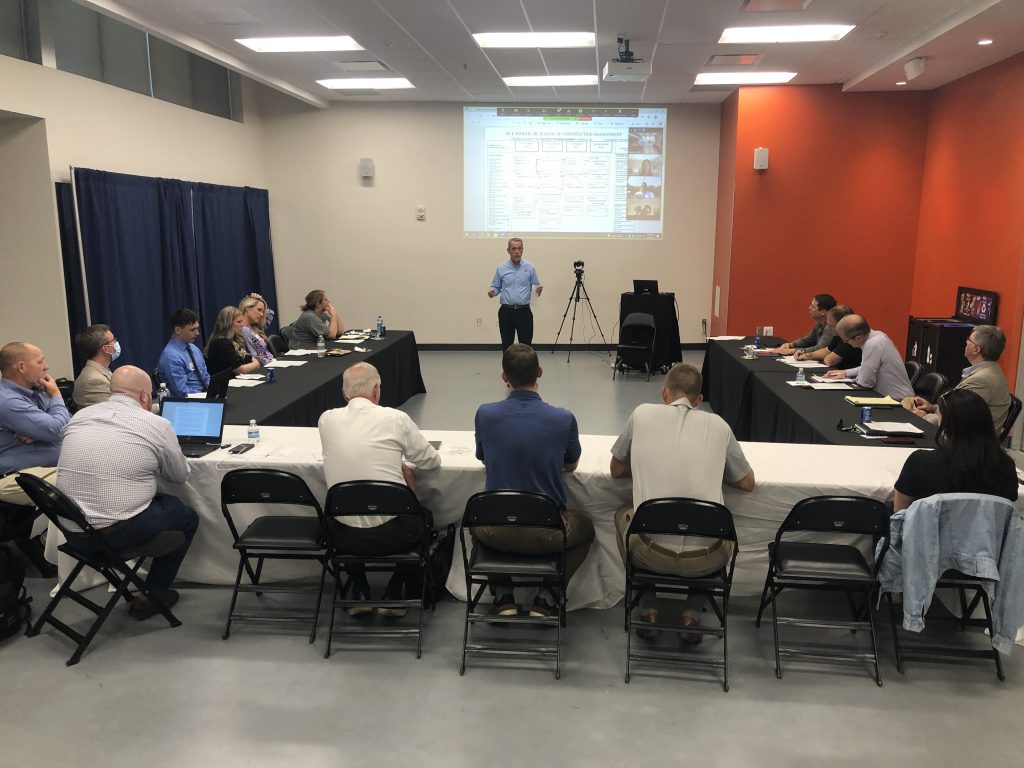 University of Florida graduates and students from the M.E. Rinker, Sr. School of Construction Management gathered inside the Florida Room of the Stephen C. O'Connell Center March 2, 2022, for the second annual Residential Building Summit. Surrounded by more than a dozen residential building companies, Rinker students networked with industry professionals while learning more about the residential construction industry.
"This year's Residential Summit provided a mechanism for collaborating among industry and academia to increase the awareness of the professional career opportunities in the residential construction sector," Rinker School Director Robert F. Cox said. "I am excited to see the development of ideas to further engage students from all DCP disciplines, while identifying which other programs across campus we can bring together as active stakeholders in helping provide future leaders in the residential industry."
Rinker currently provides a residential track with an emphasis on residential construction and annually competes in the National Association of Home Builders Student Competition coached by Instructional Assistant Professor Mark Russell. The current crop of 100-plus students takes seven credits of real estate and housing courses and are actively involved in the competition. The group is the 2013 Recipient of National Housing Endowment HELP Grant and organizes student field trips to production sites and guest lectures. Rinker graduated eight this past year with a focus on residential construction.
"It is important for more residential companies to get involved with the Rinker School," said Caroline Montgomery (BSCM '21), a project manager with Eagle Construction of Virginia. "We love coming down to Gainesville and sharing our knowledge and technology about what works best for production construction in the residential sector."
As the congregation identified pinch points, highlights of the HELP Grant and reperceived and real barriers, the consensus was in today's construction climate, the residential sector had the most room for growth among students coming through the Rinker School. With seven more graduates expected this fall and four next spring, the opportunity for Rinker to support the industry through partnerships and mentorships has never been greater.
"The networking session with current DCP students looks like it is most certainly going to be a catalyst for this vital initiative," Cox said.
Overall, the second installment of the event fostered meaningful connections between the UF College of Design, Construction and Planning, the residential industry and students with an interest in the profession. As industry trends, residential track educational outcomes and strategies for student success in the residential industry were discussed, engaged students walked out of the Florida Room with several key takeaways.
"The amount of general contractors and developers at the summit that have an interest in making sure students like me receive an education that is as focused in residential as it is in commercial is really exciting," said Rinker graduating senior Nate Greisdorf, who plans to work in affordable housing to help dense urban residential neighborhoods. "The amount of alumni in attendance shows how great it is to be part of the Gator Nation, especially with the support post-graduation.