By: Kyle Niblett
Like millions of human beings across the globe, being in quarantine during the global pandemic caused a massive epiphany in 2020 for University of Florida College of Design, Construction and Planning student Sydney Cherrington. An electrical engineering major at the time, the Georgia native realized her calling was to one day be an architect. Since that moment, there has been no stopping her.
"I am so incredibly happy that I switched to architecture," Cherrington explained. "My engineering background has been helpful, and I could have saved myself from some physics classes, but I have absolutely no regrets."
Scheduled to graduate with a Bachelor of Design with a major in architecture in 2023, Cherrington's favorite class so far has been the Design 6 Studio this past spring with DCP School of Architecture Professor Alfonso Perez-Mendez. While working very long hours and getting feedback from both the professor and her peers, Cherrington's experience was best in class. This was highlighted by being able to collaborate on finals projects with different studios outdoors in the newly covered atrium.
"Professor Perez really pushed me to think about architecture differently, and I learned a lot of different approaches and methods that will serve me well in the future," Cherrington said. "I have really enjoyed all of my design classes so far, but I definitely think I have created my best work in his class as well."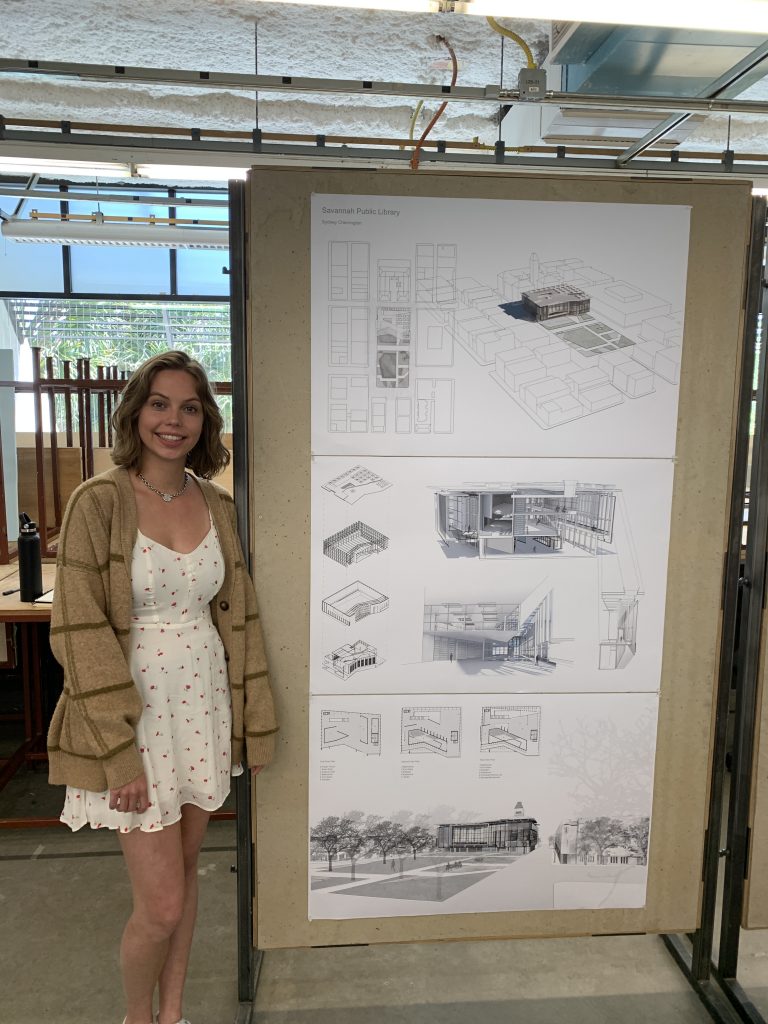 It was at DCP where the American Institute of Architecture Students member learned software and methods of working that allowed her to easily jump into her summer as an intern at Corgan, a leading international architecture and design firm founded over 80 years ago. Cherrington credits DCP for allowing her to be self-sufficient at Corgan's Orlando office as she spends her summer designing the "playground of the future," an indoor playground that generates energy while kids play on it.
"Every day looks a little different," the Kappa Delta member said. "Right now we are committed to addressing the energy crisis, especially when it comes to conserving energy, creating renewable energy and harvesting unused energy."
With the internship providing a better idea of how architecture is done in practice as opposed to an academic setting, Cherrington will return to Gainesville this fall and utilize her new methods of design, thinking and collaboration. At this time next year, she plans on enrolling in graduate school to further her education before beginning her lifelong journey as a certified architect.
"Being a student here at DCP is a lot of work, but creating amazing things makes all the work enjoyable," she said. "It always amazes me that whenever I talk to practicing architects about my education, they always know UF's professors and curriculum, even if they didn't attend school here! UF carries a very good reputation around the country, so it is advantageous when I tell people I go to school in Gainesville."