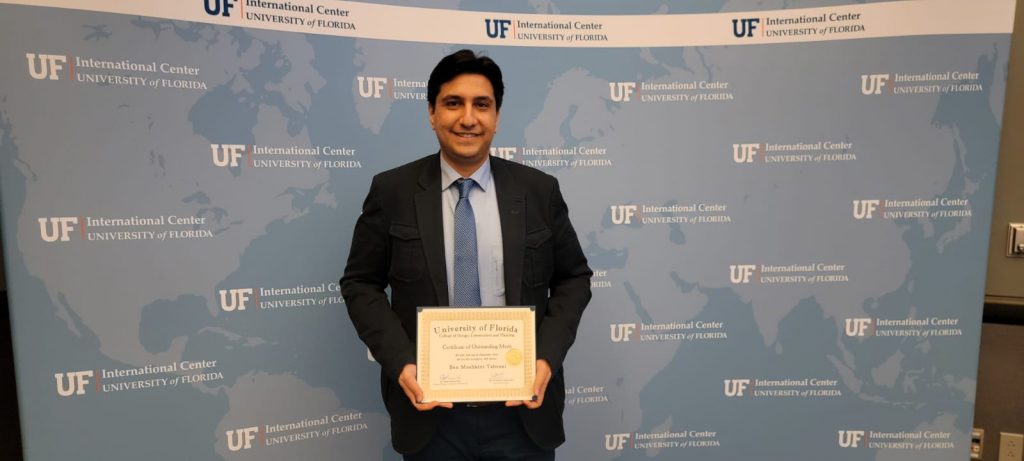 By: Kyle Niblett
Imagine a project design in 2019, just before everyone's world changed due to the global pandemic. Now imagine the design of a hospital, one of the most sophisticated construction projects out there. Needless to say, adjustments have been made over time as builders confront this brave new world.
For University of Florida M.E. Rinker, Sr. School of Construction Management Ph.D. student Behnam Tehrani, he experienced this first hand on a site visit to a Clay County hospital as a virtual design construction (VDC) intern at the Haskell Company. It was then when Tehrani became familiar with the tools and techniques employed by Haskell while simultaneously meeting tight deadlines.
"The Haskell Company is one of the most technologically-advanced companies in the world," Tehrani said. "This internship has helped me to broaden my perspective and opened my eyes to see how things get done in the real world. Being surrounded by some of the brightest minds in the VDC field has been such a rewarding experience for me."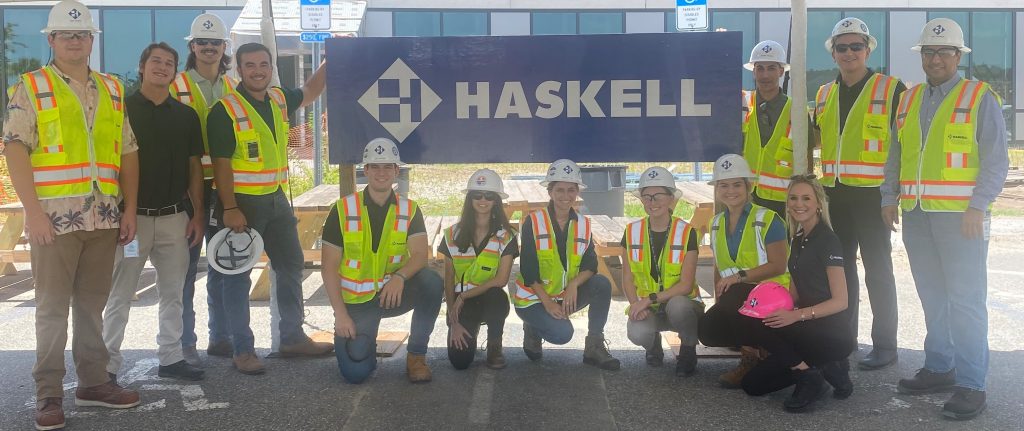 Scheduled to graduate from Rinker with his Ph.D. in Spring 2024, Tehrani is currently based out of Haskell's headquarters in Jacksonville. Despite being based out of North Florida in the VDC division, Tehrani's current primary responsibility is to assist in issuing field use layout drawings for a school construction project in Lexington, South Carolina. In addition, the Alpha Epsilon Lambda (AEL) member is heavily involved in preparing Quantity Take-offs (QTOs) and conducting clash detection for the tilt-up panel construction project. When thinking about all the responsibility he has, the Gator credits Rinker for preparing him this summer.
"The courses offered by Rinker and the UF College of Design, Construction and Planning have helped me significantly in my internship," Tehrani explained. "The professors emphasize hands-on experience, which has been extremely beneficial at Haskell. Since joining DCP, I have learned how to be a professional, an innovator, and most importantly, the best version of myself."
Tehrani specifically credits Rinker Professor Dr. Ian Flood's classes such as Advanced Construction Planning for his professional success at Haskell. With well-polished courses that maximize the learning experience, Tehrani is now more inclined to shift his research direction to have a high practical impact after experiencing the industry environment for the past few months. After earning a Ph.D., he plans to further explore the adoption of new technologies in the construction industry.
"Seeing the day-to-day construction challenges and how to deal with them has been very beneficial and will help me in the future make good decisions in a timely manner when confronted with problems," declared Tehrani.
When he returns to Gainesville this fall, Tehrani will maintain his duties as a member of the Gator Safety Professionals group and Sigma Lambda Chi (SLX). The latter is a national honorary society of construction management students and recognizes outstanding students such as Tehrani for their scholastic achievements, leadership abilities, and extracurricular activities. It is through groups like this where the construction scholar has had a chance to network at events such as the DCP Alumni Tailgate. Just like the needs of a hospital post-pandemic, the network of Rinker graduates leaving their legacy continues to expand.
"Getting to connect with successful DCP alumni at events or reading about them in the news emphasizes the importance of staying in touch with the global network of UF graduates," Tehrani finished with. "It is critical for graduates to maintain contact after graduation because they all share similar values and can benefit from one another."