Each month, DCP will highlight a graduate from the #OneDCP family. To be featured in this space, please email kniblett@dcp.ufl.edu.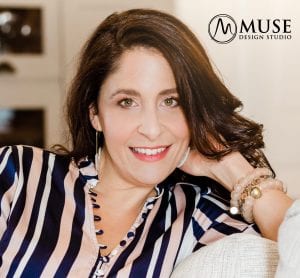 Michelle Castagna is a 1997 University of Florida College of Design, Construction and Planning graduate who majored in interior design. Currently, Castagna is the president and owner of the Muse Design Studio based out of South Florida. In addition, she is also president of the Florida Chapter of the International Furnishings and Design Association.
Castagna began her journey with a high-end interior design firm, which ultimately led her to co-owning a design studio. In an effort to truly enjoy designing as opposed to managing a team, the Gator decided a few years ago to sell her ownership stake and start Muse on her own.
Being the owner for Muse Design Studio presents all sorts of responsibilities when it comes to getting the job done. Nothing is beneath her and she has learned to enjoy all parts from the accounting, to the paperwork, down to the smallest design details on projects. As an owner, she wears all the hats!
Q & A WITH MICHELLE CASTAGNA
How did DCP prepare you for your career?
Sometimes, you have no idea how or why something will impact you, but after graduating, I realized the education I received at UF set me up for success in the areas of design I loved. The decorative part was less of a focus during my educational journey, but I learned that part in the field and was so grateful to have the solid foundation that I was given there on the construction and architectural portion of what we need do as designers.
What was the most challenging part of your time as a student at DCP?
Honestly, fresh out of high school, I think I was the only student who came into the program that year with none of my general education requirements taken care of. Juggling the program and my basic education at the same time was overwhelming, and doing it all in four years did not help. Sadly, because of this, I probably did not absorb as much as I could have, but I still gained so much value from my time there.
What would you tell prospective students who are thinking about attending DCP?
Your time in college will be stressful and challenging. However, it is well worth it. You are being set up for success and the challenges only make you better!
What was your favorite memory at DCP and why?
Honestly, the best memories are the friendships I made have stayed with me to this day. That is an amazing thing to walk away with. In addition, we were the first interior design class that could go to Vicenza and that memory of my time there will stay with me forever.
What is the one thing you know now that you wish you would have known on your first day at UF?
Pushing yourself is fine, but the pressure of trying to do perfect work…. once you are into your career those things do not matter. It is more important to absorb what you are doing. Put less pressure on yourself and enjoy the actual education more.
How important is the DCP network of graduates across the globe?
I think DCP gives their students such a wonderful education and through that is producing people in the workforce that can elevate our industry in so many ways. I love to see what the graduates have accomplished and will continue to.