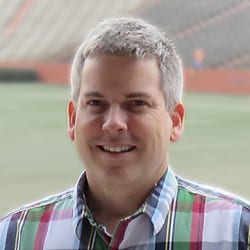 By Joey Mazzaferro
The Council for Interior Design Accreditation (CIDA) recently named Interior Design Associate Professor Jason Meneely a 2018 CIDA Award for Excellence Merit Winner for "Finding Virtue in the Virtual: A Values Driven Approach for VR in Design Education."
The CIDA Award for Excellence Competition nationally recognizes outstanding practices in interior design education. The competition is open to faculty members and collaborating teams at CIDA-accredited interior design programs.
CIDA's Award for Excellence celebrates educators and collaborating partners who advance interior design education through their teaching methodology and student learning outcomes.
"When virtual reality headsets hit the market in 2016, I was eager to explore their potential role in design education," Meneely stated. "I wanted VR headsets to become more than just the next cool way for my students to present a project. I needed to go deeper."
Meneely wanted to develop tools and strategies that connected the novelty of VR to the virtues of the interior design discipline.
Using values-driven approach, he employed VR in interior design education to:
1. Increase empathy by virtually placing students into the "Shoes of Others" to assess their evolving design solutions (as somebody in a wheelchair, with low-vision or as a child).
2. Heighten awareness by creating immersive VR case studies of leading-edge spaces for use in class.
3. Inform research by mapping out the limitations of VR to increase its validity for evidence-based design.
"I could not have been more pleased with the learning outcomes," Meneely noted. "My students were designing beyond accessibility codes to address a more holistic end-user experience – becoming more self-reflective as they reshaped their mental models for inclusive design."