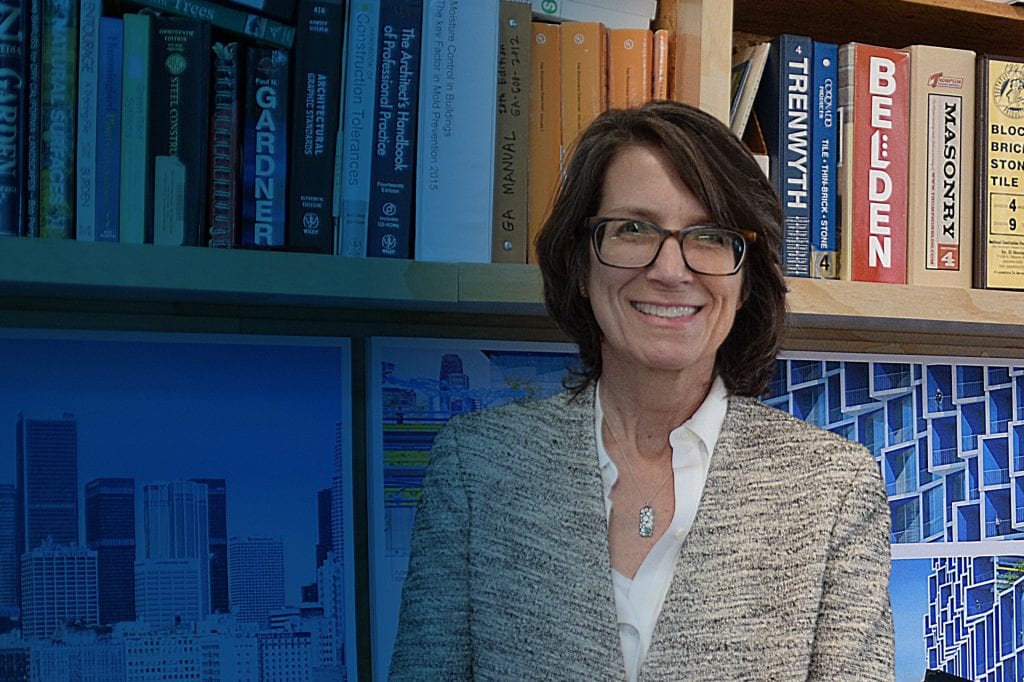 Angela Brooks, FAIA, BDES '87, is co-principal of Brooks+Scarpa, a collective of architects, designers and creative thinkers dedicated to enhancing the human experience. Their headquarters is in California but they also work on projects in Florida and overseas.
The firm, which she leads with her husband, Larry Scarpa, FAIA, BDES '81, M.ARCH '87, includes architecture, planning, environmental design, materials research, graphic, furniture and interior design services that produce innovative, sustainable iconic buildings and urban environments.
"We're known for working on challenging projects and merging great design with sustainability in innovative ways," Brooks said. "We really want to make spaces for people throughout cities so we don't concentrate on just one building type. You'll find that we work on all building types. I think we've literally touched every building type except for airports and hospitals."
This sustainable approach by Brooks+Scarpa didn't just happen overnight. It had its beginnings right here at the University of Florida College of Design, Construction and Planning (DCP).
"One thing I've realized is that what everyone's talking about now with our climate crisis is something I was actually taught at the University of Florida back in the '80s and it was called regionalism," Brooks said. "Back then it wasn't called sustainability, but it was the same idea that architects need to build in the region in which they have a project."
She explained schools are getting better at training students to design according to the climate their project is located in but she learned that "right off the bat" at DCP. She was taught that the climate needs to be part of the design process.
She also said DCP prepared her to enter her field in two ways. First, design and regionalism go together. And second, to design, you have to be a creative thinker above all else.
"Creativity goes beyond just designing a building," Brooks said. "You have to be creative in every facet of what we do, including financing, how you put a project together, how you put the team together, which projects you go for, which RFPs you answer."
Her advice to students just starting at DCP was for architects to be multidimensional in addition to being creative.
"I actually believe that the education of an architect is so great that it prepares you for a lot of different things," Brooks stated. "I would like to see more architects doing other professions. I would like to see architects becoming mayors of cities. I would like to see architects becoming planners that work for cities."
Brooks believes the education of an architect is so broad and so deep that it really lends itself to placing graduates into a lot of different professions. So don't be surprised if you see DCP architecture graduates shaping the world we live in by ways other than the architecture industry.
"I think the education of an architect is solving problems and being a creative problem solver and that lends itself to a lot of different things," Brooks said.