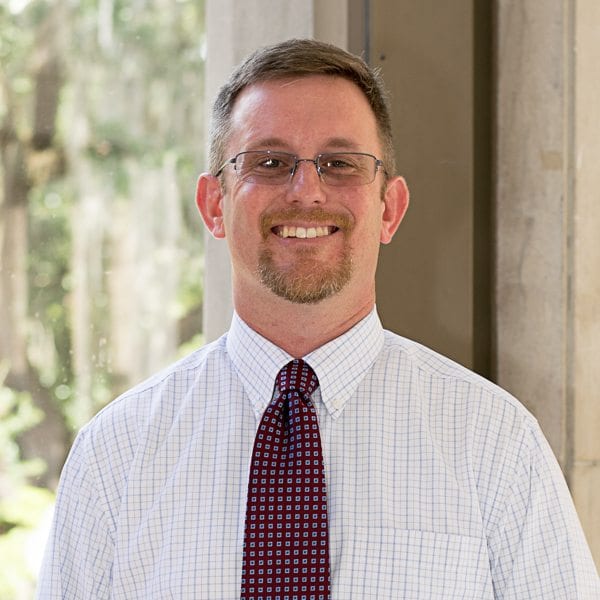 Dan Manley
Department of Landscape Architecture
Acting Chair Landscape Architecture, Lecturer, Graduate Coordinator
• Master of Landscape Architecture, University of Florida, 2001
• Bachelor of Science in Engineering, Duke University, 1998
Dan Manley is the Interim Chair of the Department of Landscape Architecture and Acting Associate Director of the School of Landscape Architecture and Planning.  Dan began his teaching career at the University of Florida in 2014 as an Adjunct Lecturer before joining the faculty as a Lecturer in 2016.  He has also served as Undergraduate Coordinator and currently serves as the Graduate Coordinator for the department.  His research and scholarship interests center on construction documentation, green infrastructure, transportation-related design, and professional practice.
Dan teaches the construction sequence in the department introducing students to concepts in grading, drainage, and stormwater; horizontal and vertical road alignment; and materials, horizontal layout, and irrigation.  He also assists students in developing business and project management-related skills in the department's professional practice course.  Dan co-teaches the introductory design studio and has co-taught the design communications course in the summer to incoming graduate students.  Dan has also taught courses in advanced landscape construction, design implementation, and co-led the undergraduate capstone seminar.  He has served as the chair, co-chair, or advisor for numerous capstones and graduate terminal projects in Landscape Architecture, Urban and Regional Planning, and Sustainability in the Built Environment.
Dan earned a Bachelor of Science degree in Civil and Environmental Engineering from Duke University in 1998 as well as a Master of Landscape Architecture degree from the University of Florida in 2001.  He is a Professional Landscape Architect and practiced for over fifteen years in both Orlando and Gainesville, Florida.  He currently serves on the Executive Committee of the Florida Chapter of the American Society of Landscape Architects.