By Alisson Clark, UF News (Photo credit Atlanta United FC)
When fans step into the new Mercedes-Benz Stadium in Atlanta, they might be too astonished by its many world's firsts — such as the roof that opens like a camera lens — to consider the effort that made it possible. But that's exactly what University of Florida alumnus Wayne Wadsworth will be thinking about on opening day.
Wadsworth, executive vice president of Holder Construction, served as the principal in charge of the team of general contractors that built the stadium, home to the Atlanta Falcons, Atlanta United, and the SEC Football Championship.
"I have been fortunate to work on a number of iconic projects in my career, but nothing would really compare with this," he said.
Take that jaw-dropping roof, for example: When he first saw the concept five years ago, Wadsworth was a little skeptical that such a groundbreaking design was possible.
"I've seen lots of creative ideas by some really talented architects over the years," he said. "I was pretty shocked and amazed, and even more amazed that we're putting it into reality."
Add in the world's first halo display, a five-story circular video board that's the largest LED display in all of sports. Stretched end to end, it would be taller than the Eiffel Tower.
"There were just so many unique and challenging circumstances, and the fact that we had to do it with such speed and such accuracy just made it all that much more challenging, but we figured out how to do it and we made it work."
Wadsworth credits his time at the Rinker School of Construction Management in UF's College of Design, Construction and Planning for helping him stay cool under pressure.
"It absolutely opened the door for me to join Holder Construction Company almost 28 years ago. It laid the foundation for me to enter into an extraordinarily challenging industry and do it with a high degree of success."
Wadsworth remains closely connected to his alma mater: He has served on the Rinker School's advisory council executive committee for more than 15 years, recruits new employees on campus, and leads an alumni group for the school's Atlanta-area grads.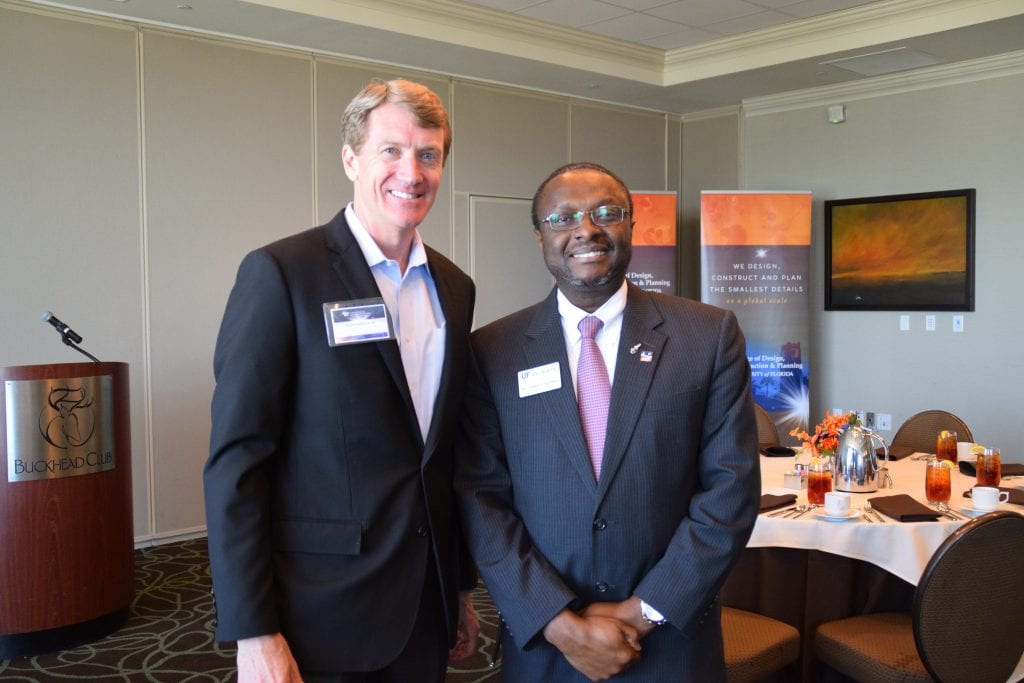 Plenty of Gators joined Wadsworth in building Mercedes-Benz Stadium, including those he has brought to Holder and grads working for the joint venture companies and subcontractors. Naturally, they're looking forward to cheering UF on to an SEC victory in the new venue.
"That would be a crowning moment to have the Gators come and win an SEC Championship in any sport in this building," he said. "It's going to be an exciting day for the Gator Nation."