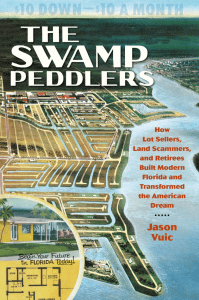 As part of the GulfSouth Studio currently being taught across architecture, landscape architecture, planning, journalism, and construction management we are happy to announce a public lecture by author Jason Vuic to discuss his book "Swamp Peddlers". Please join us April 20th at the Matheson Museum!
The Swamp Peddlers: How Lot Sellers, Land Scammers, and Retirees Built Modern Florida and Transformed the American Dream
with Jason Vuic, Ph.D.
Thursday, April 20 – 7pm
Matheson Museum
513 East University Avenue, Gainesville, FL 32601
www.mathesonmuseum.org
Free Registration – https://www.eventbrite.com/e/the-swamp-peddlers-tickets-591515176817
Zoom Registration – https://us06web.zoom.us/webinar/register/WN_Ln2S4V1JQnSCiFNPjV4cAg
In his lecture, Vuic will dive into the history of the "installment land sales industry," which seemingly appeared out of nowhere to sell billions of dollars of Florida residential property, sight unseen, to retiring northerners. For only $10 down and $10 a month, working-class pensioners could buy a piece of the Florida dream: a graded homesite waiting for them in a planned community when they were ready to build. The result was Cape Coral, Port St. Lucie, Deltona, Port Charlotte, Palm Coast, and Spring Hill, among many others–sprawling exurban communities with no downtowns and little industry but millions of residential lots. These communities allowed generations of northerners to move to Florida cheaply, but at a price: high-pressure sales tactics begat fraud; poor urban planning begat sprawl; developers cleared forests, drained wetlands, and built thousands of miles of roads in grid-like subdivisions, which, fifty years later, played an inordinate role in the 2008 subprime mortgage crisis.
This program is sponsored by the UF Center for the Humanities and the Public Sphere with support from the Humanities Fund, the Gulf Research Program of the National Academies of Sciences, Engineering, and Medicine under award number 2000013562, and the Florida Institute for Built Environment Resilience (FIBER).
Jason Vuic
Originally from Punta Gorda, Florida, Jason Vuic is a graduate of Wake Forest University, and holds an M.A. in history from the University of Richmond and a Ph.D. in history from Indiana University Bloomington. His first book, The Yugo: the Rise and Fall of the Worst Car in History (2010) was featured in Mother Jones and the Economist, and received rave reviews in over 100 print and web-based publications. In 2021, Vuic published The Swamp Peddlers: How Lot Sellers, Land Scammers, and Retirees Built Modern Florida and Transformed the American Dream, a tale of misguided land development in Florida during the grow-at-any-cost 1950s and '60s, which won the Phillip and Dana Zimmerman Gold Medal Prize for Florida Nonfiction at the 2021 Florida Book Awards, as well as the 2021 Charlton Tebeau Award for outstanding general interest book from the Florida Historical Society.
This event is sponsored in part by Visit Gainesville/Alachua County, FL and by the Department of State, Division of Cultural Affairs, the Florida Council of the Arts and Culture, and the State of Florida.