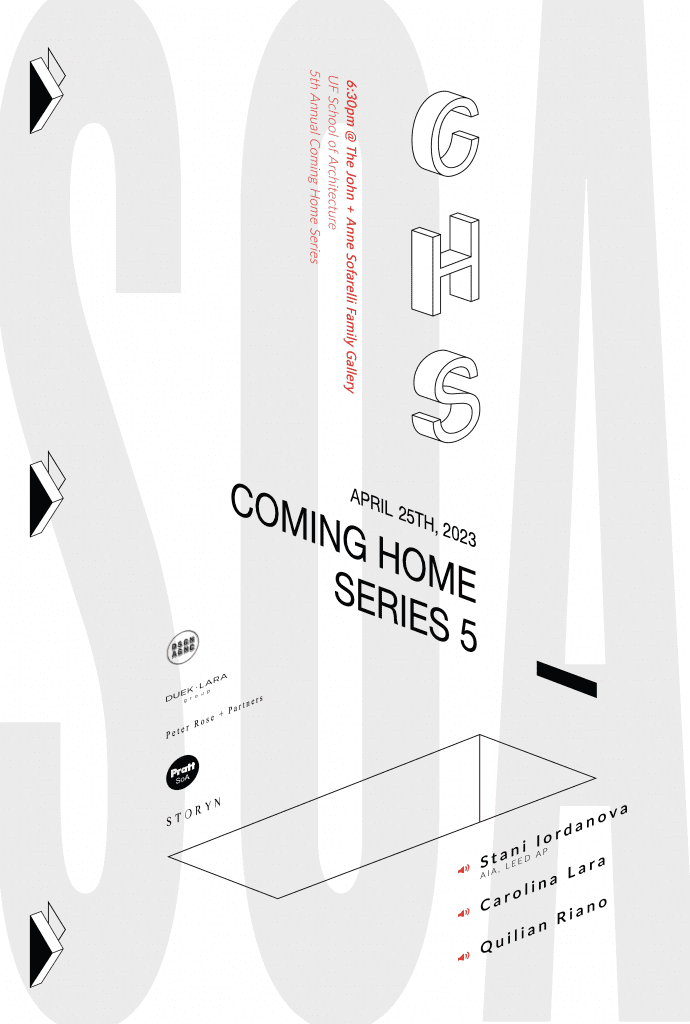 2023 COMING HOME SERIES 5 (CHS 5)
Alumni Storytelling and Panel Discussion followed by Q+A moderated by UF NOMAS
25 APRIL 2023 – TUESDAY 6:30pm EST
IN PERSON in the John + Anne Sofarelli Family Gallery and via ZOOM
Refreshments and pizza will be served in the gallery – please join us after your reviews!
Reception generously sponsored by Duek Lara Group  ONE | Sotheby's International Realty, Miami, FL
Meeting ID: 943 6548 6357
Passcode: 8675309
CHS 5 STORYTELLERS + PANELISTS
Stani Iordanova, AIA, LEED AP
Principal – Peter Rose + Partners Architects, Boston, MA 
Instagram: @peterroseandpartners  Twitter: @RoseandPartners
2006 Bachelor of Design – UF SoA, 2009 Master of Architecture – Harvard Graduate School of Design
Carolina Lara Arashiro
Team Leader + Broker Associate – Duek Lara Group ONE | Sotheby's International Realty, Miami, FL
Founder + Corporate Educator – 1BRZ Group
Instagram: @carolinablara + @duek.lara.group  YouTube: 1BRZ Talks
2004 Bachelor of Design – University of Florida, School of Architecture
Quilian Riano
Dean, Pratt Institute School of Architecture, Brooklyn, NY
Vice President for Architecture, Architecture League of New York, NY, NY
Principal, DSGN AGNC, NY, NY
Instagram: @QuilianRiano  YouTube: Quilian Riano
2004 Bachelor of Design – UF SoA, 2009 Master of Architecture – Harvard Graduate School of Design
NOMAS – To Be Determined
NOMAS COORDINATORS
Claudia Angulo, President + Hannah Chon, Vice President, UF NOMAS
UF DCP SoA  D4 Second-Year Students
EMCEE
Judi Shade Monk, Architect, NCARB, LEED AP – Bachelor of Design 1999, Master of Architecture 2001
Instructional Assistant Professor – UF School of Architecture
The School of Architecture is proud to announce the fifth edition of the COMING HOME SERIES (CHS5) alumni storytelling and panel discussion event on 25 April 2023. This year's series welcomes three extraordinary alumni back to the school and will convene in person for the first time since 2019! It will be live via Zoom from the recently renovated John + Anne Sofarelli Family Gallery in the Architecture Building.
CHS5 presenting alumni are selected from various facets of practice within the architecture, design, real estate, and academic communities – and beyond. Chosen not only for their accomplishments and talent, but their humanity, our CHS5 alumni are seasoned professionals, each with a very different trajectory and story to share. This year we celebrate graduates from the early- and mid-2000's, focusing on the personal connections they established with one another while in school, both here and elsewhere. Their experiences span the globe and operate at every conceivable scope and scale. Their humanity, professional ethics, and vision drive them to take risks to implement processes in their own practices that evolve our industry and profession and challenge long-accepted business practices, including what it means to practice architecture. In keeping with CHS tradition, the overarching theme is a candid and honest query into the professional path and lived experiences of each speaker and the myriad forces impacting their journey during their time at- and following graduation from the University of Florida, School of Architecture.
The Coming Home Series is a celebration of the breadth of professional opportunity available to School of Architecture graduates and the lifelong connections and friendships that are forged in our studios every year. It is also an acknowledgement of the challenges we face professionally and personally and how we overcome them. This unique alumni-initiated series started in 2018 and is comprised of events including storytelling, panel discussions, and question and answer sessions. Current students and faculty are offered a lens into the diverse and ever-evolving modes of professional practice that a degree from the University of Florida School of Architecture serves as the foundation for. Students are further afforded the chance to both expand and continue to hone their own professional aspirations while alumni bear witness to the evolution of the program and the strong traditions that they are a part of. Visiting alumni are invited to participate on juries and to offer insight contributing to the school's future trajectory.
The School of Architecture and College of Design, Construction, and Planning is grateful to our CHS 2023 visiting alumni for their willingness to candidly share their experiences and knowledge. We are humbled by the generous gifts of their time, both to present and to prepare for Coming Home. Special thanks to Peter Rose + Partners Architects, Duek Lara Group ONE | Sotheby's International Realty, 1BRZ Group, Pratt Institute School of Architecture, DSGN AGNC, and Storyn Studio for Architecture for their generous support and sponsorship of our fifth annual event.
To our 2023 CHS Presenting Alumni – – — the School of Architecture cannot wait to welcome you home!
For more information about the Coming Home Series, to submit an idea, to be considered for participation in a future event, or to make a donation towards the Coming Home Series of architecture alumni-driven initiatives, please contact CHS coordinators and UF SoA alumni Everald Colas contact@storynstudio.com and Judi Shade Monk j.shade.monk@ufl.edu.