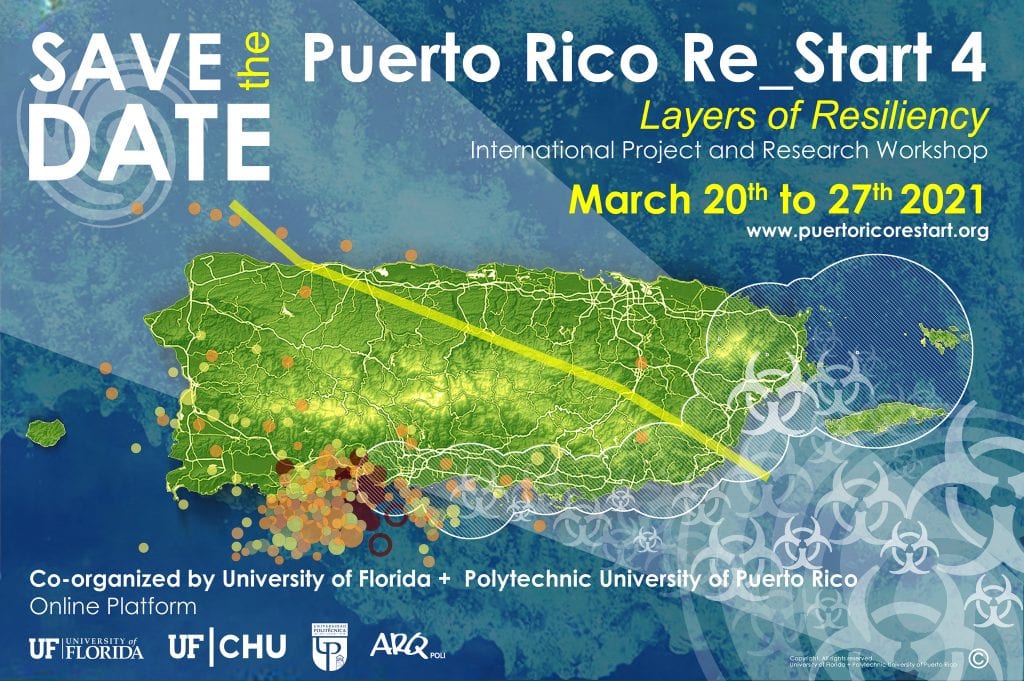 The Center for Hydro-generated Urbanism at the School of Architecture, DCP | UF, and the Polytechnic University of Puerto Rico would like to share with you the "save the date" for our next digital event. Given the continuing pandemic and accompanying circumstances that affect the Island and us, we will follow the same format developed for PRRS_3 to host the Workshop through the University of Florida Conference Center as a totally online Workshop. The institutions involved have courses and research tracks in development for the subjects of the workshop, both at UF, the Polytechnic University of Puerto Rico (PUPR), and our partner institutions that will continue online modalities. The subjects developed are of Global importance and will be disseminated through UNESCO channels, towards addressing growing vulnerabilities in the Caribbean, Latin America, and Africa. Results will be presented at the 27th Global Congress of Architects UIA2021RIO, for which this event has been declared a Preparatory Activity.
The Workshop will take place from March 20th – 27th, 2021 via TEAMS as a completely digital workshop where UF and PUPR students will convey with our international partners in Italy and Brazil to develop numerous design proposals for the Island. Students, researchers, and faculty are invited to be part of this initiative that started in 2017 when hurricane Maria hit the Island.
We are working to finalize the schedule of events, list of invitees, and registration, which will be ready early next week.
To find out more about previous workshops, please visit us at www.chu.dcp.ufl.edu
If you have any questions, please email us at puertoricorestart@gmail.com