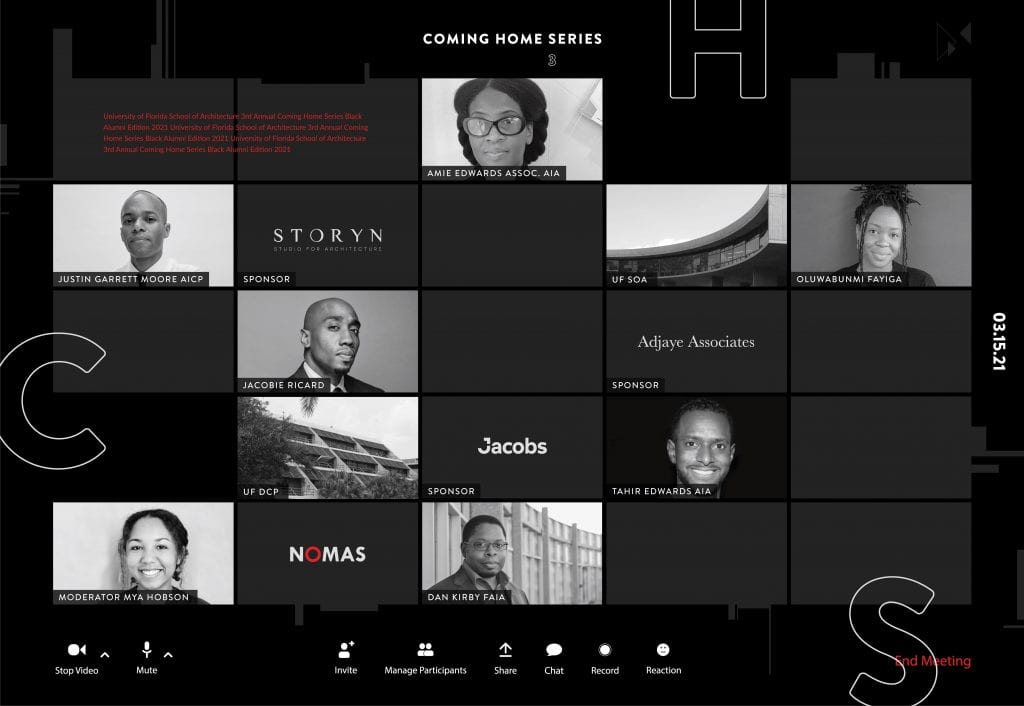 MONDAY, MARCH 15, 2021 – 6:15 P.M. EST

ZOOM LINK (Passcode: CHS3alumni)
Speakers:
Dan Kirby FAIA, FAICP, LEED AP BD+C, NCARB, NOMA (UF B.Arch 1989)
Leader, People + Places Solutions Group, Jacobs
Justin Garrett Moore, AICP, NOMA (UF B.Arch 2001)
Program Officer, Humanities in Place, Andrew W. Mellon Foundation
Jacobie Ricard (UF B.Arch. 2002)
Senior Director of Construction, Sinai Health System
Tahir Edwards, AIA, LEED AP BD+C (UF B.Arch 2005, M.Arch 2007, M.Construc Mgmt. 2008)
Principal Architect, Weitz Company
Oluwabunmi Fayiga (UF B.Arch 2016)
Project Team Member, Adjaye Associates
Amie Edwards, Assoc. AIA (UF M.Arch 2020)
UF DCP SoA Ph.D. Student, Research: "African Architecture and Identity"
Moderator:

Mya Hobson, NOMAS (UF B.Arch 2022)
UF DCP SoA D6 Third-Year Student
University of Florida | School of Architecture
2021 COMING HOME SERIES ALUMNI STORYTELLING
The School of Architecture is proud to announce the third edition of the COMING HOME SERIES (CHS) on 15 March 2021. This year's event welcomes six extraordinary alumni at very different points in their careers back to the school and sets its focus upon the Black Experience in our industry and academic institutions.
Celebrate Black alumni of the School of Architecture representing six different graduating classes with professional experiences spanning the globe and operating at every scope and scale, all brought together via zoom. In keeping with CHS tradition, the overarching theme is an open and honest query into the professional path and lived experiences of each speaker and the myriad forces impacting their trajectories during their time at and following graduation from the UF School of Architecture.
The Coming Home Series is a celebration of the breadth of professional opportunity available to School of Architecture graduates and the lifelong connections and friendships that are forged in our studios every year and an acknowledgment of the challenges we face. This unique alumni-initiated series started in 2018 and is comprised of storytelling, panel discussions, and question and answer sessions. Current students and faculty are offered a lens into the diverse and ever-evolving modes of professional practice that a degree from the University of Florida School of Architecture serves as the foundation for. This event affords current students the ability to both expand and further hone their own professional aspirations while alumni bear witness to the evolution of the program and the strong traditions that they are a part of. Visiting alumni are invited to offer feedback on the school's future trajectory.
Presenting alumni are selected from differing facets of practice within the architecture, design, and construction communities, and beyond. This year's event focuses on the Black Experience in both academia and practice; the esteemed 2021 Class of CHS alumni return to the school inspired to inspire and are uniquely positioned to give voices to the voiceless.
The School of Architecture and College of Design, Construction, and Planning is grateful to the CHS 2021 visiting alumni for their willingness to candidly share their experiences and knowledge. We are humbled by the generous gifts of their time, both to present and to prepare for Coming Home. Special thanks to Adjaye Associates, Jacobs, and Storyn Studio for Architecture for their generous sponsorship.
2021 CHS Presenting Alumni, we cannot wait to welcome you home!
For more information about the Coming Home Series, to submit an idea, to be considered for participation in a future event, or to make a donation towards the Coming Home Series of architecture alumni-driven initiatives, please contact faculty coordinator Judi Shade Monk j.shade.monk@ufl.edu or alumni coordinator Everald Colas contact@storynstudio.com.