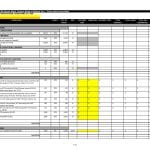 Website TRC Energy Engineering, Professional LLC
Need assistance with completing landscape estimate. Have MS Excel spreadsheet breaking out quantities of trees, bushes, plants, square-foot quantities of sod, etc. Also have marked-up drawings which I can forward via DropBox link.
Would only require about 2-3 hours of actual work. Pay is $150 via PayPal or CashApp. 50% up-front, remaining 50% when job has been completed. 
Also have several on follow on jobs if seriously interested.