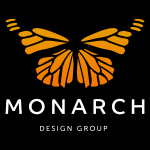 Website Monarch Design Group
Architectural Designer
Job description
Monarch Design Group, LLC is a professional and growing Architectural and Design firm with headquarters in Gainesville, FL. The chosen applicant will work at the company headquarters, under the President, and with a dedicated, professional, and close-knit team. The chosen applicant will be an organized and detail oriented individual whose job function will be to assist with the daily operations including (but not limited to) the below.
Responsibilities:
Accurate and Detailed Drafting of Architectural documents used for permitting of commercial and residential construction projects.
Creation of artistic 3D models and renderings for brochures, architecturally accurate floor plans, dimension plans, RCP plans, building sections, detail drawings, life safety plans, and incorporation of Florida building code requirements.
Architecturally accurate Construction Documents.
Coordination with Consultants.
Coordination with Clients via Zoom.
The Architectural Designer will answer to the Team Lead and Project Managers.
Requirements:
Computer Drafting Skills.
Experience with Revit/BIM software.
Experience with Adobe Creative Suite
High level computer skills preferred.
Additional experience in the following fields is a plus: Computer Programing, Web Development, Interior Design, Graphic Design, Urban Planning, Engineering MEP systems, Construction/Construction Management, Gaming.
This position is located in Gainesville, FL.