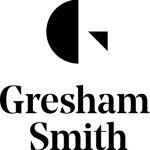 Website Gresham Smith
Genuine Ingenuity
Our healthcare team specializes in architectural design and planning to deliver research-based, value-added solutions for health systems, care providers, and patients alike.
Responsibilities:
Collaborate with team leadership through all phases of the design process, from design concept inception through completion of construction documents.
Research products and technologies and integrate these into drawings and specifications.
Learn and apply a variety of code requirements and standards as you develop your expertise.
Create renderings, 3D images, and other presentation materials.
Ensure client satisfaction by learning and applying quality control processes to your work.
Engage in Construction Administration, including job site visits and submittal reviews schematics, design development, and construction documents.
Develop, modify, and review production drawings and edit project narratives and specifications.
Research materials to determine appropriate selection for projects.
Plan, coordinate, and administer projects from the initial programming stages all the way through to construction administration.
Review construction submittals and assist project managers in construction administration.
Analyze client problems and develop architectural solutions to those problems.
Minimum Qualifications:
5-year Bachelor's or Master's degree in Architecture from an accredited program.
1-3 years of working experience as an intern architect, pursuing licensure.
Strong concept design skills.
Knowledge of building materials, construction methods, codes, and regulations.
Demonstrated experience using Revit, Photoshop, Sketch-up, and CADD techniques and principles.
Experience in Lumion, Enscape, or other 3D rendering software.
Knowledge of architectural principles, practices, and techniques as well as standard operations, policies, and procedures of a Firm within the A/E industry.
Ability to be proactive in determining the necessary steps to meet the objectives and performance expectations of the position.
LEED accreditation and/or EDAC certification preferred.
All applications must be submitted through our careers site: Please APPLY HERE!
* Please include a portfolio of your work samples, including conceptual sketches or diagrams, along with a resume/CV in your online application to be considered*
Gresham Smith is committed to a diverse and inclusive workplace. Gresham Smith provides equal employment opportunities to applicants and employees and does not discriminate on the basis of age, race, color, ancestry, religion, sex, sexual orientation, gender identity, national origin, status as a protected veteran, disability, or any other classification protected by law.