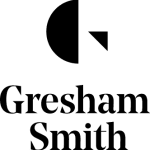 Website Gresham Smith
Genuine Ingenuity
Our healthcare team specializes in architectural design and planning to deliver research-based, value-added solutions for health systems, care providers, and patients alike.
Responsibilities:
Create innovative healing environments that support our client's mission and vision.
Champion our Healthcare Market's mission of being a market leader in bringing value to our clients by focusing on healing, safety, and operational efficiency.   
Understand and apply healthcare design concepts such as evidence-based design.
Support and participate in business development /client pursuit activities.
Lead and participate in the production of design and construction document deliverables.
Effectively employ quality, budget, and time management techniques
Manage Construction Contract Administration processes.
Minimum Qualifications:
Bachelor's degree in Interior Design/Architecture from an accredited university.
Professional registration is preferred, but not required.
Minimum of 5 years of job-related design experience required.
At least 4 years of experience in Healthcare interior design, preferably within an architectural firm, is required.
Proficient in AutoCAD, Revit, SketchUp, Adobe Suite, Lumion, and other modeling software such as Grasshopper and Rhino.
All applications must be submitted through our careers page. Please apply here!
* You must include a portfolio of work samples along with a resume/CV in your online application.
Gresham Smith is committed to a diverse and inclusive workplace. Gresham Smith provides equal employment opportunities to applicants and employees and does not discriminate on the basis of age, race, color, ancestry, religion, sex, sexual orientation, gender identity, national origin, status as a protected veteran, disability, or any other classification protected by law.