Dr. Wang receives research grants from National Science Foundation
Assistant Professor Wang is working to redefine curb environments in Gainesville, FL and to combat COVID-19 misinformation across the United States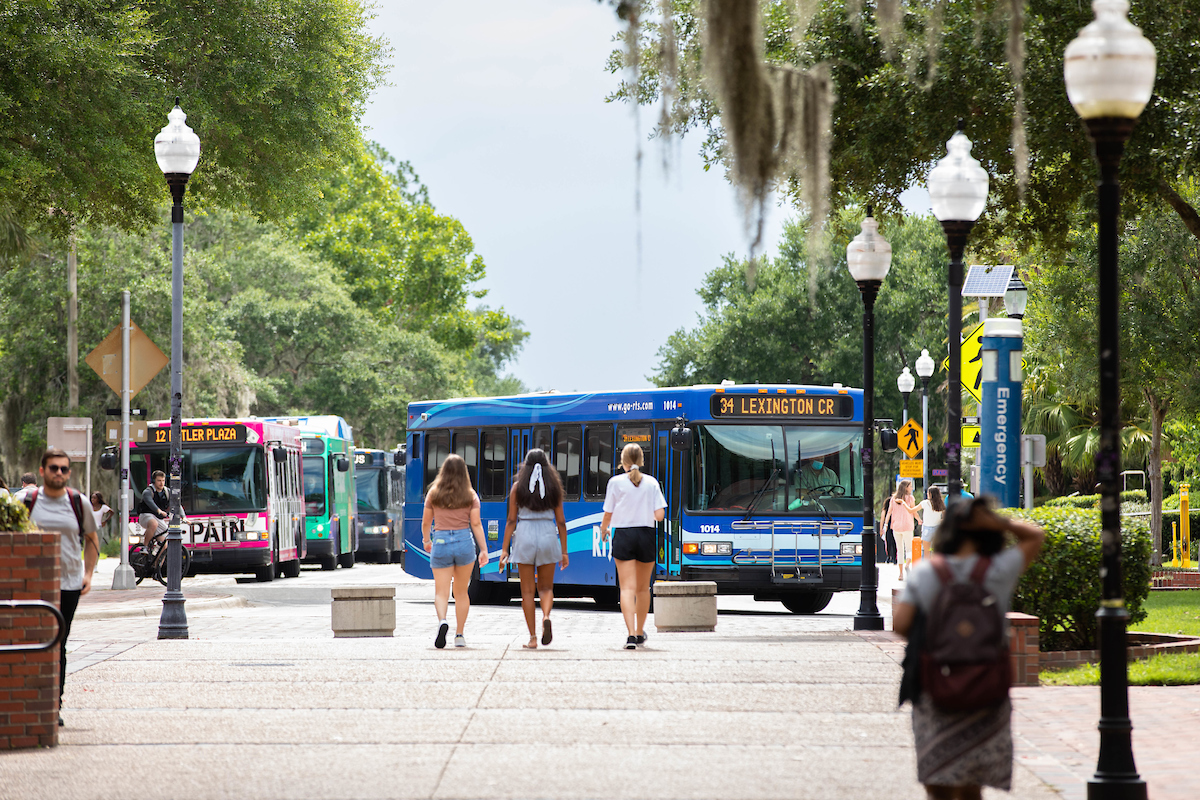 Buses outside Turlington Plaza on the University of Florida campus by Brianne Lehan from the UF Photo Gallery.
Dr. Yan Wang has been working on research through grants from the National Science Foundation (NSF) in 2020 and 2021 on curb environments around the City of Gainesville and UF campus and helping agencies ensure that credible information regarding COVID-19 is disseminated via social media.

Advances in transportation technology have made the curb environment in cities a busy place where pick-up and drop-off, deliveries, parking, and electric vehicle charging take place. Dr. Wang's research seeks to interpret data that explains the ways in which the curb environment is currently utilized and find new ways to coordinate actives at the curb. Upon completion, this research will be provided local governments which will benefit from this increased understanding of curb activities, allowing for improved urban design and coordination. The study is expected to be completed in September of 2022.

Dr. Wang also worked with the NSF from June 2020 to May 2021 on the Rapid Response Research (RAPID) Project, which is studies online behavior during times of crisis, specifically the COVID-19 Pandemic. The study identifies key influencers and purveyors of misinformation on social media and helps government and health agencies, as well as other stakeholders identify tactics for leveraging credible information, which helps limit the reach of misinformation, as well as better understand the ways that misinformation can undermine community response.
About Dr. Wang:
Dr. Wang received her PhD in Civil Engineering at Virginia Tech in May 2018. She holds a master's degree in Asset Valuation and a bachelor's in Engineering Management, both from the School of Economics and Management at Beijing Jiaotong University.