APA Florida Conference 2019
URP students and faculty were recognized at the annual conference of the Florida Chapter of the American Planning Association.
From left, Andrew Morris, Rosemarie Fusco, Aastha Patel, Ruth Steiner, and Nathaniel Chan (as well as Austen Dole and Paul Zwick, not shown) received the Student Project Award for their transportation planning studio.
The American Planning Association (APA) is the premier source of news and networking opportunities for urban planners around the country. Each year, the Florida Chapter of the APA hosts its own conference bringing together planners from across the state. This year the conference was held in Sandestin, in the Florida Panhandle, on September 10-13.
The Department of Urban and Regional Planning is proud to have such accomplished students and faculty who not only attended the APA Florida Conference but also presented and received awards.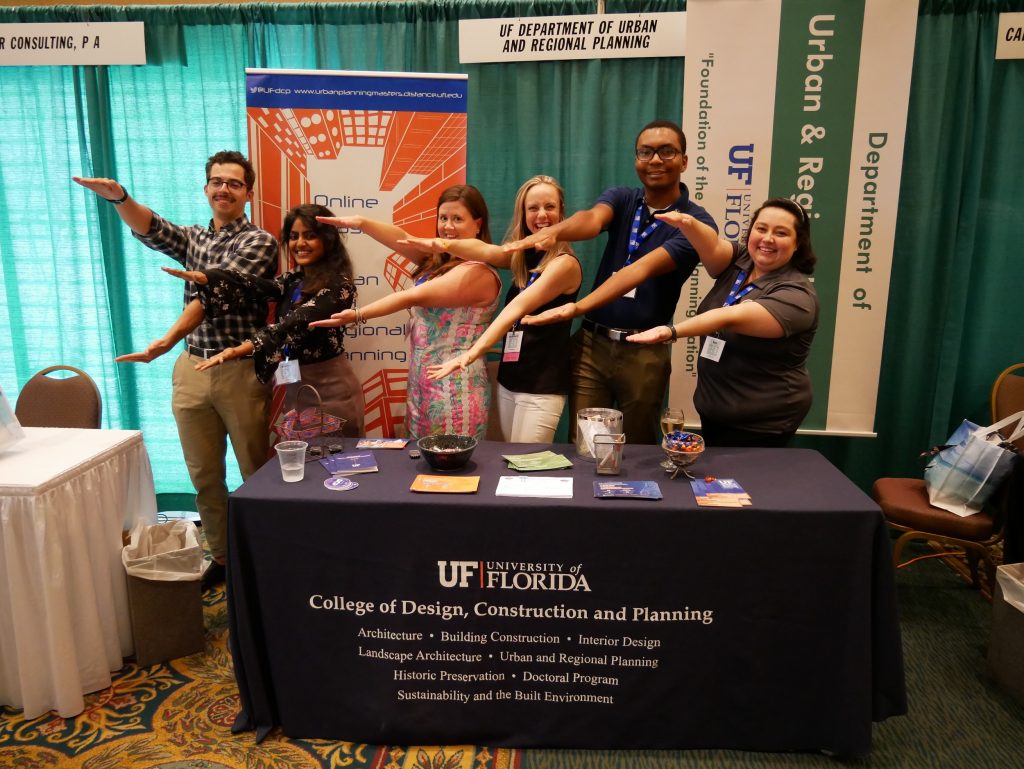 Dr. Ruth Steiner gave a presentation entitled "I See Land, or Is It Water? Risk Based Transportation Planning for Uncertainty." Here Dr. Steiner shared her current research on transportation planning in the face of sea level rise and other climate risks. 
Thomas Hawkins, AICP, and Dr. Lauren Harbin, AICP, spoke about ways they are adapting studios in the online master program to solve real-world problems: "Raising Fingerlings into Adult Fish in New Waters: How Two Professional Planners Are Adapting Planning Studio Courses for Online Instruction at the University of Florida."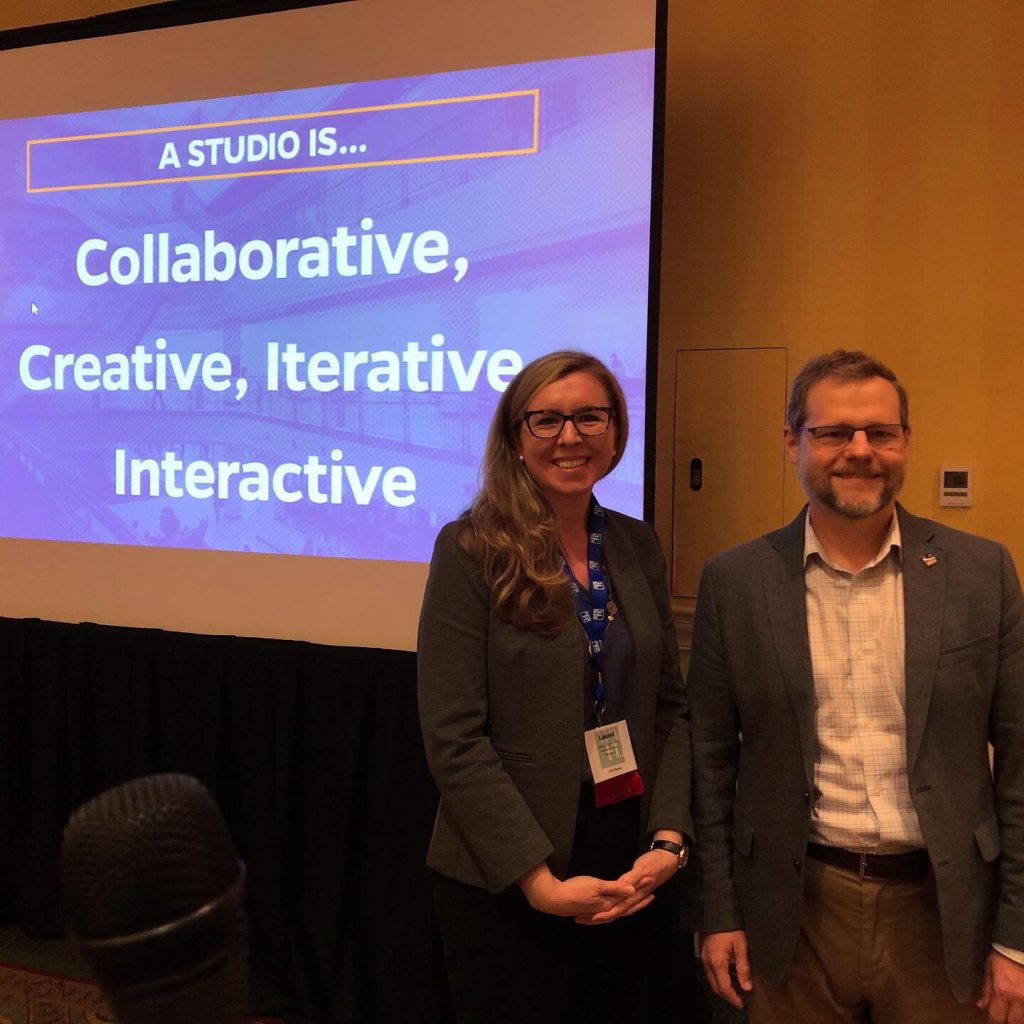 The University of Florida offers the only master's degree in planning that has an entirely online option. Offering this degree online has required innovation to create entirely new methods of collaboration, content delivery, and student assessment.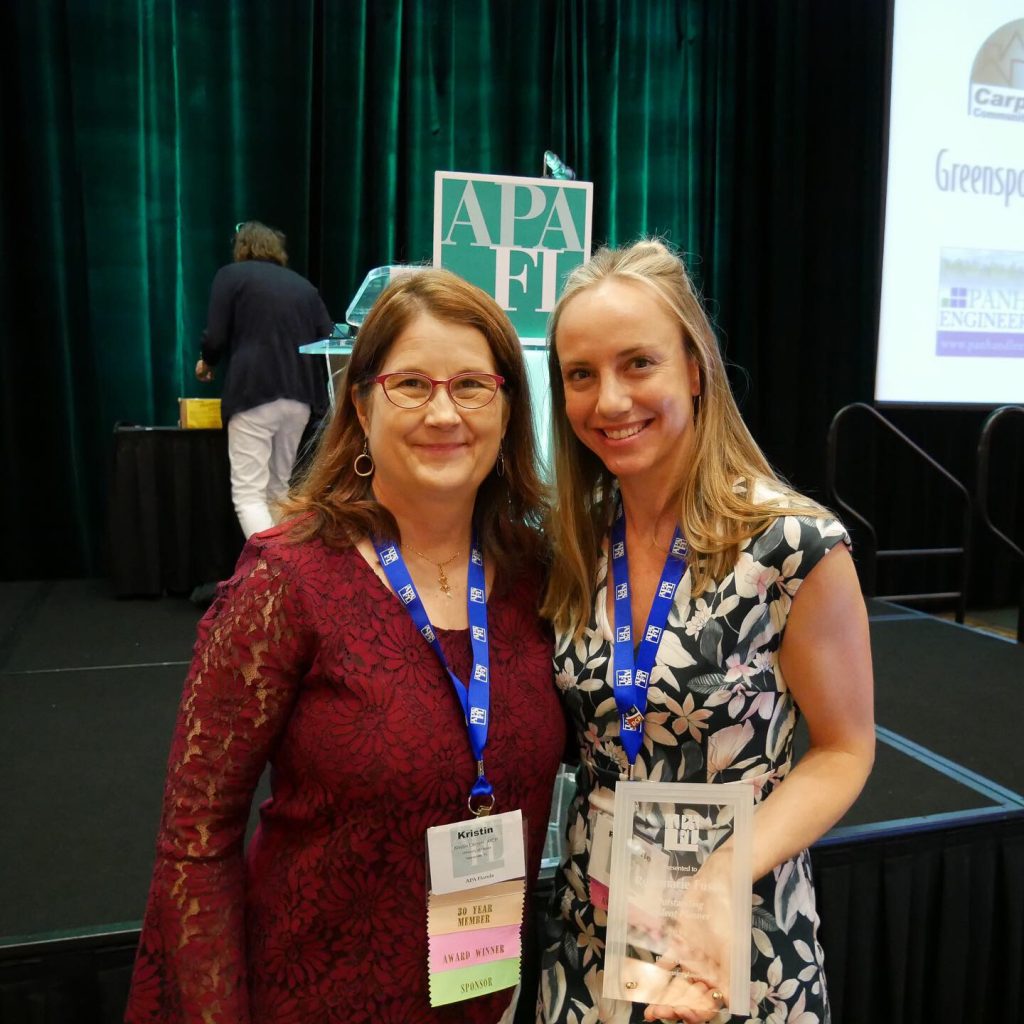 Rosemarie Fusco was recognized as the Student of the Year. And, as shown at top, the Outstanding Student Planning Project Award was given to the studio, "Assessment of Planning Risks and Alternative Futures for the Florida Transportation Plan Update," which was a collaboration between the University of Florida, Florida State University, and the University of South Florida.
Last, the Award of Excellence in Neighborhood Planning was given to the
"Neighborhoods As Community Assets" project for assisting the Porters neighborhood in Gainesville.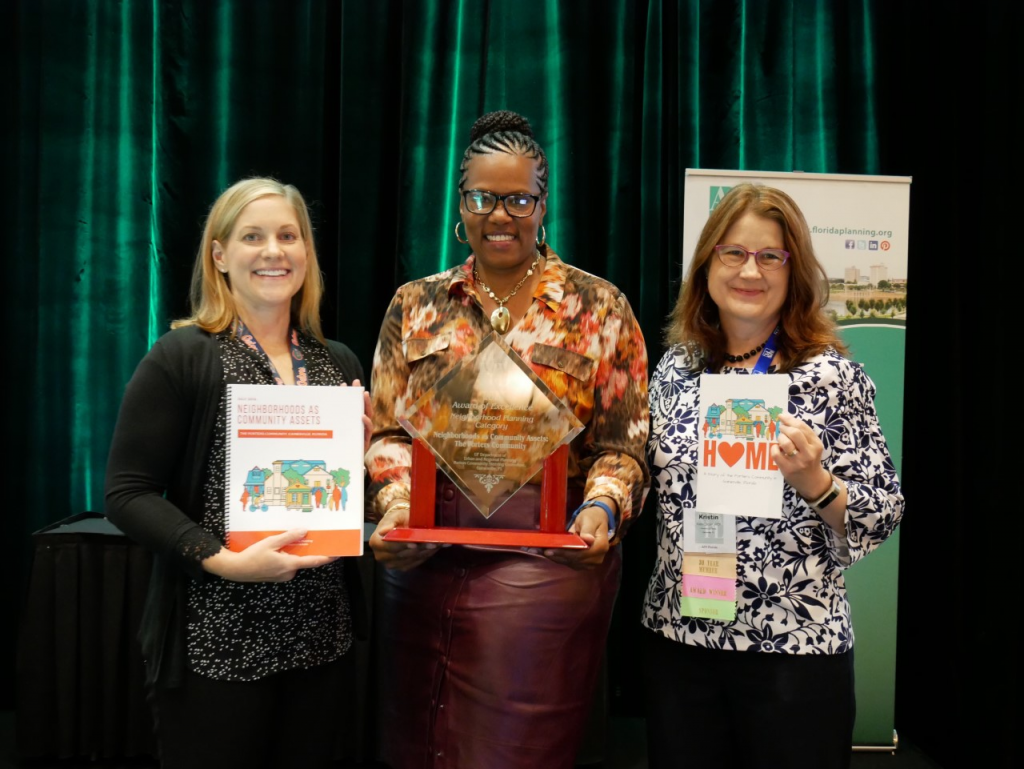 Accepting the Award of Excellence in Neighborhood Planning, from left, Dr. Laura Dedenbach, Porters leader and Gainesville City Commissioner Gigi Simmons, and Dr. Kristin Larsen. Kathryn Frank, Tyeshia Redden, and Savana Wright (not show) were also on the project team.