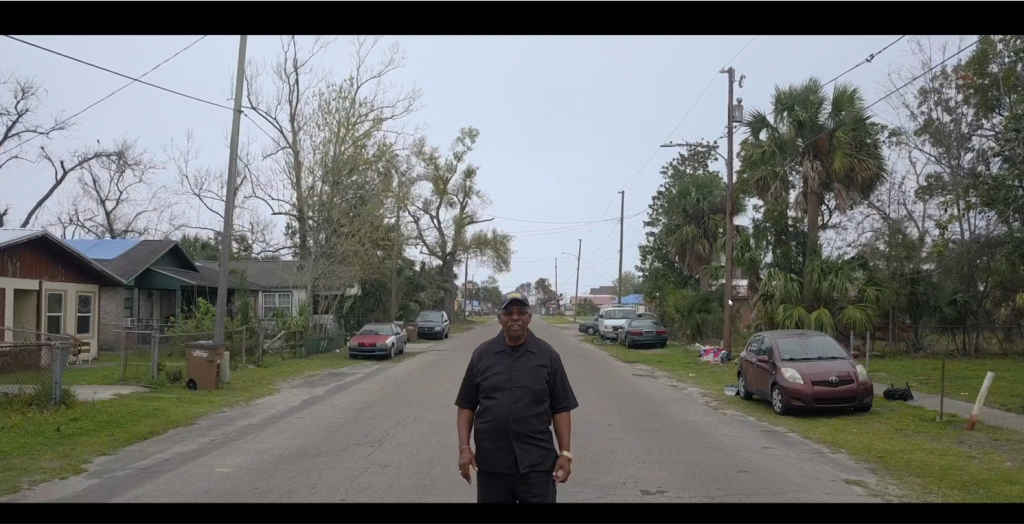 More than 300,000 visitors will view the work of the University of Florida College of Design, Construction and Planning through a video being shown this year at the 17th Biennale di Venezia di Architettura held in Venice, Italy. Translated as "The International Architecture Exhibition," the international event is the oldest international architecture festival in the world, highlighting architectural work from more than 80 countries around the globe. The event, curated by architect and scholar Hashim Sarkis, began May 22, and lasts until November 21, 2021.
With "How will we live together?" as the theme this year, Associate Director of the Florida Institute for Built Environment Resilience (FIBER) Jeff Carney and Postdoctoral Associate Carla Brisotto succeeded in having a FIBER video installed in the Italian Pavilion curated by Alessandro Melis. The Pavilion presents research and opportunities for dialogue that challenge the paradigm of architecture as an isolated discipline. As a result, the Pavilion gathers studies, research, and projects that are interdisciplinary in nature, exploring the ecological and social challenges of our contemporary world. The focus of the Pavilion "Resilient Communities" calls for actions amongst designers to advocate for the design of the co-existence of different communities – human, non-human, and environmental. Within this context, FIBER produced a video delivering a statement of what resilience means to Florida in the era of climate change.
FIBER was established in 2018 as a strategic initiative of DCP with support from the Provost and Vice-President for Research. The group is made up of a cluster of faculty who are well trained and technically proficient in aspects of resilience and collaborative practices. Committed to the design, planning, construction and management of resilient built environments, and boasting a strong interest in the well-being of individuals and communities who inhabit them, FIBER is positioned to respond to the complex threats – ecological, economic and social – that Florida and many regions around the world experience.
FIBER being chosen to display a video at the festival was a huge accomplishment in itself, since its mission is to advance knowledge by working at the intersection of research, application and lived experience on ideas and innovations that foster built environment resilience. The vision of FIBER is to work across scale from individual experience to buildings, neighborhoods, and landscapes, integrating knowledge and assisting communities to build adaptive capacity, strength and well-being – a mission that perfectly aligns with this year's Biennale. "We need a new spatial contract," Sarkis said. "In the context of widening political divides and growing economic inequalities, we call on architects to imagine spaces in which we can generously live together." To reinforce this ethos, FIBER's visual statement aims to depict the real life of people dealing with the consequences of a changing climate.
Carney and Brisotto partnered with journalist and filmmaker Alyson Larson to interview longtime resident Floridians: Jim Strickland, a ranch manager in Myakka City; Nancy Shaver, the former mayor of St. Augustine; and Chester Davis, a pastor in Port St. Joe. The three discussed urgent issues too common in Florida: coastal flooding, inland heat damage, climate induced disparities, and threats to essential urban infrastructure. These concerns are at the core of FIBER's research agenda. "We have to see the potential in change." Carney said, "Can we imagine the future of Florida as a place where we incorporate resilience into our planning, and continuously adapt to the risks posed by climate change? The Biennale is a place where such questions can be explored through design and creativity."
DCP's FIBER Featured at the 17th Biennale di Venezia di Architettura