Start Your Journey in Sustainability
The Bachelor of Science in Sustainability and the Built Environment focuses on finding sustainable solutions that enhances environmental opportunities and resources for future generations.
Sustainability and the Built Environment
Sustainability protects the natural and cultural resources of our built environment by reducing energy demand, conserving water, improving indoor air quality, managing waste, and promoting sustainable practices in transportation, building construction, and land use development. Graduates will gain leadership and technical skills required for a successful career in today's green industry.
Geodesign Specialization
Students may choose to specialize in Geodesign, which combines topography with design using digital technology to help designers, planners, and stakeholders make informed decisions on globalization, population growth, climate change, and increasing demands for resources.
Regional Conservation Planning
Career Paths
Transportation Analyst/Planner
Complete traffic impact analysis, draft traffic demand management plans, prepare health impact analysis reports, and calculate feasibility, safety, and logistics for proposed developments.
Urban Planner & Designer
Develop land use plans and programs that help create communities, accommodate population growth, and revitalize physical facilities in towns, cities, counties, and metropolitan areas.
LEED Certifications Reviewer
Provide framework for building, community, and home projects to create healthy, highly efficient, and cost-saving green design. Recommend technical advice for certification achievement and review LEED project documentation.
Energy Analyst
Locate, gather, and analyze energy data to understand and quantify the industry trends and communicate effectively with clients. 
Sustainability Project Manager
Coordinate Leadership in Energy & Environmental Design (LEED) projects and strategies.
Check out what our students are doing
Alumni Profile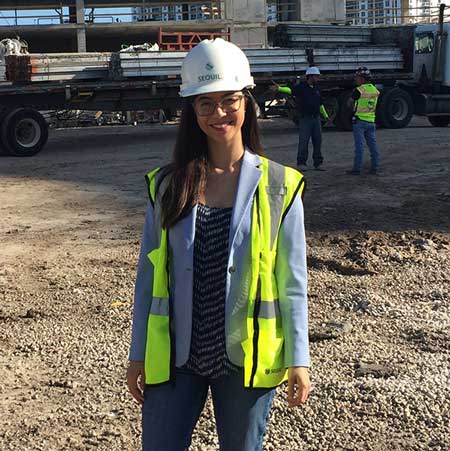 Samantha Varela – LEED AP BD+C, FGBC Designated Professional SEQUIL Systems Inc
Samantha Varela graduated from the University of Florida's Sustainability and Built Environment (SBE) program in 2017. With the encouragement of her professors, she obtained her LEED Green
Associate before graduation, and was inspired to pursue a career in the sustainable architecture field.
Today, Samantha is a LEED Accredited Professional for Building Design & Construction (BD+C), and a Sustainability Project Manager at SEQUIL Systems. At SEQUIL, she provides sustainability and resilience consulting for projects ranging from challenging corporate campuses and high-rise luxury buildings, to affordable housing and municipal facilities. Samantha leads her firm in technology advancements and design, building on her skills obtained at the University of Florida.
The values instilled by the SBE program remind Samantha to stay involved in her local community. She voluntarily serves as the Chair for Emerging Professionals on the USGBC South Florida Board and serves on the AIA Center on Environment (COTE) Committee working on local climate change issues. Samantha is grateful for the leadership skills that she gained during her
tenure at UF, and she is committed to staying involved with the USGBC Heart of Florida region and the UF Student Rinker Chapter.