Port St. Joe: Finding Resilience on the Forgotten Coast
The FIBER FRC team, in conjunction with Dr. Marcy Trahan from The Joe Center for the Arts, has won a Center for the Humanities and the Public Sphere grant, supported by the CHPS Rothman Endowment. The grant will support the design of an interactive exhibition, "Port St. Joe: Finding Resilience on the Forgotten Coast," that will be hosted at The Joe Center for the Arts in Port St. Joe throughout October 2021. The exhibition will actively build upon and disseminate the results of the two-year Florida Resilient Cities community partnership across the city of Port St. Joe.
This exhibition is an opportunity to thoughtfully celebrate the community's on-going recovery from 2018's Hurricane Mathew, assess progress on resilience, and re-connect (post-COVID-19) with the community to reflect on the challenges that climate change poses to the cultural and societal growth of Port St. Joe. The exhibition is a vital initiative to invite dialogue and reflection around three core challenges: the urban and social mending between the African-American community and downtown, nature-based approaches to coastal risks, and design and policy options for affordable housing. The exhibition will extend outside the gallery through strategic outdoor installations to facilitate the connection between people, place, and ideas. Walking tours for the exhibition will be an additional opportunity for public engagement. More information on the exhibit will be available soon!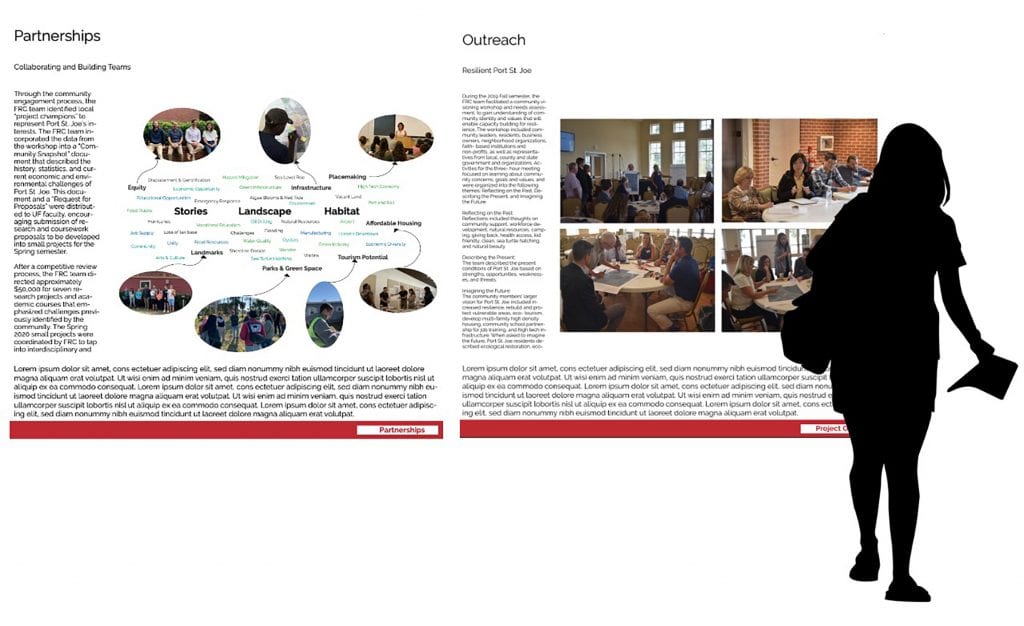 Exhibition Team:
Jeff Carney, Associate Director, Florida Institute for the Built Environment Resilience
Dr. Marcy Trahan, Project Director, The Joe Center for the Arts
Carla Brisotto, Post-Doctoral Associate, Florida Institute for the Built Environment Resilience
Cleary Larkin, Assistant Scholar & Coordinator Florida Resilient Cities, Florida Institute for the Built Environment Resilience
Eliza Breder, Graduate Research Assistant, Florida Institute for the Built Environment Resilience
Emilee Aguerrebere, Graduate Research Assistant, Florida Institute for the Built Environment Resilience