FRC provides unparalleled access to a broad range of University of Florida faculty, staff, students, and resources. In addition to the specific research needs that UF faculty can fill, FRC provides project scoping, coordination, project management, access to data, and eventual publication of findings.
Taking a design thinking approach. Design projects can connect the values and goals of a broad range of stakeholders behind strong and optimistic community visions.
Applying the best science for effective problem-solving. Achieving long-range resilience requires baseline data and forecasts that support redirecting investments into areas facing less risk from future events.
Building local adaptations toward statewide transformation. Successful local projects build local support to champion, fund and implement adaptation that provides the best practices for statewide policy.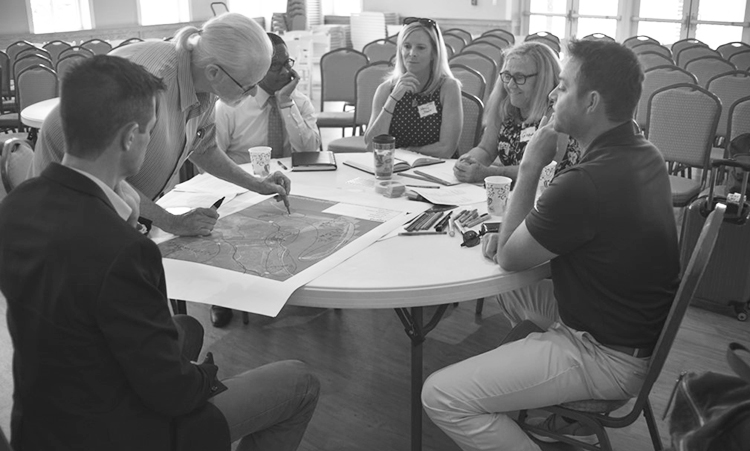 Through collaborative research projects, access to data analytic tools and community planning and design, FRC will help Florida cities meet the challenges that lie ahead.
The FRC process begins by engaging community officials and residents through a series of workshops and meetings. The outcomes of the initial community engagement are brought back to University faculty for development of research projects and coursework.
In partnership with community residents and faculty, FRC identifies project champions to represent the community's interests for the research teams. The faculty and community collaboration provides for a successful handoff after the completion of research and spurs future implementation efforts.
Florida's most effective tool for resilience lies in the creativity of its citizens and the capacity of municipal leaders to structure, coordinate, fund and implement projects. The FRC program is an effort to help cities realize their potential and to help them to reach it by demonstrating resilience at the urban and regional scale.
---