Tuesday, May 18, 12:00pm Lunch Discussion with Nasrin Seraji (Paris France)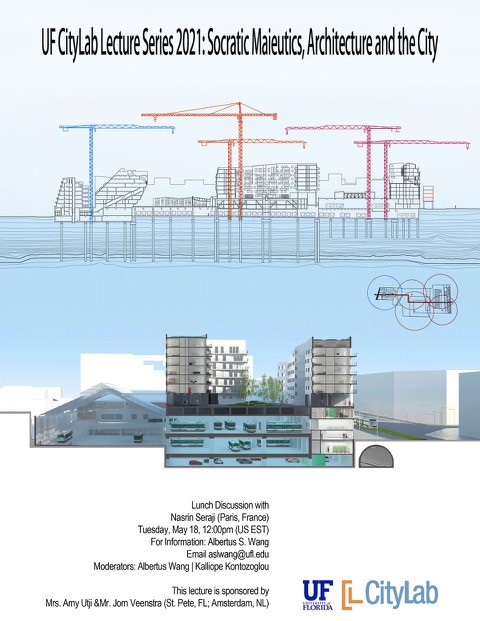 The title of the lecture is "From Architectural Urbanism to Integrative Architecture: The Epic Story of a Parisian Urban Assemblage".
Abstract: After his seminal works on the "Contemporary city for three million inhabitants" in 1922 Le Corbusier, the great grandfather of Modernism, compacted all the basic urban essentials into an autonomous singular object, his 1947 Unité d'Habitation. In 1966 Aldo Rossi brought attention to the city and its evolution through time and to the necessity to continue the history of its sedimented layers and complex relationships. Just a few years later, Charles Jencks announced the official death of Modernism with the well-known demolition images of Yamasaki's Pruitt-Igoe housing project in St. Louis, Rem Koolhaas was deep in his thoughts writing his masterpiece, Delirious New York, constructing the foundations of his everlasting engagement with the city via the super programmed skyscraper. Through "Big Heavy Beautiful" – the latest project of my studio in Paris (Atelier Seraji Architectes et Associés) which we won in 2007 and completed in 2017 – I will demonstrate how this triple inheritance of the "modern" culture of architecture has shaped my practice and thinking since my formative years at the AA: the use of drawing as a critical tool and the "architecturalization" of the urban have been key to the design of this complex project, an attempt to create a new type of urban assemblage in the specific condition of the city of Paris.
About the Presentation Topic to be discussed by Rene Davids:
Topic of Discussion: "Housing in the Dispersed City".
Project: Daybreak Grove
Project Location: 1256 E. Washington Ave. Escondido CA 92027
About Nasrin Seraji: She is currently full professor of architectural Design at University College Dublin. Seraji has taught at many architecture schools including the AA, Columbia and Princeton Universities. She has served as Dean of École Nationale Supérieure d'Architecture Paris-Malaquais, Professor and Head of Department of Architecture at HKU, the Institute for Art and Architecture at the Academy of Fine Arts in Vienna as well as the Department of Architecture at Cornell University. Saraji's practice and research concentrates on collective housing as well as new models of urbanism which she calls 'Integrative Architecture©'. She is the co-director of the endowed "New Towns Lab" with Alain Chiaradia at HKU. Her Book and Exhibition "Housing Substance of our cities" in 2007 traces the conditions in which collective housing was produced and contributed to the foundation of the modern European cities. Her co-edited book "From Crisis to Crisis: debates on why architecture criticism matters today" examines how reading, writing and criticism can address the urgent issues faced by architecture today.
This event is sponsored by Mrs. Amy Utji and Mr. Jorn Veenstra (St. Pete, FL | Amsterdam, NL)