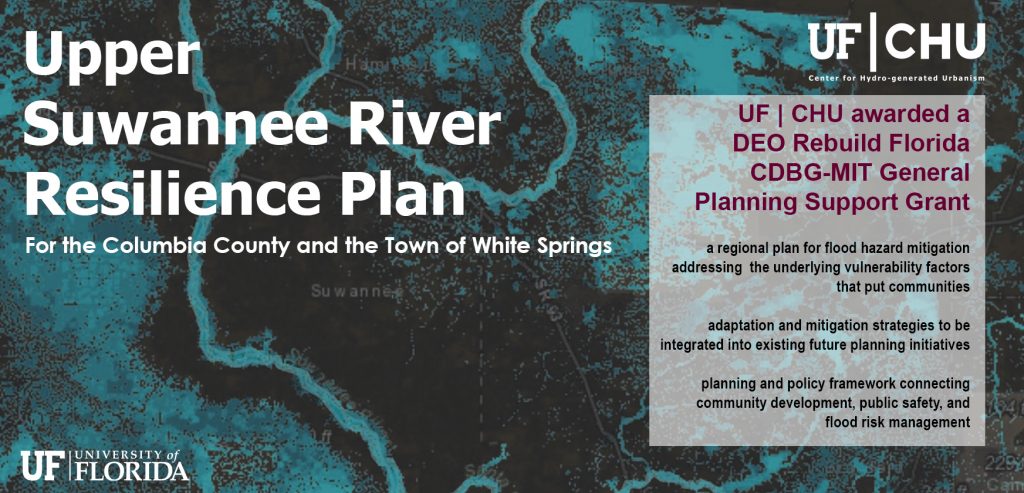 A number of major floods have occurred on the Suwannee River during the 20th century due to severe storms and tropical cyclones, exposing much of Columbia County and the City of White Springs to significant flooding and resulting in damage to critical infrastructure as well as risk to already vulnerable communities. The University of Florida, under the leadership of UF's Center for Hydro-generated Urbanism (UF|CHU) in partnership with Columbia County, the City of White Springs, and the Suwannee River Water Management District (SRWMD), was awarded a Rebuild Florida CDBG-MIT General Planning Support Grant to develop the Upper Suwannee River Resilience Plan for Columbia County and the Town of White Springs.
The project will create a regional plan for flood hazard mitigation that also addresses the underlying vulnerability factors that put communities at risk. The resilience plan will include adaptation and mitigation strategies to be integrated into existing and future planning initiatives and provide a planning and policy framework connecting community development, public safety, and flood risk management.
$20 million has been awarded to 37 counties, municipalities, educational institutions, and non-profit organizations through the Florida Department of Economic Opportunity's (DEO) Rebuild Florida General Planning Support Program. The program, administered by DEO, provides funding for communities and organizations to develop or enhance state, regional, or local plans which will enable the state of Florida to withstand future disasters.
The funds are allocated through the U.S. Department of Housing and Urban Development's (HUD) Community Development Block Grant – Mitigation (CDBG-MIT) program formed in response to the 2016 to 2017 presidentially declared disasters.
For more information, contact Nancy Clark, PI and Director, UF Center for Hydro-Generated Urbanism (UF|CHU).
Click here to learn more about the grant program