Tuesday, June 15, 12:00pm Lunch Discussion with Rene Davids (Berkeley, CA)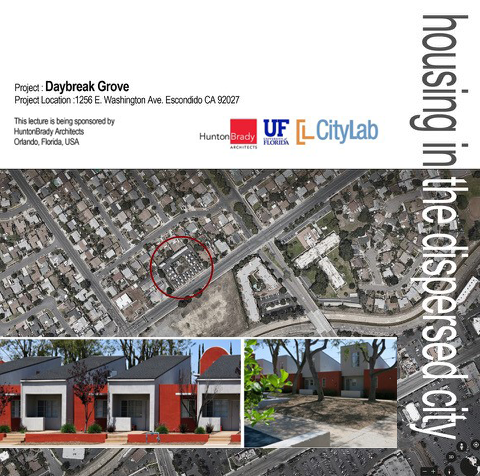 Professor Davids's teaching focuses on the urban landscape and its infrastructure, architectural form, materials, and technology, often in international settings, most recently in Mexico City, São Paulo, Buenos Aires, Lima, Santiago de Chile, Seoul, Korea and Berlin, Germany.
About the Presentation Topic to be discussed by Rene Davids:
Topic of Discussion: "Housing in the Dispersed City".
Project: Daybreak Grove
Project Location: 1256 E. Washington Ave. Escondido CA 92027
About Rene Davids: Educated in Chile and the UK, René Davids, is a Professor of Architecture and Urban Design at University of California, Berkeley, a principal of Davids Killory Architecture, and a Fellow of the American Institute of Architects. The firm has gained recognition for innovative design and is committed to pursuing architecture as a form of design research. The work has been widely published and has won many local, regional, national, and international awards. It has been widely exhibited and published. Davids has lectured about it at many professional, academic, and arts institutions worldwide.
This event is sponsored by HuntonBrady Architects (Orlando, FL)