Students enrolling in interior design are required to own a laptop computer with the required software listed below installed by the BEGINNING OF THEIR FOURTH SEMESTER. 
Please note: Mac operating systems are not supported by several key software packages commonly used in design. It is possible to run Windows-based software on a Mac through programs like BootCamp or Parallels, but this is NOT RECOMMENDED. 
LAPTOP 
Processor: Intel i5 Dual Core or Quad Core i7 CPU
Intel Core i7.
Memory: At least 16 GB
Storage: At least 256 GB SSD Hard Drive
Graphics Card: 2 GB minimum (4 GB recommended)
Display: 1920×1080 resolution minimum; size is a tradeoff between portability and screen space
15"or larger/ 1920 x 1080Full HD or 4K
Operating System: Windows 1064 Bit. Architectural design programs often work with large datasets and benefit greatly from the memory overhead as well as stability that a 64-bit OS provides.
Examples: Dell G3/G5 Series, Dell XPS15Asus ROG Zephyrus G14, ROG Strix GL531GTAcer Predator Helios 300MSI -GS 65StealthLenovo Legion Y740, Y720
RECOMMENDED ACCESSORIES 
Storage: At least 1 TB External Hard Drive (2TB recommended)
External Display: If your laptop screen is smaller that 15", you will need to purchase a 22" widescreen monitor (or larger), to be kept at workstation with monitor lock. You may also need to purchase a conversion cable such as HDMI-to-DVI, depending on your laptop's output.
Audio: Headset with microphone EQUIRED FOR STUDIO
Other: Optical mouse, printer & flatbed scanner
SOFTWARE REQUIREMENTS 
You will be required to acquire software and specific software will be listed on each course syllabus.
Autodesk software comes free from the Autodesk Student Community.
The Microsoft Office Suite is available for free through UF.
Most software will also be available at the CIRCA Architecture computer labs in ARC 116, 118, 120. (https://labs.at.ufl.edu/computer-labs/architecture/) 
Below is a list of the software you will use most commonly:
Office Suite: Microsoft Office, including Word, Excel, and PowerPoint (free for students)
Graphic Design Software: Latest versions of:
• Adobe Creative Cloud for students (Photoshop, Illustrator, InDesign, Acrobat Pro, After Effects) – available through UF bookstore
• Autodesk: AutoCAD Architecture | Revit Architecture | 3D Max | Enscape
• SketchUp
• GatorCloud: Microsoft OneDrivehttps://it.ufl.edu/services/gatorcloud-onedrive-uf (All UF students have access to 5TB of cloud storagevia GatorCloud). This is the safest way to backup data/work
Security: Computer must meet all UF information security requirements for students including antivirus software. Check with UF Computing Help Desk for current requirements.
Department of Interior Design 2020/2021 Academic Year
OPTIONAL ACCESSORIES 
Other: Color printer that accepts 11×17; flatbed scanner that accepts 11×17; Graphics Tablet (e.g. Wacom CTL4100 Intuos Graphics Drawing Tablet, or graphics tablet with screen); adapter to connect laptop with projectors and other presentation displays.
Department of Interior Design 2020/2021 Academic Year
Most of the above requirements are driven by software like REVIT and ENSCAPE which require substantial memory and storage capacity. Below are the published requirements for each of these as of 11.1.2020.
ENSCAPE: System Requirements 
Enscape performs its renders using your graphics card (GPU), but the graphics card has to have dedicated VRAM, and not shared VRAM as found with Intel Integrated Graphics chips. If your CPU and RAM are capable of handling Revit, for instance, and you have a capable GPU, Enscape should work. A good CPU can speed up Enscape's loading times. The system requirements to run Enscape, as well as the Standalone Executable files that can be exported from Enscape, are identical.
It is also recommended that your internet connection is fast and stable, and that you should use a direct cable connection and avoid using a Wi-fi connection where possible, as this can slow down the Asset Library loading times.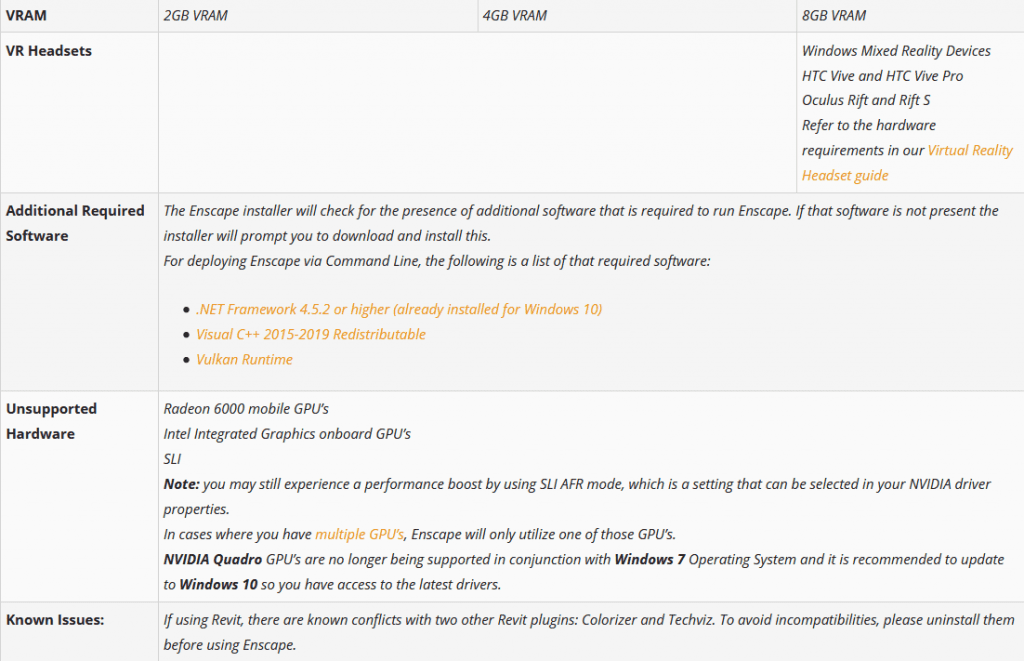 System requirements for Revit 2021 products