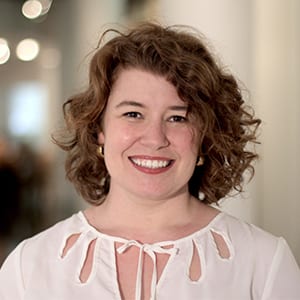 Acting Director, Historic Preservation
Asst. Scholar, Dept. of Urban & Regional Planning
Research Interests:
Interdisciplinary collaboration: Historic preservation, urban planning, and architecture
Historic preservation and social justice
Origins of Historic Preservation Advocacy and Policy in the United States
Historic impacts of land use decisions for contemporary challenges to heritage
Courses taught include:
DCP 4000 Overview of Historic Preservation
DCP 6710 History and Theory of Historic Preservation (Fall)
DCP 6716 Cultural Resource Management (Spring)
DCP 6701 World Heritage Research and Stewardship (PIN/Summer B)
DCP 6718 Preservation Policy and Current Topics (PIN/Summer B)
DCP 6971 Research for Master's Thesis
DCP 6979 Master's Research Project

Cleary Larkin is a licensed architect with specialized practice experience in historic preservation and community planning. She holds a professional degree in Architecture from the University of Arkansas, a Master of Science in Historic Preservation from Columbia University, and a Ph.D. with a concentration in Urban Planning from the University of Florida.
 
She has worked as an architect and a preservation planner at Frazier Associates in Staunton, Virginia; Beyer Blinder Belle in New York City and for the City of Gainesville, Florida. Her practitioner experience includes adaptive re-use, restoration and rehabilitation; design and project management of architectural projects from programming through construction; research and writing for Historic Structure Reports, National Register nominations, rehabilitation tax credits, and design guidelines; design review in historic districts; new design within historic contexts; and use of fiscal incentives for redevelopment.
 
Dr. Larkin's dissertation, Expanding the Historic Preservation Narrative: The intersections of planning, preservation and social context in the Vieux Carré Historic District designation, explored the collaboration between architects, preservation activists and planner Harland Bartholomew to create the New Orleans' first Comprehensive Plan in 1929 and first legislation for the French Quarter historic district in 1925 and 1937, respectively. Her research illustrates the use of early preservation designations for racial exclusion and posits early statements of significance as false narratives of authenticity, and perhaps, cultural appropriation.
 
Prior to her role as Acting Director of UF's Historic Preservation program, Dr. Larkin was Program Coordinator for the newly formed Florida Resilient Cities (FRC) program at UF's Florida Institute for Built Environment Resilience (FIBER). The first FRC project focused on recovery and sustainable growth of Port St. Joe, a historic mill town in the Florida panhandle, damaged by Hurricane Michael in 2018.
 
Dr. Larkin's research interests include the intersections of architecture, preservation and planning, both in historical and contemporary practice; historic land-use decisions as a source of contemporary inequity in communities; and historic preservation as a social justice practice. She currently teaches Intro to History and Theory of Historic Preservation at the Graduate and Undergraduate levels, and two courses in the summer fieldcourse at Preservation Institute Nantucket (PIN): World Heritage Research and Stewardship, and Preservation Policy and Current Topics.