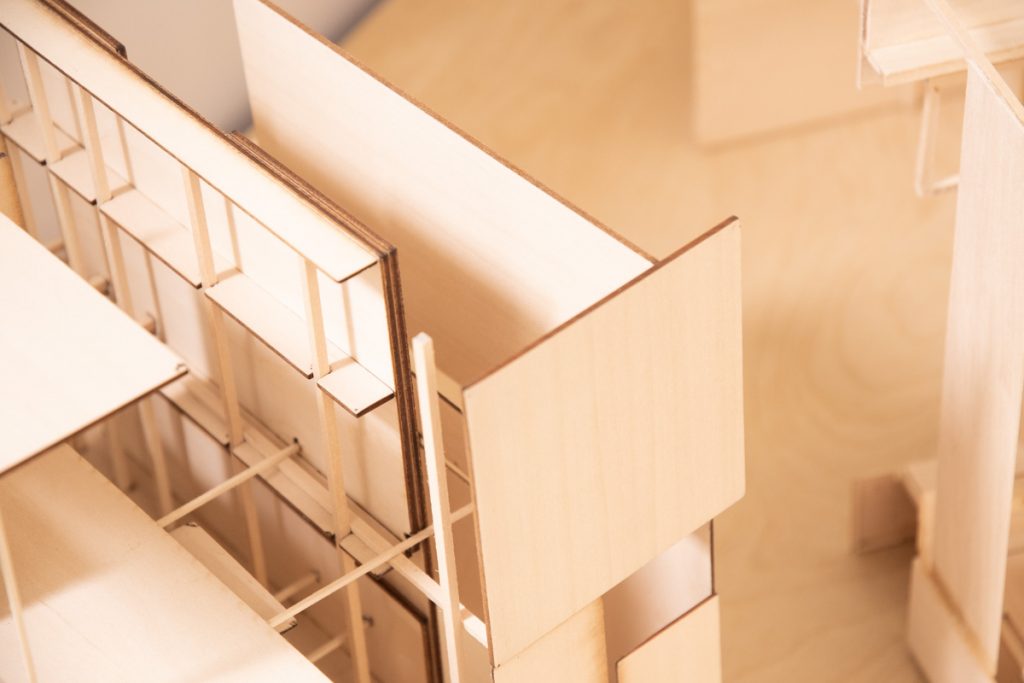 The University of Florida's Master of Architecture (M. Arch.) low residency program at CityLab-Orlando is a self-funded distance education program that leads to a professional degree accredited by the National Architectural Accrediting Board (NAAB), the educational credential required for licensure as a registered architect in most states. The degree is delivered in a limited residency, blended delivery (online and face to face) format, utilizing hyflex technology.
Studio classes are taught in a hybrid format requiring both face-to-face and online class attendance.
---
The CityLab-Orlando facility is available for student use 24/7 during the semester. It is furnished with a digital conferencing facility to link students with their peers in Jacksonville and Gainesville campuses and offers web-based conferences, presentations, and research meetings delivered from remote locations where SoA faculty participates. Students are provided studio space and access to plotting, printing, 3d printing, and laser cutting equipment. Students are encouraged to use the facility for their studio work and peer meetings throughout the semester.
CityLab-Orlando offers opportunities for specialized investigations and degree credentials through its Master's and Graduate Certificate Degrees to engage the positive impact that architecture and urban design can have on the built environment, natural systems, and society, emphasizing building technologies, regenerative design practices, sustainable development, and public policy.
---
---
---
Master of Architecture
(Advanced Program)
52 semester credit hours

Admission is restricted to students who have completed a qualifying pre-professional undergraduate degree in architecture (such as a Bachelor of Science or Bachelor of Design in Architecture), a successful record of six to eight previous design studios, and a portfolio of work reflecting sufficient proficiency in architectural design.
---
---
Master of Architecture
(Core Program)
100 semester credit hours

For those students who completed undergraduate degrees in other disciplines and/or did not completed pre-professional undergraduate degree programs, we offer a 100-credit program that includes 48-credits of Core or Foundational studies, in addition to the 52-credit Advanced program.
---
---
---
Master of Architecture
(2nd Professional Degree)
30 semester credit hours

This program may be offered to students currently holding an accredited professional degree, such as a five-year Bachelor of Architecture (B.Arch) or a previous Master of Architecture (M.Arch) degree. Applicants for this program are expected to have outstanding portfolios and the ability to conduct advanced independent research in architecture.
---

National Architecture Accreditation Board Statement: In the United States, most state registration boards require a degree from an accredited professional degree program as a prerequisite for licensure. The National Architectural Accrediting Board (NAAB), which is the sole agency authorized to accredit U.S. professional degree programs in architecture, recognizes three types of degrees: the Bachelor of Architecture, the Master of Architecture, and the Doctor of Architecture. A program may be granted a 6-year, 3-year, or 2-year term of accreditation, depending on the extent of its conformance with established educational standards. Doctor of Architecture and Master of Architecture degree programs may consist of a pre-professional undergraduate degree and a professional graduate degree that, when earned sequentially, constitute an accredited professional education. However, the pre-professional degree is not, by itself, recognized as an accredited degree.
The University of Florida School of Architecture offers the following NAAB-accredited degree programs:
1. Master of Architecture (M.Arch), Track I: Undergraduate pre-professional degree with architecture major + 52 graduate semester credit hours
2. Master of Architecture (M.Arch), Track II: Undergraduate degree with non-architecture major + 100 semester credit hours
3. Master of Architecture (M.Arch), Track III: Undergraduate professional degree + 30 graduate semester credit hours
Next accreditation visit for all programs: 2022. For more information on NAAB-accredited programs, visit our Accreditation Page
Frank M. Bosworth, Ph.D., AIA, Professor of Practice + Acting Director
Stephen D. Bender, AIA, Lecturer + Acting Director, CityLab-Orlando, email: sbender@ufl.edu
Bradley Walters, AIA, Associate Professor + Graduate Program Coordinator
Sheryl McIntosh, Admissions Officer: Phone: (352) 294-1460; Email:

 

smcint@ufl.edu